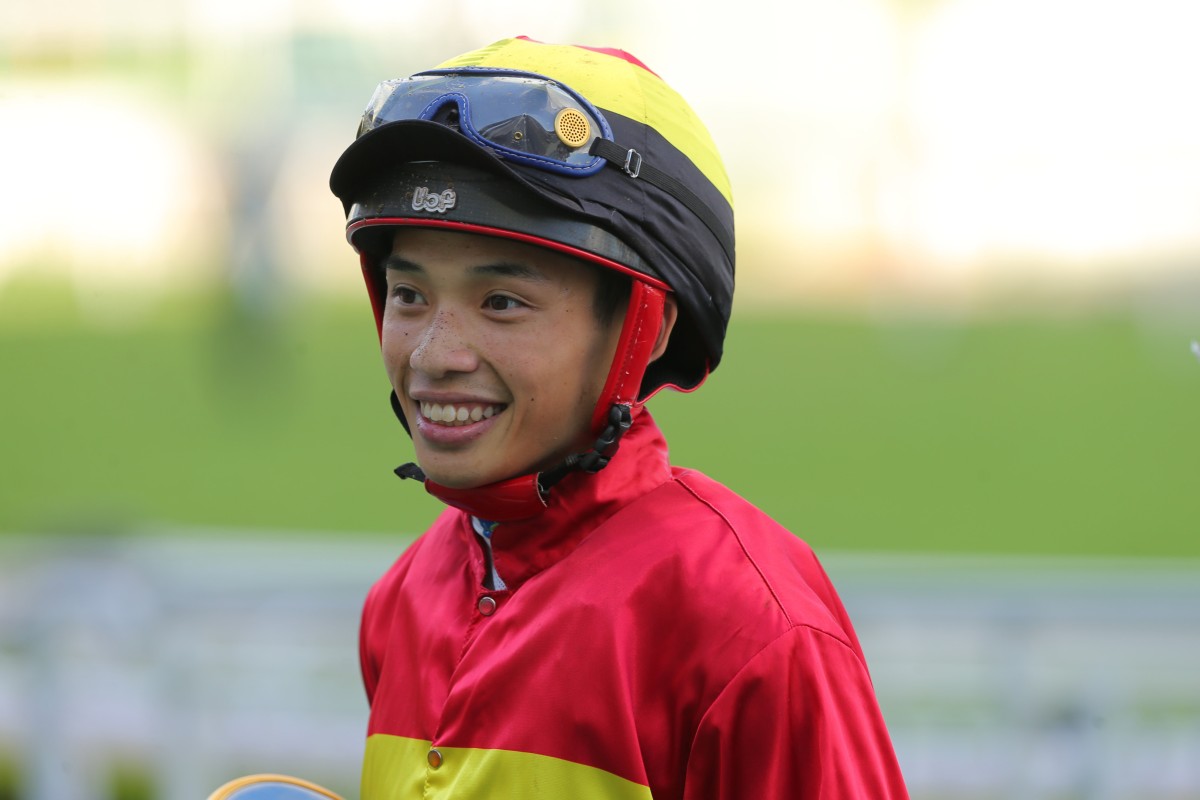 Jack Wong Ho-nam is determined to continue his riding career despite confirming he won't ride again this season because of a wrist injury.
Wong suffered a fracture and ligament damage to his wrist when Mighty Valor stumbled at the start on January 1, causing his hand to twist.
"I had to have surgery and the doctor told me it would take six months for the ligaments to be stable after the surgery," Wong said. "If I was to try riding I could easily aggravate my wrist, so I have to wait six months before I can return to the saddle."
The injury came at the worst possible time for the 28-year-old, who will finish the 2021-22 campaign without a winner after being put on notice in June after managing only three victories last season.
On receiving his freelance jockey's licence for this season, Wong was informed "that his race riding performance during the [2020-21] racing season is of concern and that should his race riding performance not improve significantly during the 2021-2022 racing season, he may not be granted a further freelance jockey's licence".
Wong is hopeful the stewards will take his situation into account and that his extended absence won't work against him.
"I am motivated and of course I want to return to racing but last season I got a warning from the club that if I don't have enough winners or improve my performance I might not get another licence," said Wong, who went 89 rides without a winner this season before his injury.
"Then this happened and I will be off for a long time, so I'm not 100 per cent sure if the club will give me a licence but I hope they do. I'm looking forward to coming back."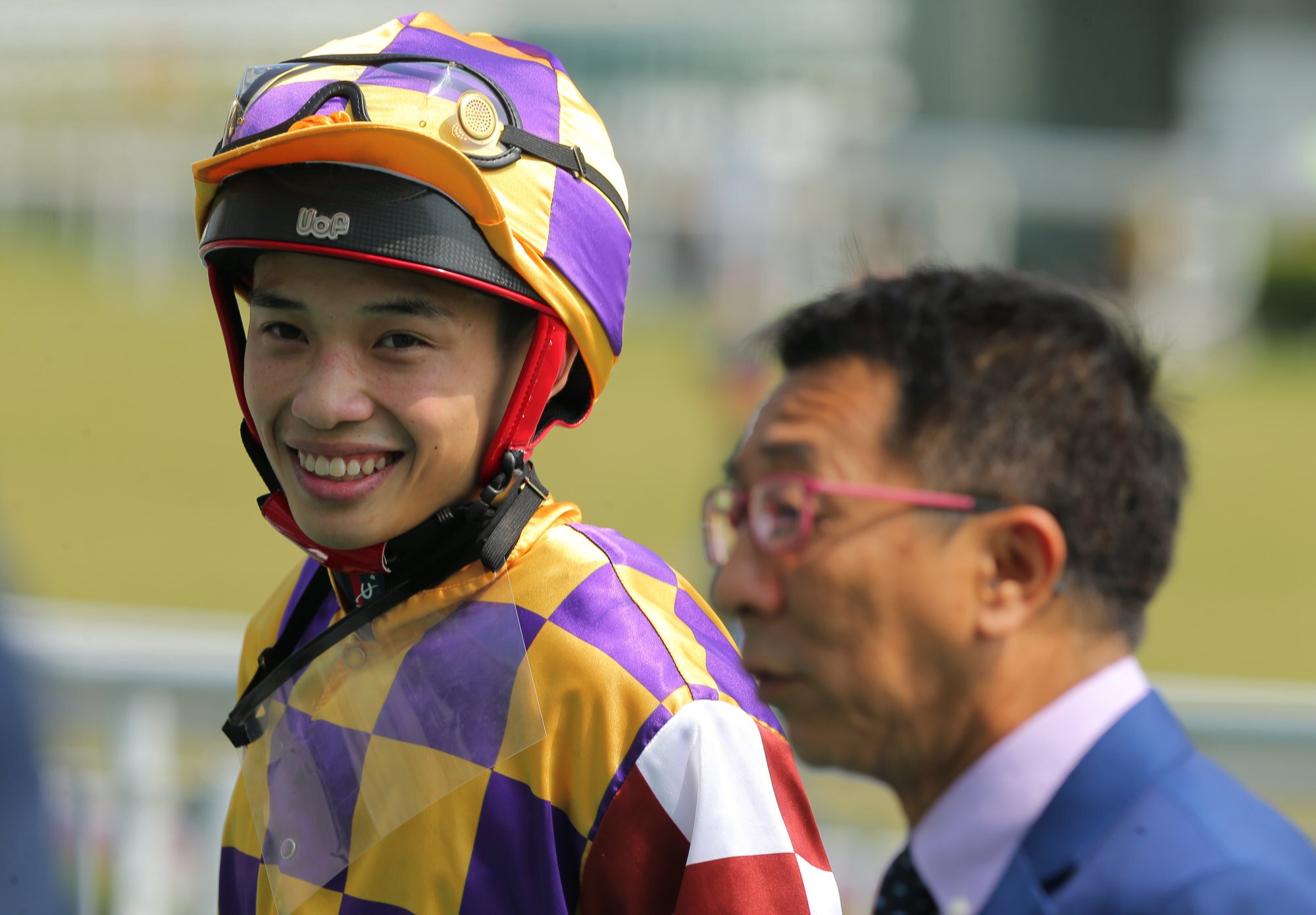 In the meantime, Wong is keeping himself busy with fitness work and physio and is confident he will raring to go ahead of the next term.
"I won't be able to ride until at least the end of June or early July and once I can ride again, it will take some time to return to 100 per cent fitness. I should be back working in late July, a little bit earlier than most of the other jockeys," he said.
Wong has ridden 88 winners since beginning his career under the tutelage of Me Tsui Yu-sak in 2015, completing his apprenticeship during a career-best 2017-18 season that netted 24 winners.
Wong's season-ending injury, coupled with the impending departure of Daniel Moor, reduces the riding roster to 22, while Alex Lai Hoi-wing will be missing indefinitely after taking a leave of absence for personal reasons.
Yip in hot water
Dennis Yip Chor-hong will have to wait to discover his fate for failing to report that Solar Winds "had blood present at the left nostril" during trackwork in December.
Following Thursday's inquiry into footage of Solar Winds' working on December 27, stewards ruled that Solar Winds had bled for the first occasion but have informed Yip that "given the large volume of evidence which had been taken, the stewards would adjourn the matter".
"SOLAR WINDS (G154), C H YIP" INQUIRY

The Stewards today opened an inquiry into video footage of SOLAR WINDS (G154), trained by Dennis C H Yip, working on the Large All Weather Track at Sha Tin on 27 December 2021. In the footage, SOLAR WINDS appears to have... pic.twitter.com/N5vjYujiCW

— Hong Kong Bloodstock (@magazine_ma) March 25, 2022
"However, [Yip] was advised that there was prima facie evidence that there had been a breach of the rules of racing associated with the failure to refer the matter of the blood being present at the left nostril of Solar Winds in trackwork on 27 December 2021 to a veterinary surgeon or a veterinary officer as soon as possible on the same day as required," chief steward Kim Kelly said in a statement.
"[Yip's assistants] were similarly advised that the stewards would give consideration to the evidence before deciding on the appropriate course of action."
Yiu dealing in multiples
Ricky Yiu Poon-fai snared a double for the second consecutive weekend and the veteran trainer has made a habit of cashing in recently, landing five doubles and a treble in the first three months of 2022.
The victories of Robot Warrior and Super Dynamite at Sha Tin on Sunday take Yiu's tally for the season to 28 and the 2019-20 champion trainer is just five winners off last season's haul with 31 meetings remaining.
Robot Warrior broke his maiden at start 13 in the Class Four Shek Yam Handicap (2,000m), travelling midfield on the rail under Joao Moreira before finishing over the top of his rivals, while Super Dynamite tasted success for the first time in Hong Kong at start 10 in the Class Three Lai King Handicap (1,400m).
Currie outlines return date
Luke Currie made his return to the saddle at Sha Tin trackwork on Saturday morning and is confident he will be back at the races at the Sha Tin meeting on April 10.
After beginning his Hong Kong career with a bang with a win aboard the David Hayes-trained Miracle Victory with his first ride in the city on January 30, Currie was stopped in his tracks after fracturing his T7 vertebra in a trial fall in early February.
"I think the 10th I'm planning to be back, I've got to do a trial in front of the stewards and then I'll just make sure that all is well and my fitness is up to scratch to be competitive here in Hong Kong," the Australian jockey said.