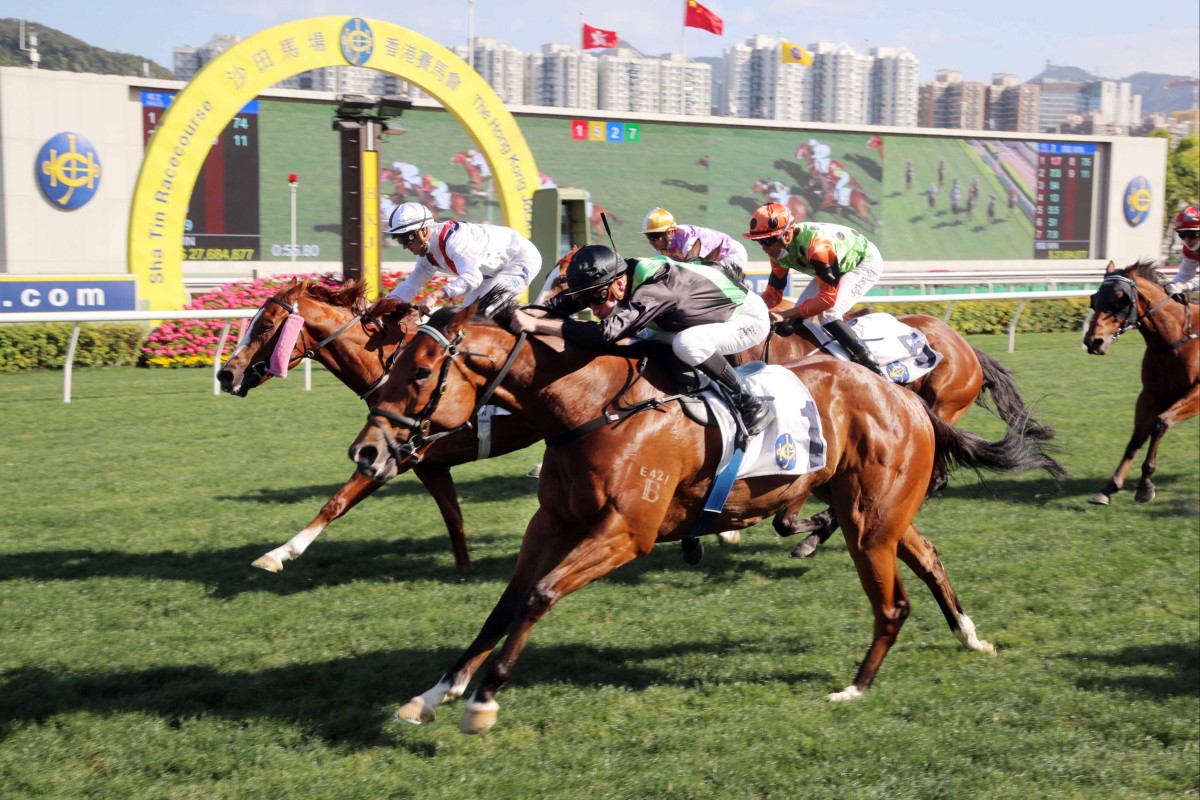 David Hayes is eyeing up a Group race at the end of the season with exciting sprinter Nervous Witness after he was forced to dig deep to win the Class Two Chek Lap Kok Handicap (1,000m) at Sha Tin on Sunday.
The Group Three Sha Tin Vase (1,200m) on May 22 is on Hayes' hit list as he looks to stretch his stable star out in distance as he matures.
"The Sha Tin Vase at the end of May will be his finale, but we'll go for a 1,000m race at the Valley in a couple of weeks so he can go right through the classes before he takes on the big boys," Hayes said.
It's not only his days over 1,000m that are numbered, with Nervous Witness unlikely to run down the Sha Tin straight again in a hurry after he gamely held off the late challenge of Stoltz by half a length under Blake Shinn.
"I think it was a good win but he'll be better around a bend," Hayes said. "I know it sounds silly as he's now won three down the straight but he's vulnerable down that straight.
"Around a bend with him relaxing now, he'll cruise and kick very hard and he'll be much better. His trials around a bend, that's what gets the boom on him so I'm sure he'll go to another level once we get him to 1,200m on the bend."
Hayes expects plenty of improvement as Nervous Witness steps up in distance but was pleased with the attitude his four-year-old showed as he was challenged late on.
"In the past down the straight when he's been beaten, when they've got to him it's been over," Hayes said. "Blake said at the 200m they had him but he really responded well today and that's a good sign. He showed a bit of fight.
"I'm sure he's going to be better at 1,200m but I wasn't quite ready for that as we just wanted to know that he can relax and do things correctly before he's ready to stretch out in distance."
Hayes has always had plenty of faith in his charge and is confident that Nervous Witness has the ability to hold his own in better company.
"I've said from day one that I'll be surprised if he doesn't go through to a rating of 110-120," Hayes said. "That's the type of horse he is and he's got the ability, it's just up to him holding it all together. If he does that, he'll go right up into Hong Kong Group races.
"It's up to the handicapper what he does with him now but he'll probably only get five to six pounds for that win, so we'll head on to the Valley and if he wins that, we'll step him up again."
Hayes deserves plenty of credit for managing to get Nervous Witness back on track after a string of disappointing runs earlier in the season and he will not be doing much work with him before his next assignment.
"He'll just do a lot of slow work," Hayes said. "If you look at his trackwork records, I haven't gone faster than 25 seconds with him because if you ask him to go faster, he'll go 21, he's that sort of horse. When he lost his way, he was working too aggressively before he got beaten three times in a row.
"He was going the wrong way, we had to reset but we've got him now. He's got the ability, it's just getting it out of him."