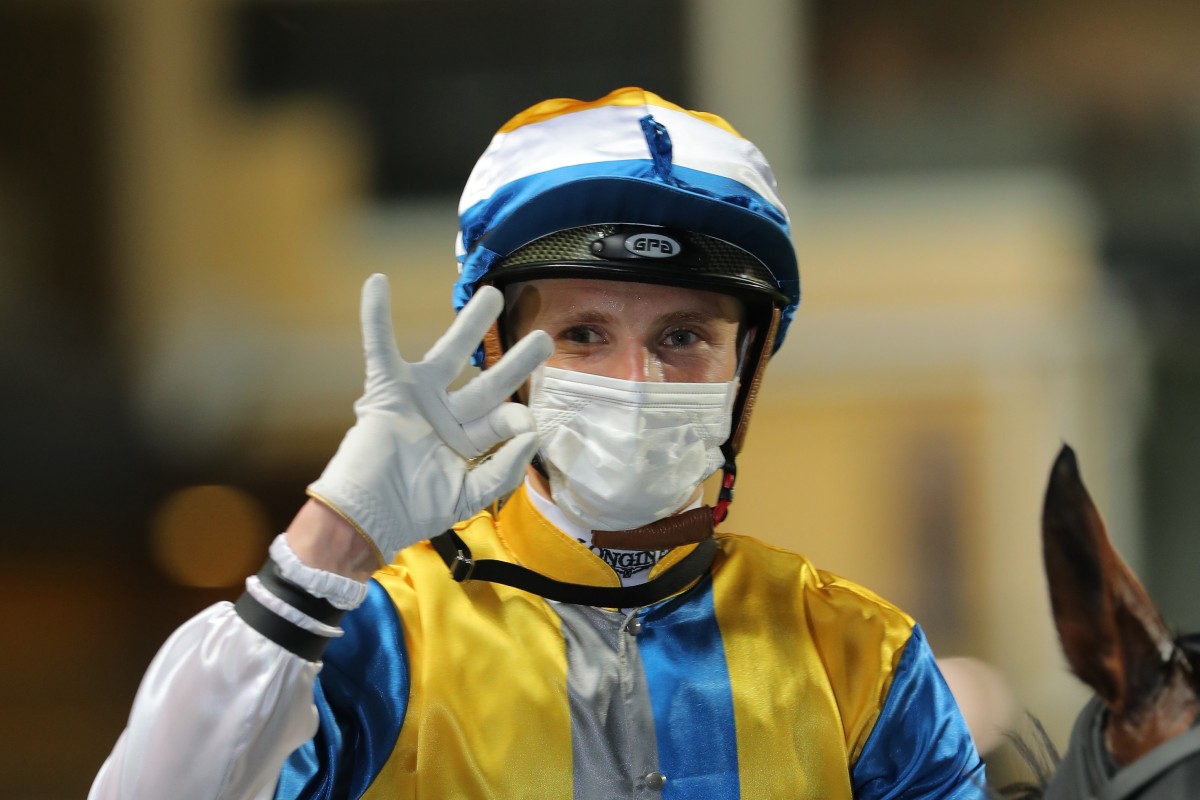 Lyle Hewitson is riding the crest of a wave in more ways than one at the moment.
With Covid-19 restrictions easing, the young South African has been hitting Hong Kong's beaches for a spot of surfing this week fresh from riding seven winners at the past four meetings.
The 24-year-old is now delighted with life in the city as he embraces more freedom after going through a quiet spell both on and off the track.
"It's lovely," Hewitson said. "We've had some beautiful days, we've had some waves at the beach so I've been surfing. Just spending a day out, it feels like life is completely different and it's so nice to get a change of scenery."
As his life away from the track starts to improve, things on the track could hardly be going any better and Hewitson has learned plenty after coming through a lean patch.
"That [quiet] spell has been important," said Hewitson, who took time to get going after missing a month after fracturing his pelvis in a fall in December's Hong Kong Sprint.
"From a physical riding aspect, it's made me have to better myself. From a mental side of things, it's made me tougher and more mature as a rider. I'm better for it.
"It tests you in all different aspects of being a professional sportsman and also as an individual. You learn a lot more about yourself and at the same time how much stronger you can be if you actually push through that."
Hewitson's recent winning run has been characterised by a string of brilliant front-running rides but he is keen to make it clear that he sees himself as more than just a pacesetter.
"It's great to know that you are judging the speed right but I'm not a one-trick pony," Hewitson said. "That night at Happy Valley when I had the three winners, it was like all the stars aligned.
"I was on horses with good draws that went forward on a track that was running from on the pace and on the rail. If I've got all those at my disposal, I'll take advantage."
Hewitson is one of the more in-demand jockeys at Sha Tin on Saturday with eight rides and he holds some big chances.
Majestic Knight is a three-year-old who Hewitson has a lot of time for. He's had just three runs in Hong Kong and has plenty of confidence behind him ahead of the second section of the Class Four Erica Handicap (1,200m).
"I like him," Hewitson said. "We've put blinkers on because he can be a bit immature in and around horses. He's drawn a wide gate but the drop in class is to his advantage.
"I think he is better than this grade but he's shouldering top weight. He has definitely got enough ability to win."
Horsesain Bolt has finished in the top five in his past seven starts and goes in the closing race on the card, the Class Three Chamomile Handicap (1,400m).
"He's a tricky horse," Hewitson said. "He's talented but he might not be the most genuine when it comes to the finish. I'd have loved to have had a better draw [than stall nine] but he has the ability and hopefully I can coax the best out of him."
Rainbow Light won his final start last season for trainer Douglas Whyte and while he's yet to show his best this campaign, he has been moving well in advance of the Class Four Hydrangea Handicap (1,400m).
"He's been a bit disappointing but he's been doing really well at work," Hewitson said. "I've been on him and I'm happy with how he's going."
Boom Alliance looked a winner in waiting when finishing runner-up under Hewitson on his second start in Hong Kong but is looking to get back on track after a couple of disappointments in the Class Three Daphne Handicap (1,600m).
"He's actually doing well at home but draw 10 isn't good for a horse like him," Hewitson said. "He wants more ground but we're just trying to get him to race correctly and progress. I wouldn't be surprised if he shows some better form."