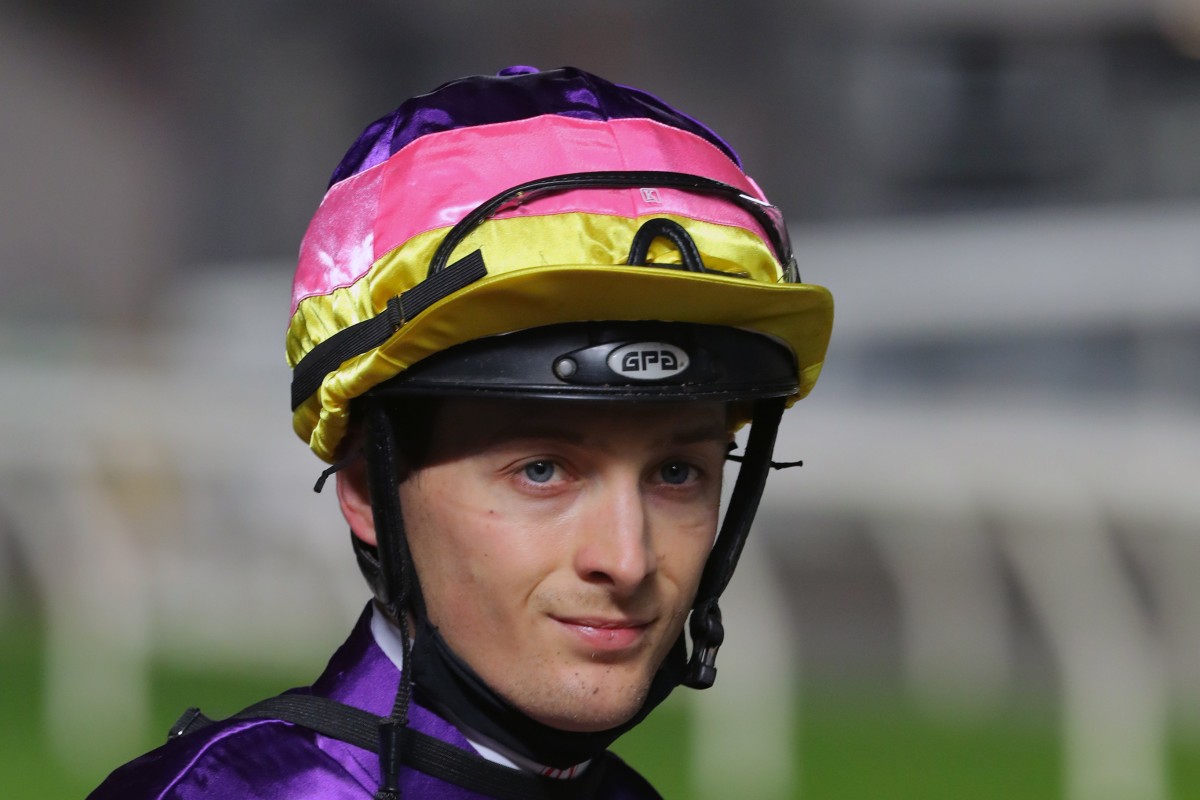 If you're looking for a roller-coaster lifestyle you could do worse than become a jockey in Hong Kong.
Unless you happen to be Joao Moreira or Zac Purton, there are highs and lows to negotiate in the saddle and Harry Bentley has experienced plenty of each in the 13 months since he arrived in the city.
"There are definitely peaks and troughs," Bentley said. "You go through a spell where things really go your way for a couple of weeks, or even a month, and you're getting on the right horses.
"Success breeds success and others want to give you more of an opportunity and you strike up a partnership with a certain trainer or stable but it doesn't take a lot for that to change. You just have to stay positive in those situations and get in favour with another trainer."
Bentley has already reached his soft target of 20 winners this season but is always hungry for more.
"I'd obviously love to be riding more winners, as everyone knows it's a tough place but I'm still grateful for the opportunities I've been given," Bentley said.
"I wanted to reach 20 winners as a minimum. I've obviously achieved that and I'd like to finish in as best form as I can and if I add to that tally, I'll be very happy."
Bentley could well add to his 20 victories at Sha Tin on Sunday as he again gets aboard Everyone's Victory in the Class Three Cumberland Handicap (1,200m) on the dirt.
"He's one of my favourites and goes into this with a good chance," Bentley said. "He's only been out of the first two once this season, which is unbelievable.
"Draw eight doesn't look ideal on paper but he's won from wider this season and it doesn't really bother me too much. I'm looking forward to getting back on him as he really tries."
Casa Legend ran his best race last time when finishing fourth under Bentley and the rider is confident that he'll again run well in the Class Four Norfolk Handicap (1,600m).
"He's certainly knocking on the door," Bentley said. "It's a nine-runner field so that helps things. I like what he's been doing in his last couple of runs and we've got a really nice draw in stall two, which fills me with confidence, and stepping up to 1,600m looks the right thing to do.
"I've only ridden him twice but I thought both times he'd get another 200m, so that puts another tick in the box."
Bentley is disappointed with the draws of Sparky Star (gate 13) in the Class Four Kent Handicap (1,400m) and Multiple Star (12) in the Class Five Suffolk Handicap (1,400m).
"It's a nightmare as I genuinely like my chances on both of them," Bentley said. "Multiple Star I've ridden twice now and he's running over what I believe is his right trip.
"I really think he's in a nice position, I trialled him not long ago and we've now got a terrible draw, which is pretty frustrating. It's not easy from stall 12, it's not impossible but it makes life harder.
"Sparky Star has been extremely consistent this season. I've not ridden him before but he's in stall 13 and life is not going to be easy."
Texas Moon has disappointed since winning on debut and also has a bad draw in the Class Three Cornwall Handicap (1,200m).
"He looked pretty good on debut when he won by a narrow margin. He stepped up to 1,400 and is now back at his winning distance," Bentley said.
"He's a very lightly raced horse but being drawn 11 over 1,200m is tough. I might just have to go back from that draw and ride a race."