The Hong Kong Jockey Club has again reached record heights during a Covid-19-impacted season, with punters wagering HK$140.4 billion during the 2021-22 racing campaign, which concluded at Sha Tin on Saturday.
The figure topped last year's total by more than HK$4 billion on the back of a record 836 local races, up one on last year, and a 36.4 per cent increase in simulcast races to 281, up from 206 last term.
Turnover on local races was up just 0.5 per cent but money wagered on simulcast races grew an enormous 49.1 per cent, with total turnover increasing by an even 3 per cent and betting duty paid to the government totalling HK$14.1 billion.
"I am extremely proud of the efforts of all involved that, with the trust of the government in giving us permission to continue racing, we have again been able to complete a full season of world-class horse racing while at all times upholding the principle of protecting the health and safety of the public, our employees and stakeholders," Jockey Club chief executive Winfried Engelbrecht-Bresges said.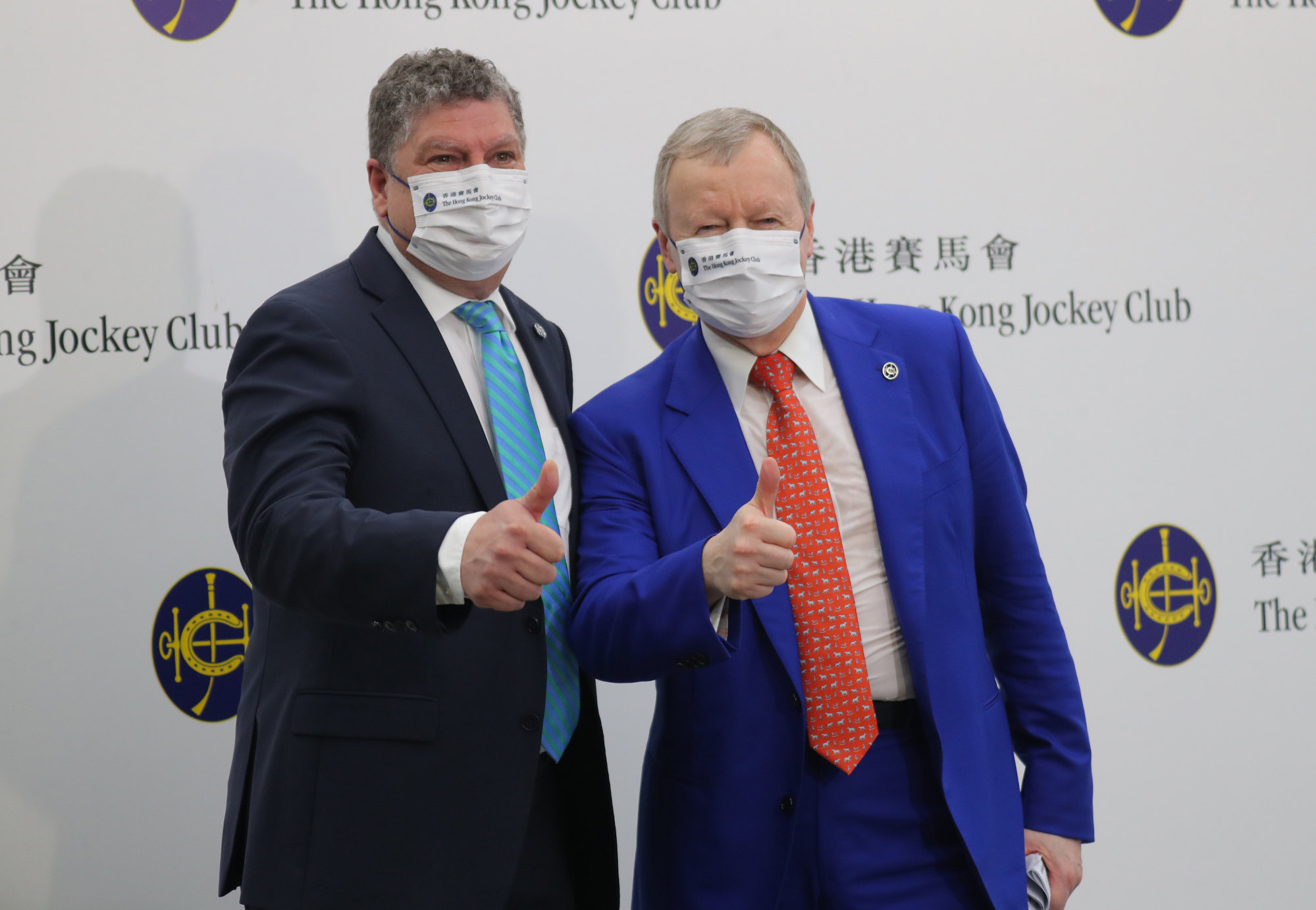 "As a club, we are again grateful and encouraged by the outstanding turnover which ultimately allows us to contribute more for the betterment of our society.
"We are gratified once more by the collective discipline and togetherness of all participants – trainers, jockeys, owners, employees and customers – which has allowed us to continue showcasing Hong Kong's most popular sport to the world.
"As always, Hong Kong's can-do spirit is at the core of our operation and I am thankful for the sacrifices made by all involved to keeping racing going.
"I also wish to again place on record my appreciation to our members and customers for their understanding that as a result of our alignment with the government's public health policy, the club was restricted in the number of people we could host at our race tracks. There were also significant restrictions relating to access to our off-course betting branches."
Attendance was up significantly on last season despite months of closed-door meetings and a season of restricted numbers, with the 394,000 fans who walked through the gates signifying a 77.7 per cent increase on 2020-21.
Chadwick's 'lovely achievement'
Matthew Chadwick may have been winless on the final day of the season but he was delighted to pick up the Tony Cruz Award for leading local jockey.
The 32-year-old finished the campaign on 55 winners, five clear of Vincent Ho Chak-yiu, and was thrilled to put a few injury-hit seasons behind him with his second-best return behind his 57 winners in 2012-13.
"It was definitely a good goal to have and I'm happy to take it home this year," Chadwick said."
"It's a lovely achievement to receive and it's named after my old boss. It's great that it's named after him and it's great to take a step in the right direction.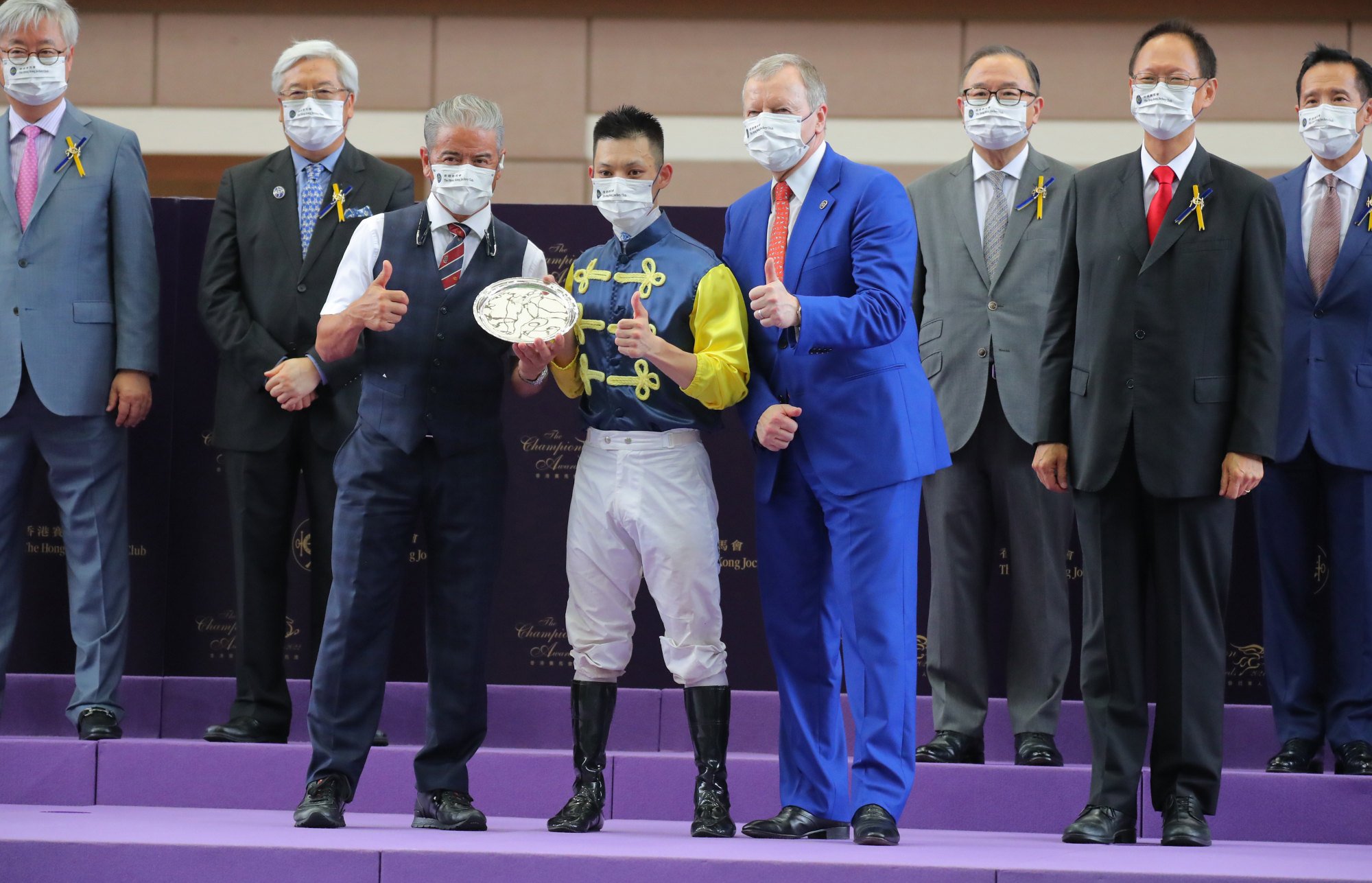 "It has been an improvement in the number of winners and I'm happy with that. I'm not happy with the three seconds I've ridden today as I wanted to end on a higher note."
Chadwick was indentured to Tony Cruz before receiving his full licence in 2010 and is hopeful of getting more support from his old boss next year.
"You always want to improve and hopefully he can give me some more support next season," Chadwick said. "Hopefully I can get some support from other trainers and get even better numbers next year."
Tsui falls short
Me Tsui Yu-sak entered the final meeting needing one more win at Class Four level or above to satisfy the Jockey Club's performance benchmark for trainers but fell short, consequently walking away with his first strike.
Tsui sent out 14 runners at the final two meetings of the season in an attempt to avoid that black mark to his name but couldn't quite get the job done, with the fourth-placed Armour Eagle his best finishing position at Sha Tin on the final day.
Tsui finished the campaign with a respectable 21 winners and is not the only trainer set to receive a Jockey Club warning, with Peter Ho Leung and Michael Chang Chun-wai receiving strikes for the second consecutive season after training just 14 and 17 winners, respectively.
Ferraris lands special double
While most jockeys couldn't wait for the season to end, Luke Ferraris is wishing it would continue after riding his first double in Hong Kong.
The young South African rider finished his first season with 20 winners after this double strike followed up a win at Happy Valley on Wednesday night aboard Carry The Diamond.
After taking out the Class Five Mr Award Handicap (1,200m) on Melbourne Hall, Ferraris was again on the scoreboard when Singapore Spirit narrowly won the Class Four Medic Kingdom Handicap (1,400m).
"It's taken me some time to ride my first double but better later than never," Ferraris said. "I'm grateful for the support, especially from Mr Cruz. He's been instrumental in my career in Hong Kong so far."
Unlikely encounter
Matthew Poon and the Manfred Man Ka-leung-trained Encountered caused a huge upset in the 836th and final race of the season.
Sent out at $199, the three-year-old had not shown much form in his first three starts in Hong Kong but he found his mojo in the Class Three Sight Winner Handicap (1,600m), rallying late to beat Powerful Wings and Tuchel.
He was the longest-priced winner of the season and just the second at triple-figure odds after Astrologer ($134) at Happy Valley on November 17.