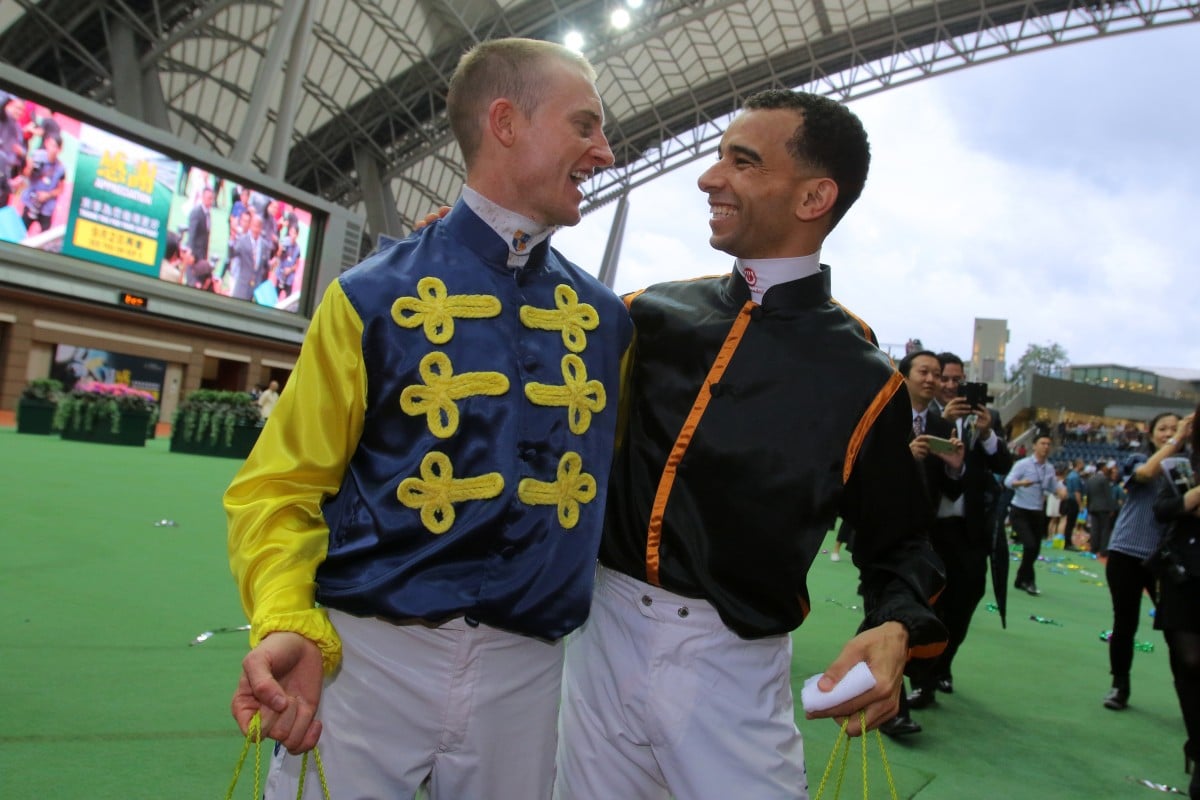 Very little is certain in racing, but there is a very real chance that Sunday's Longines Hong Kong International Races (HKIR) is the last time famous rivals Zac Purton and Joao Moreira lock horns on a racetrack.
Plenty has been said about how long Purton will keep riding and he has been loath to pinpoint an exact time that he might call it quits, but he was about as certain as he has been when telling the Post he will "at least go through to the end of this season, then we can reassess".
Moreira, on the other hand, is battling chronic hip problems and has already confirmed HKIR will be the first stop in a retirement tour he hopes will include visits to Australia, Japan and Europe.
Whether this weekend is the last time Purton and Moreira grace a racetrack together, we now know their captivating rivalry – which saw them share the past nine premierships – really ended in July.
Purton, who is hurtling towards a sixth Hong Kong jockeys' title, says now he is removed from the heat of his battle with Moreira, he has been able to reflect on just how intense things were for the best part of a decade.
"We obviously had that great battle last season, which went down to the last day and exhausted both of us physically and mentally. Then we were at the airport together and we were able to have a nice chat, but that's probably where it ended," Purton said, likening the intensity of his rivalry with Moreira to the pressure he felt during his association with Beauty Generation.
"A jockey always says they want to ride a champion in their career. You enjoy that moment, but there's a lot of pressure that comes with it, and you enjoy those moments more once they're over than during the time.
"We had to stay at the top of our games the whole time. The bar was set so high. I'm certainly enjoying not having to go head to head with him every day."
🏆Jockey Club Sprint (G2)
1200 m, 5.000.000 HKD, for 4yo+
🇭🇰Sha Tin

Lucky Sweynesse (NZ)
(4G Sweynesse - Madonna Mia, by Red Clubs)
J : @zpurton
T :K.-L. Man
O :Cheng Ming Leung, Cheng Yu Tung, Cheng Mei Mei & Cheng Yu Wai
B :P L Dombroski, Explosive Breeding Ltd & S A Sharrock pic.twitter.com/DbRl75IHbm

— 𝙒𝙤𝙧𝙡𝙙𝙍𝙖𝙘𝙞𝙣𝙜 (@WorldRacing1) November 20, 2022
Between them Purton and Moreira have won 16 HKIR features – Purton's nine is the most ever, while Moreira's seven puts him equal third.
Purton's best chance this weekend comes aboard Lucky Sweynesse in the Hong Kong Sprint (1,200m), while he will resume hostilities with the great Golden Sixty aboard California Spangle in the Hong Kong Mile.
A 10th Group One win on Hong Kong's biggest day would leave a nice round number in the record books, and Purton admits the fact this could be his last chance to add to his tally has entered his mind.
"That, in some respects, probably was the plan. It's disappointing I've only got rides in two out of the four international races," Purton said.
"It's a day I've made my own a bit, especially over the last decade. Thinking that it could be my last international day, the reality starts to sink in a little bit."
Moreira has three Group One chances – Resistencia in the Sprint, Lei Papale in the Hong Kong Cup (2,000m) and Glory Vase in the Hong Kong Vase (2,400m), the latter who is chasing a record third win in the race.
The Jockey Club will farewell Moreira in a ceremony before Sunday's first race, and the Brazilian is looking forward to showing the fans some love.
"I want a proper ending because the way I left a few months ago is not how I want it to end in Hong Kong," Moreira said.