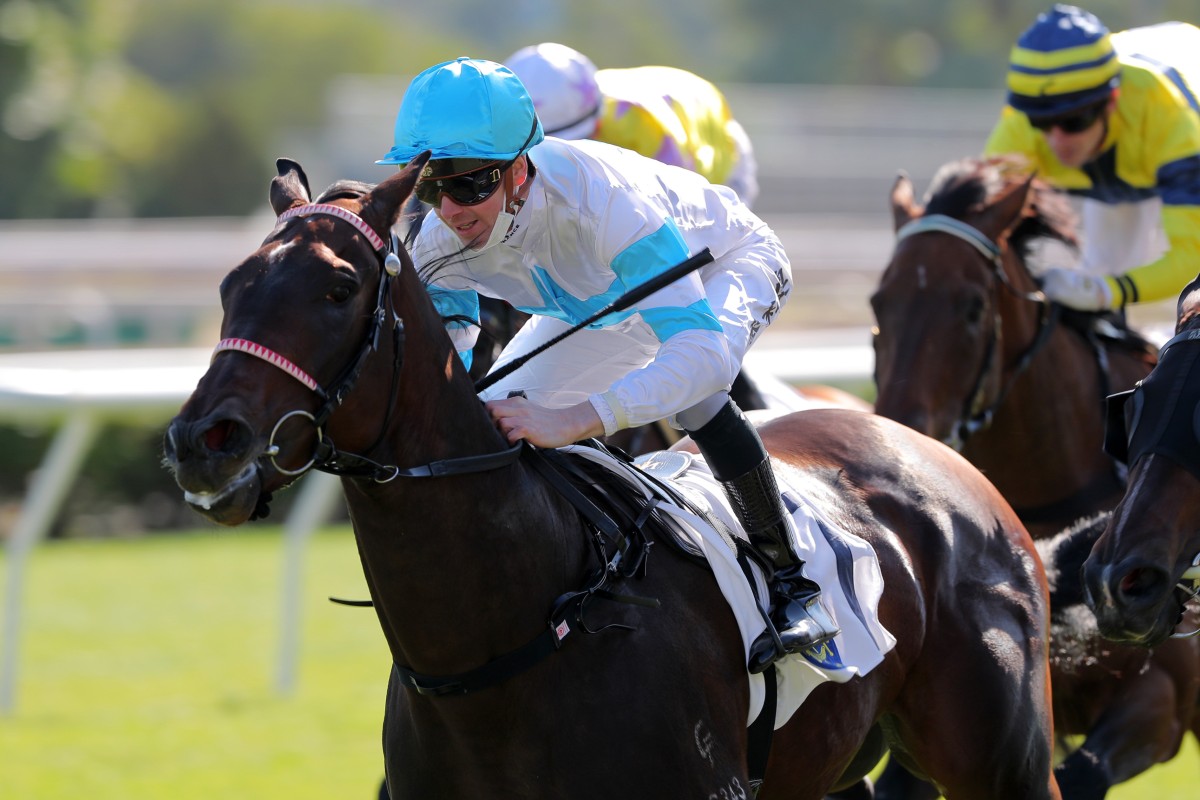 Jye McNeil shed his Hong Kong maiden tag at the last Sha Tin meeting of his frustrating stint in the city, the Australian jockey riding Ricky Yiu Poon-fai's Excellent Fighter to win Sunday's Class Three Lukfook Jewellery Diapure Handicap (1,000m).
Excellent Fighter was McNeil 41st ride – and the 2020 Melbourne Cup-winning jockey's first favourite – of his six-week spell in Hong Kong during which the 27-year-old has suffered from not only limited opportunities but also a Covid-19 infection that resulted in him missing the International Jockeys' Championship event at Happy Valley.
"It just goes to show that I can ride well enough if I get the right horses," McNeil said when discovering Excellent Fighter was the first market leader on whom he had sat since arriving in Hong Kong.
"It took a lot longer than I was hoping," conceded McNeil about his 41-race wait for his first win in the city. "Obviously, things aren't easy in Hong Kong. I'm very appreciative to be in the winner's stall, especially with Ricky Yui. He's offered me a lot of support during my short stint here.
"Excellent Fighter was one of the horses I rode on my first day. It feels as though I've been part of the team to prepare him. It's made it extra special.
"He gave me a great deal in the two trials I was able to ride him down the straight. My only concern coming here was he can step slow from the barriers, which he did do. But thankfully, we were able to get clear room over the final furlong, and he showed a great turn of foot, which was fantastic."
McNeil, who went close to breaking his Hong Kong duck in each of his first two meetings – he rode three runners-up across the November 12 card at Sha Tin and November 16 programme at Happy Valley – said he will focus on the positives of his brief stay.
"It's been a great learning curve for me. I've met a lot of new people. I've learned a lot of new things. It's been a great experience overall," McNeil said.
"I've faced a few challenges, which hasn't been easy, but today made those challenges go away.
"I've got a few rides lined up for Wednesday. It'd be great to go out with another winner."
McNeil and his young family – wife Jessica and two-year-old son Oakley – will return to Australia not long after Wednesday's meeting at Happy Valley.
"We fly back and land on the 23rd. It's four-hour drive from Melbourne to my parents' home. We'll spend Christmas Day and Boxing Day together. My wife, son and I are heading off on a caravan trip over to South Australia for a week, so that'll be a great way to recharge the batteries," McNeil said.
"I'm not too sure yet [when I'll resume riding]. Potentially after that week off or I might give myself a few days to get back to Melbourne and reassess. But I haven't really earmarked a particular time when I'll kick off again."