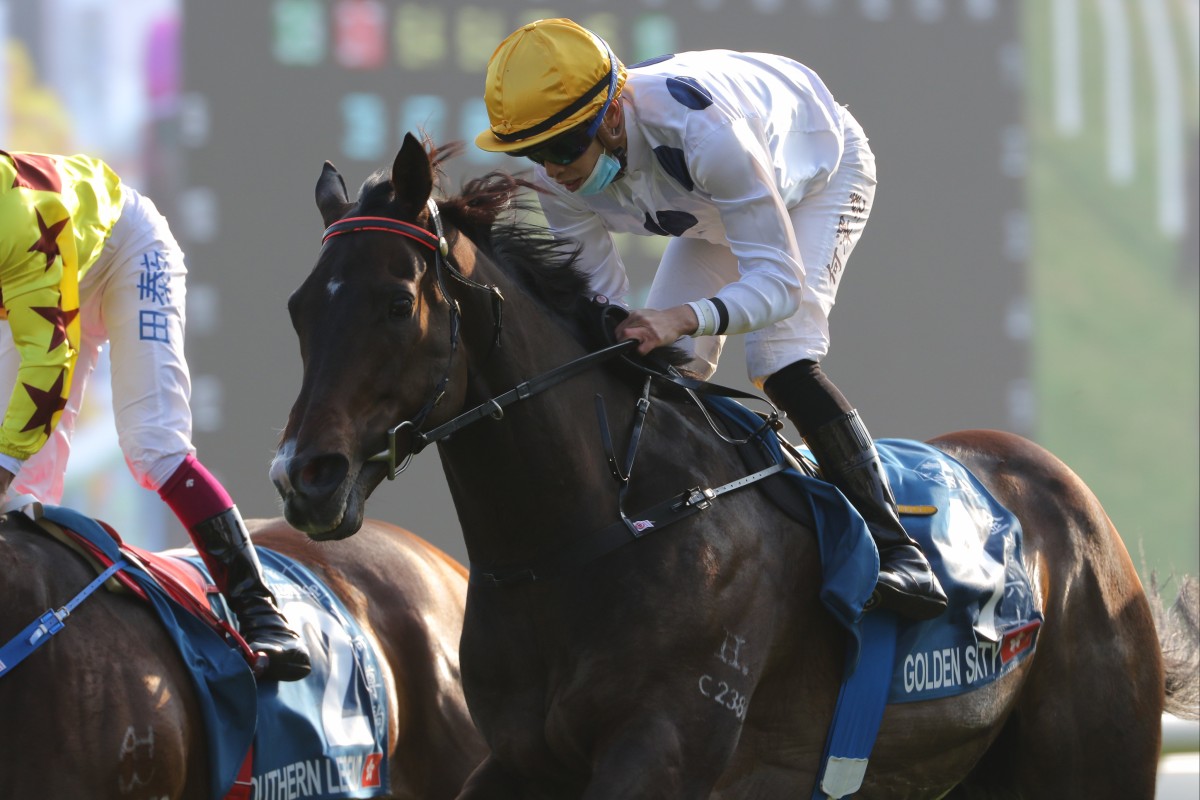 Rarely has one horse dominated discussion like Golden Sixty did in the lead up to his ultimately ill-fated record attempt in last year's Group One Stewards' Cup (1,600m).
While jockey Vincent Ho Chak-yiu maintains he was not thinking about the prospect of equalling Silent Witness' Hong Kong record of 17 consecutive victories ahead of that historic contest, it was certainly front of mind for everyone else with even a remote interest in the race.
Twelve months on from Golden Sixty's shock second to Waikuku as the hottest of favourites, the one-time undisputed champion of Hong Kong racing is very much sharing the Stewards' Cup spotlight with the new kids on the block – Romantic Warrior and California Spangle – ahead of a contest that will showcase a much-needed recent spike in the city's top-end equine talent.
And whether Ho was feeling the pinch a year ago or not, he certainly seems at ease ahead of Sunday's blockbuster, determined to appreciate what Golden Sixty – who has a Stewards' Cup on his mantelpiece after winning in 2021 – has given him already rather than get hung up on what the future holds.
"Horses like this don't stay forever and you have to cherish and enjoy every moment with him. When I work him or ride him in races, you have to enjoy those moments," said Ho, who has ridden Golden Sixty in all 26 of his starts.
That is not to say victory this weekend would not go down as one of the greatest achievements of a career that has seen Golden Sixty amass more wins (22) and prize money (HK$122 million) than any other Hong Kong-trained horse.
Golden Sixty will be looking to exact revenge on California Spangle after falling a neck short of the five-year-old in last month's Group One Hong Kong Mile, while he tackles the city's brightest new star, Romantic Warrior, for the first time.
Ho shouldered the blame for Golden Sixty's 2022 Stewards' Cup loss, admitting he got too far back, and is well aware he cannot give confirmed front runner California Spangle too much of a head start in a race where Romantic Warrior also boasts the tactical speed to settle just about wherever he likes.
"Of course, you learn from your mistakes, but you don't really look back that much," Ho said.
"He's now very relaxed, he also jumps well and he has the speed if I want him to be [closer]. It's very likely he'll be behind the pace – between three to five [in running] would be ideal. Not too far back, obviously, but where he's comfortable is most important.
"It's exciting to have top horses competing together, so I'm really looking forward to it, and I'll definitely enjoy riding Golden Sixty."
Zac Purton is the man charged with winning from the front aboard California Spangle, and like Ho he is very much enjoying being part of the build up to a contest that will see Hong Kong's three highest-rated horses lock horns.
"Obviously, of the horses that are left racing in the world at the moment, we have three horses actively racing inside the top 10. It's unique to have them going to head to head in a race here in Hong Kong, and I think that in itself explains the magnitude of the task we have ahead of ourselves," Purton said.
"There's been a lot of talk around it – it's a showdown. Let's just hope each of the horses gets their chance and they should in this small field as well.
"A small, little thing that happens at some stage of the race might be the defining moment for the result, so we all have to be on our game.
"Let's hope it goes down to the last 50m because we want it to be exciting. All three of them are in good form, so we look forward to it."