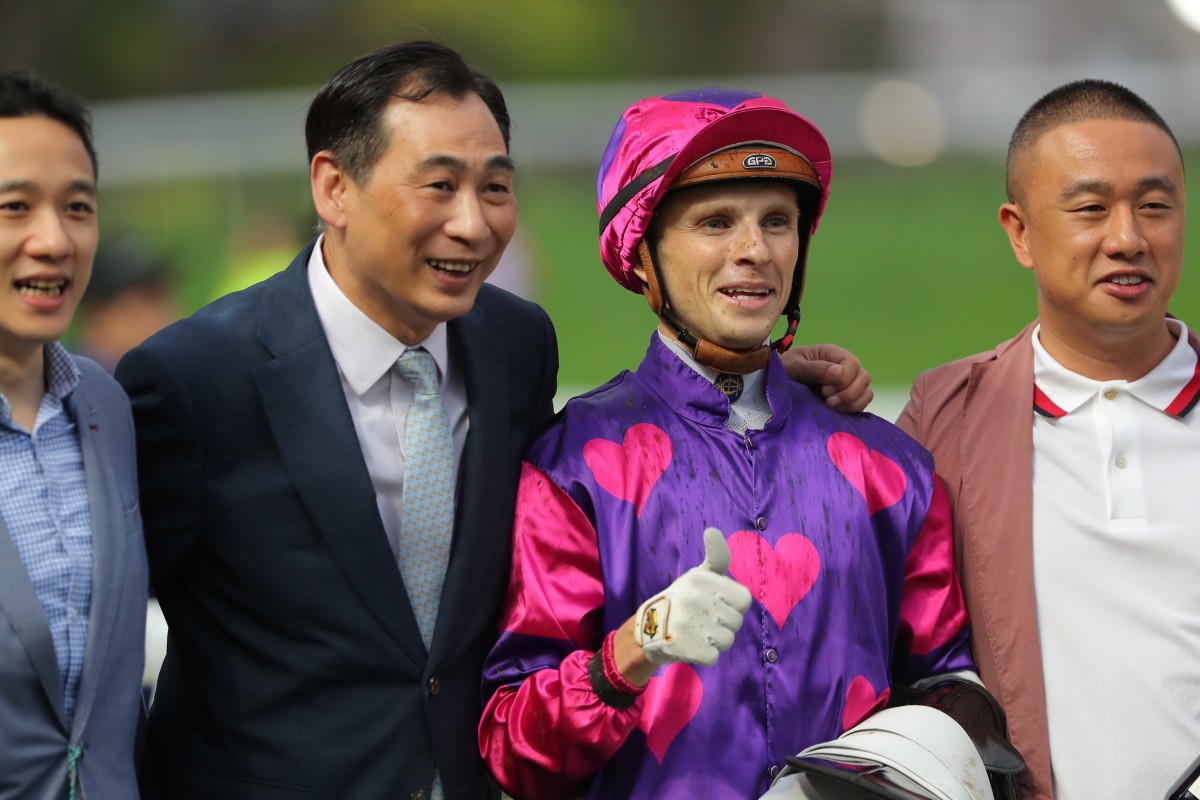 On two strikes and training for his Jockey Club licence, Michael Chang Chun-wai backed himself to hit it out of the park at Sha Tin on Sunday, and he did precisely that, celebrating his first treble in nine years and collecting HK$15,000 from his HK$500 bet.
Issued with strikes after failing to reach the Jockey Club's performance benchmark in each of the past two seasons, Chang must train at least 16 winners – a maximum of two Class Five victors count for scoring purposes – to retain his licence for next term.
Sunday's successes of Lost Child, Forever Folks and Ching delivered Chang's initial multiple of the season and the Group One-winning trainer's first treble since Boy Oh Boy, Prince Of Sunshine and Sunshine Kid won at Sha Tin on April 13, 2014.
Well-fancied Lost Child claimed the Class Four New Asia Alumni Handicap (1,400m) under Hugh Bowman, rank outsider Forever Folks secured the Class Four United Alumni Handicap (1,600m) under Antoine Hamelin and warm favourite Ching bagged the Class Three Wu Yee Sun Alumni Handicap (1,600m) under Lyle Hewitson.
However, more importantly for Chang's future, their victories outside the basement division lifted the 60-year-old handler to 13 wins this season. With three of Chang's triumphs occurring in Class Five contests, he needs another four successes outside the bottom grade from this term's remaining 32 meetings.
Even though Chang, who became the first Hong Kong-based trainer to win a race in North America when Rich Tapestry won a 2014 Group One event there, has had a lean few years, he has not lost faith in his ability to produce winners with the right stock. And he thought he had the right stock to win on Sunday.
"Before the races, I was confident my horses would run well. I tell you what I did," Chang said before reaching into his suit jacket pocket and producing his Trainer Challenge betting ticket – HK$500 at fixed odds of $30 – that returned HK$15,000.
"I got three winners today – youngster, four-year-old, three-year-old. They've got some potential.
"If I train a good horse, I'm a good trainer. Keep training donkeys, you're a bad trainer. I can win a race in America because the horse is good enough. Horse good enough, I'm good enough. When the horse not good enough, what can you do? Same principle."
Chang was not the only one of the training brigade's lesser lights to pose for multiple photographs with winning connections. Benno Yung Tin-pang-prepared gallopers won two of the opening three races, not that punters who follow trainer-jockey statistics were shocked that Yung's charges won because they tend to perform well with Zac Purton aboard.
Purton rode a patient race on Class Five Morningside And SH Ho Alumni Handicap (1,600m) winner Dragon Pride before leading almost all the way on Speedy Smartie – the Class Four Graduate School Alumni Handicap (1,200m) victor fought back after Moduleconstruction headed him halfway down the straight.
Yung and Purton have teamed up 24 times this season for 10 wins – three wins more than the betting market expected. Purton has ridden nearly half of Yung's 21 winners this term, while the champion jockey's double improved his tally this campaign to 108.