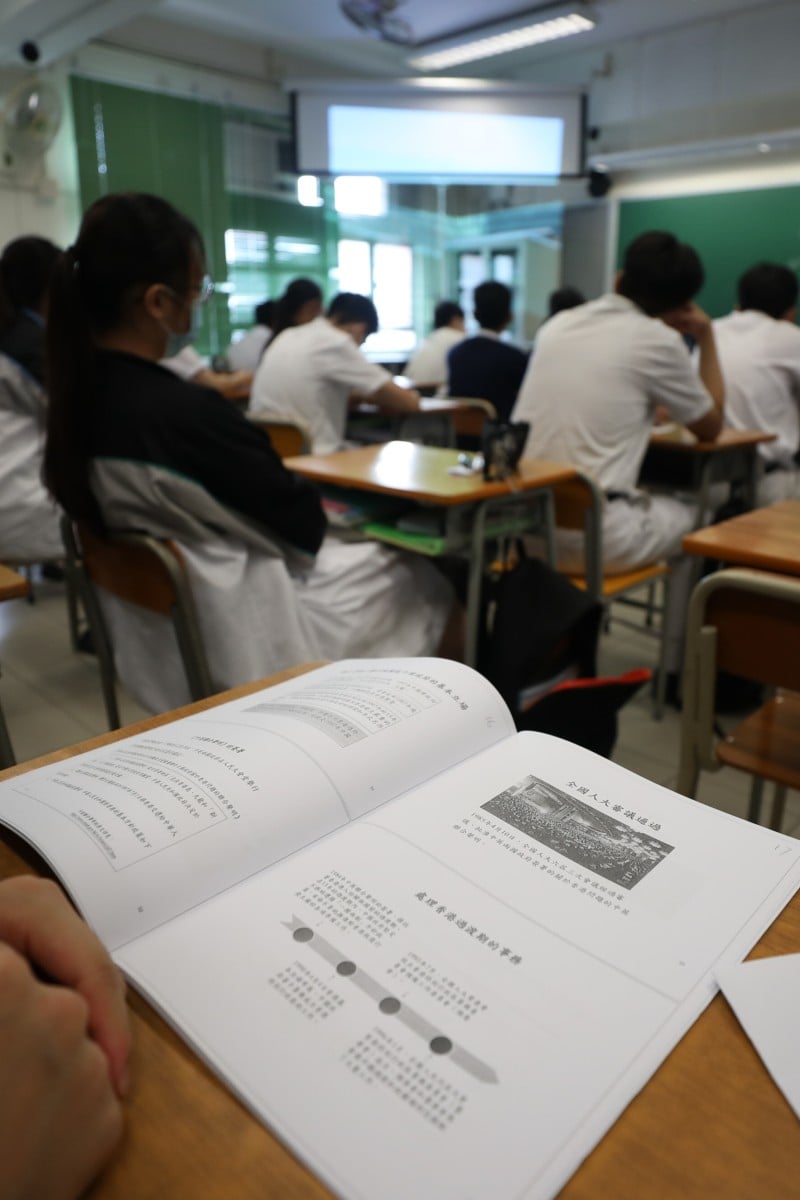 Schools are still waiting for textbooks for the subject, now called citizenship and social development, and teachers are too nervous to create their own learning materials

Educators struggle to teach politically sensitive topics required in the syllabus, such as the national security law and China's sovereignty over the city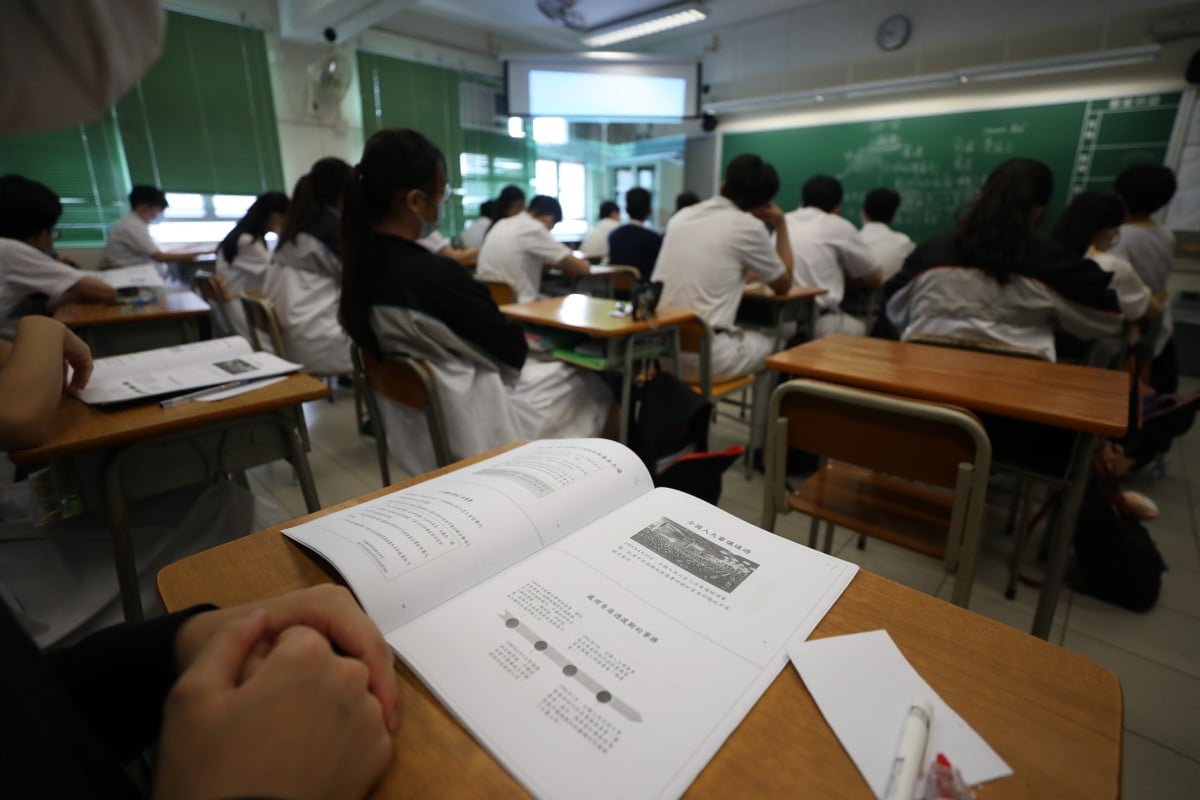 Because the new textbooks for the revamped liberal studies subject, now named Citizenship and Development, have yet to be approved, teachers say it has been difficult to teach according to the syllabus. Photo: SCMP / Xiaomei Chen
Some Hong Kong teachers are skipping politically sensitive topics in the revamped liberal studies subject, as textbooks will only be available next year and many fear that devising their own classroom materials could inadvertently land them in hot water.
Teachers who spoke to the SCMP said they preferred to wait for the textbooks, as some topics in the revamped subject – now known as citizenship and social development – were new, and the materials supplied to schools were poorly designed and too hard for students to digest.
The new face of liberal studies
The revamped subject has a syllabus focused on national security, identity, lawfulness and patriotism. The Education Bureau (EDB) said it would screen relevant textbooks from publishers, but the vetted ones would only be available next year.
Citizenship and social development covers three key themes – Hong Kong under "one country, two systems", China's reform and opening-up, and the interconnectedness and interdependence of the contemporary world, to be taught in Form Four, Five and Six respectively.
The EDB told teachers earlier this year to cover the topics in that order, without skipping or reshuffling them.
New liberal studies teaching materials (under the renamed subject of citizenship and social development) made by Ling Kee Publishing. Photo: Handout
Three of the six elements being taught to Form Four students are new – the unequal treaties in Hong Kong history, China's indisputable sovereignty and jurisdiction over the city, and the national security law imposed by Beijing on June 30 last year.
Teacher Sarah Wong* said only a small portion of the supplied teaching materials touched on these "extremely sensitive" new topics.
Why was liberal studies so controversial?
She said most teachers did not dare produce their own supplementary materials, for fear that officials might inspect them, declare them wrong and take disciplinary action.
For now, she added, some teachers had chosen to skip the sensitive topics.
Many pro-Beijing lawmakers blamed the previous liberal studies for "radicalising youth" during the 2019 anti-government protests. Photo: SCMP/ Sam Tsang
Out of 315 teachers who responded to a recent survey by the pro-establishment Hong Kong Federation of Education Workers, more than 80 per cent reported struggling with national security education and more than half said they lacked the necessary resources. Nearly 80 per cent wanted the government to provide "interactive teaching materials".
Teacher Maria Chan* said the limited materials provided by the EDB and online resource platforms run by Edcity, a company wholly-owned by the government, were difficult to adapt to the classroom.
Schools eligible for government money for national security education
"We find the resources hard to digest, as they are basically copied and pasted from the law. There would be no difference if I just read aloud from the Basic Law," she said, referring to the city's mini constitution.
"How can a secondary four student comprehend such difficult information? Even an adult would not be able to."
An EDB spokesman said the reviewed textbooks would be available for the academic year starting next September.
A cartoon depicting an armed Mickey Mouse look alike and characters representing Ronald McDonald in military uniform in a new book produced by Marshall Cavendish Education for the revamped liberal studies subject. Photo: SCMP/ Chan Ho-Him
In the meantime, he said, teachers concerned about the three topics could use online resources such as slides, teaching examples and worksheets. There were 12 sets of slides on the main points to be covered by Secondary Four students, for instance.
Teachers who found the subject hard to teach could also sign up for training sessions provided by the bureau, he added.
In addition, there are also support services for school-based curriculum, including coaching for teachers to design "neutral" materials and arrange for officials to observe some of the classes.
Dr Wong Ching-yung, principal of Scientia Secondary School, agreed with teachers who said the textbook review process was too slow and that the available materials contained a lot of jargon and were "not friendly".
But he also agreed with the bureau that it was easy for teachers to find other reference materials if they tried.
Fearing the national security law, schools remove books from libraries
To speed things along, he suggested that the bureau release the reviewed textbooks chapter by chapter.
"That way, we don't need to wait for a whole book to get passed and can save some time," he said.
*Names changed at the interviewees' request
Sign up for the YP Teachers Newsletter
Get updates for teachers sent directly to your inbox
Sign up for YP Weekly
Get updates sent directly to your inbox