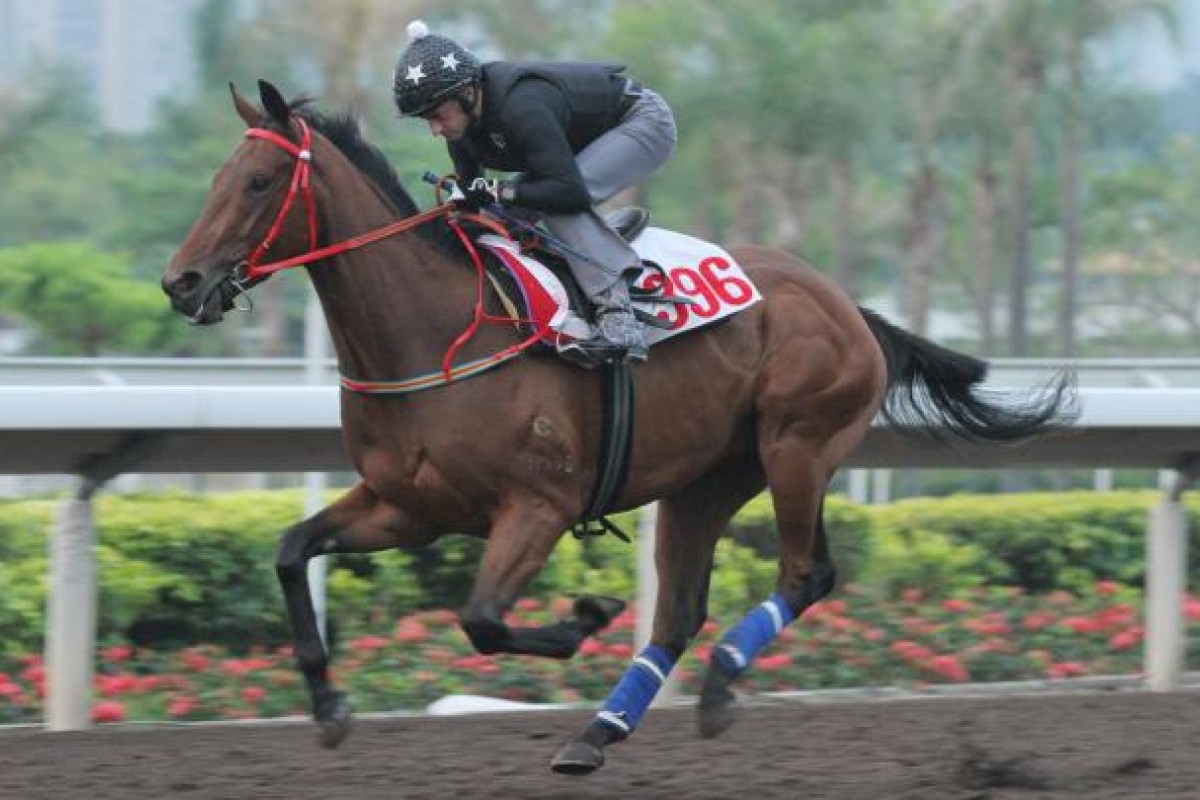 A pair of lightly raced John Size-trained runners can overcome wide barriers and act as bankers in tomorrow's Triple Trio at Sha Tin, with All Bountiful and King Haradasun facing weak Class Four fields in their respective events with Douglas Whyte aboard.
King Haradasun in particular looks well-placed to overcome gate 13 as he steps up to 1,400m after a run-on third on debut over 1,200m behind Little Cow two weeks ago, where the four-year-old didn't have the pace to stay close early and travelled wide throughout. If he can wind up in a similar manner this time, he should have no problems rounding up this lot, the only tricky aspect is hoping for a suitably strong pace and finding reliable selections to fill out the placings.
Rocket Proud fills both criteria as he bounced back to Class Four off a cellar-grade win with a 11/2 length third to Jolly Victor.
Caga Sprit (Tim Clark) has won three straight, while things are getting harder now with 131 pounds, he may have another Class Four win in him - although barrier 10 is a concern.
Good Hong Kong (Tye Angland) looks like he will need ratings relief and a race to be run exactly to suit before he cracks it, but throw him in as a place hope.
All Bountiful has provided more headaches than the usual Size-trained Private Purchase Griffin. He had been disappointing through five starts, but with the headgear off and apprentice Alvin Ng Ka-chun providing weight relief, he ran a career-best over this distance.
Anything rating up to that performance should be good enough against an out-of-form lot who have totalled two minor placings in a combined 28 runs this season. The next two to go in are Craig's Pride (Brett Prebble), who should be helped greatly from drawing two and the lack of pressure in the race, and Always Something (Olivier Doleuze) - in Class Four for the first time since his first run for Size back in June 2009 - he looks too good not to win soon in this grade.
Mochi (Zac Purton) will be in the market, whether he is strong enough to run a strong Sha Tin mile is another matter, but he has a class edge on most of these horses, and Champion Mount (Richard Fourie) needed this drop in grade.
The Class Five opening leg is a typically uninspiring affair, with the speed map appearing to give Scent Of Osmanthus and a couple of other on-pace runners an edge. Scent Of Osmanthus comes back to the bigger track - his two wins are over the Sha Tin 1,400m - after two solid runs at the city circuit. There doesn't appear to be much pressure and that also favours a couple of soft types who need everything to go their way.
Gorgeous Life (Derek Leung Ka-chun) and Diamond Angel (Whyte) have drawn three and four respectively and both have to be included, with the latter having some appeal as a banker.
Throw in Able Magic (Purton), despite the lack of speed and wide gate working against him, and consider Real General (Mosse) from his low draw.

TRACK STARS
RACE 1: (2) Enjoy The Fun, (3) My Memory, (4) Fastplus Master, (5) General Danroad.
RACE 2: (1) Highland Dragon, (7) Bernand's Choice, (9) Spectacular Award, (14) Prince Of Sunshine.
RACE 3: (7) Holyangelholy, (8) Karl Marx, (9) Sunny Pearl, (14) Sunshine Boy.
RACE 4: (1) Able Magic, (4) Victory Ide Say, (5) Diamond Angel, (10) Scent Of Osmanthus.
RACE 5: (4) Winning Instinct, (5) Mochi, (7) All Bountiful, (9) Public Figure.
RACE 6: (4) Danewin Tiger, (5) King Haradasun, (6) Mark Two, (12) Namjong Turbo.
RACE 7: (2) Lucky Record, (3) Tour De Force, (5) Affluence Of Rain, (6) Speedygonzalez.
RACE 8: (1) Real Specialist, (2) Fair Trade, (5) Silver Grecian, (7) New Vision.
RACE 9: (3) Winning Leader, (5) Green Manner, (8) Activsim, (11) Uwillbeglorious.
RACE 10: (1) Flash Knight, (4) Best Win, (6) Green Eagle, (7) Plentiful.

Read Michael Cox's blog - Intellectualstride: The horse that bit back. Go to: http://www.scmp.com/author/michael-cox-0