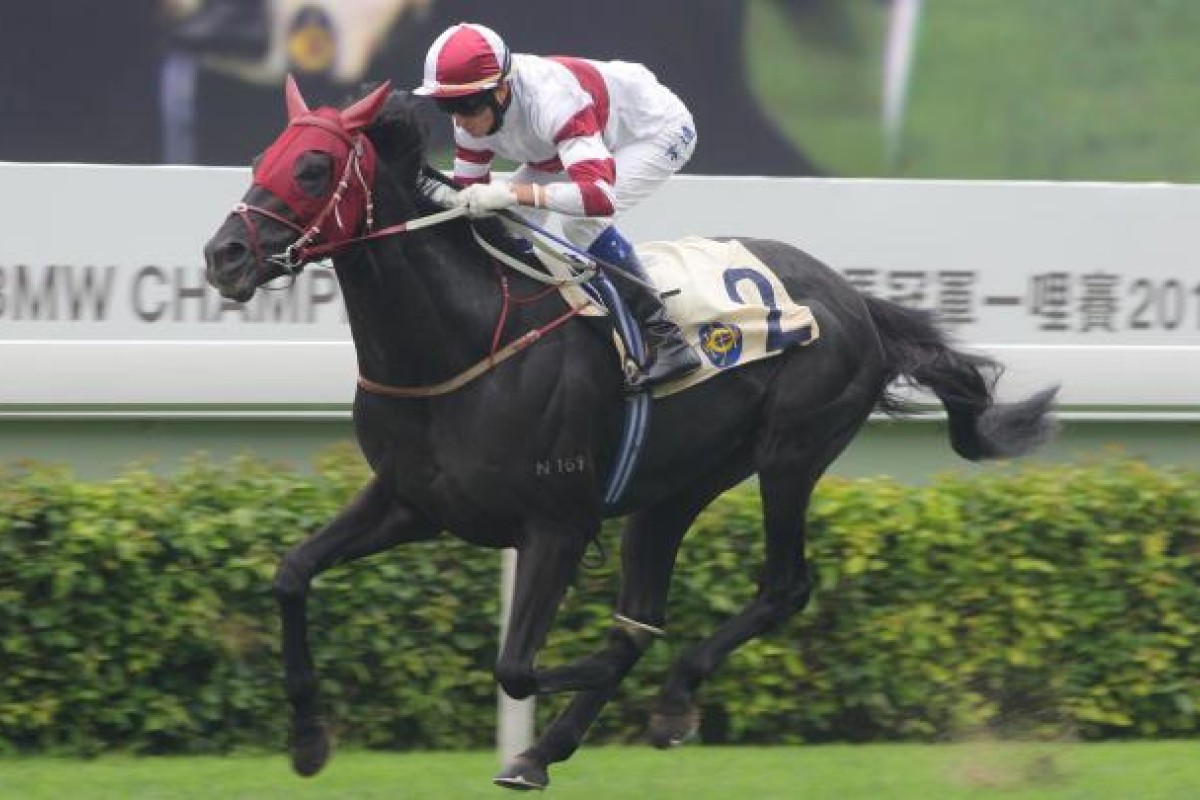 There is no horse more favoured by the set weights and penalties conditions of Sunday's Jockey Club Cup than John Moore's Dominant, and the drop in weight combined with bad draws for his two major rivals make him the safest banker in the first leg of the Triple Trio.
Dominant (Neil Callan), who gets the added bonus of barrier two, comes into the Group Two third-up and stepping out to a distance where he can begin to show his best - 2,000m - a trip his stablemate and likely race favourite Packing Whiz has never been tried over in 16 starts.
When the pair clashed last start in the Sa Sa Ladies' Purse over 1,800m, Packing Whiz asserted himself as a genuine contender for these type of races, winning easily and running through the line in a manner that suggested more ground wouldn't be a worry.
But there is little doubt 1,800m suited Packing Whiz more than Dominant, who, as well as being drawn wide that day, blew the start badly and trailed the field by as much as five lengths in the early stages. Olivier Doleuze was forced to use precious fuel up early, and then ride for luck, but Dominant was still able to close off strongly. Dominant carried 130 pounds that day, four more than Packing Whiz did, and he drops to 123 pounds.
This time it is Packing Whiz (Brett Prebble) with the unfavourable weight turnaround and wide gate - he jumps from gate 12 and directly inside another horse who will be in the market - California Memory (Matthew Chadwick).
Both will be straight out the back and hoping for a genuinely run race, which doesn't look assured. There are a couple of noted leaders - Liberator (Weichong Marwing) and Mighty High (Andreas Suborics) but they are hardly speed merchants.
California Memory seemed to have regained some of his sparkle last start as he sprinted home late - the fact he is giving all but one of the field five pounds is a concern.
Include the backmarkers on class alone, but play safe and include some horses who can take advantage of slack speed and race prominently - Liberator, Zaidan (Doleuze) or maybe even Fay Fay (Tye Angland), despite his wide draw (10).
In the first leg, stepping up to 1,600m for the first time looks perfect for the John Size-trained Turbo Jewellery (Douglas Whyte) after his surprising debut effort, where he ran-on for second over 1,400m.
Turbo Jewellery didn't show much in his trials, a further indication he is a horse that wants room to wind up and get home at the end of the Sha Tin mile. He gets gate two, but whether he gets a race run at a solid tempo is another matter. This race is ripe for a front-runner to pinch it.
That leader could be Kharu - hard fit after four runs, including a 1,800m win - and relieved of 10 pounds with Dicky Lui Cheuk-yin's claim.
The other options are Follow The Wind (Angland) and Approve (Callan).
In the middle pin, follow Whyte's lead and go with Manfred Man Ka-leung's Galaxy Prancer, coming off two solid course and distance runs, including a third to the impressive Happy Era.
Richard Gibson's Gold-Fun (Doleuze) has drawn badly for his debut run in 13, but his recent trial showed he is one to watch.
Adoration (Prebble) is no world beater, but having drawn one, it would not surprise to see him get the perfect box-seat run to finish in top three.
Reliable options are hard to find, but Super Tiger (Vincent Ho Chak-yiu) is in form and can run the trip, and as a blow-out chance, The Only Kid (Prebble) drops in class.
TRACK STARS
RACE 1:
(1) Festino Animosus, (3) Fabulous November, (6) Dragon Keeper, (10) Hearts Keeper.
RACE 2:
(1) Lucky Scepter, (3) Expedite, (7) Forever Ahead, (11) Hinyuen Paladin.
RACE 3:
(4) Danesouth, (7) Telecom Gogo, (10) Watch First, (14) Full Star.
RACE 4:
(2) Bright Star, (7) Keen Tactics, (8) Little Cow, (11) Sudden Thunder.
RACE 5:
(2) Super Horse, (3) Super Tiger, (4) The Only Kid, (5) Turbo Jewellery.
RACE 6:
(1) Flying Smart, (7) Supreme Flight, (8) Galaxy Prancer, (11) Cultural City.
RACE 7:
(3) Irian, (4) Packing Whiz, (6) Dominant, (10) Mr Medici.
RACE 8:
(2) Xtension, (3) Glorious Days, (9) Dan Excel, (10) Fair Trade.
RACE 9:
(3) Lucky Nine, (2) Super Easy, (7) Cerise Cherry, (8) Aashiq.
RACE 10:
(2) President Lincoln, (7) Navel Orange, (9) It Has To Be You, (12) California Dude.
RACE 11:
(3) Talley Close, (6) Fat Choy Hong Kong, (11) Lord Sinclair, (12) The Peak.
Read Michael Cox's blog - At the whim of an owner - and his birthday . Go to: http://www.scmp.com/author/michael-cox-0