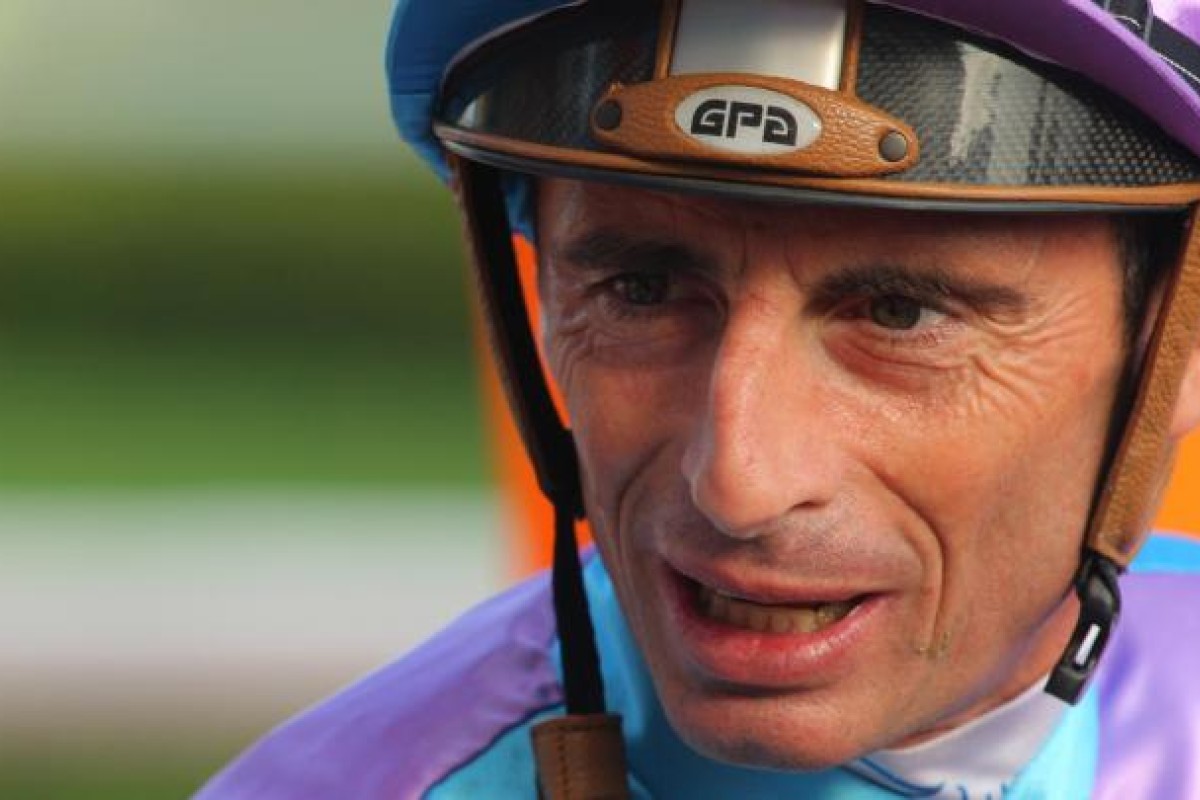 Gerald Mosse jointly owns the record for Hong Kong International Races wins, but with four mounts and the "talking horse" of the week at tomorrow's Longines-sponsored renewal, the brilliant Frenchman may make it his own.
Mosse's HKIR history stretches back to the days when there were just two international races and River Verdon landed the 1991 Invitation Cup. He has since collected the whole set: Sprints on All Thrills Too and Sacred Kingdom, a Vase on Daryakana, the Mile two years ago on Beauty Flash and the 1998 Bowl and 1999 Cup on the great Jim And Tonic, trained by Francois Doumen.
"It's nice to have a ride in all of the big races, of course," Mosse said yesterday. "Joy And Fun [Sprint] is coming off a long break and he is an older horse, but I thought his trial was good and with a sprinter I'm not so worried about him being first-up.
"In the Japan Cup, the ground was hard and this will be better for Red Cadeaux [Vase]. He was a bit blocked near the finish and so not completely flat out - I think he has something saved for Hong Kong.
"Irian [Cup] is very consistent - second last year, second in the lead-up race and looks like he is coming to his best time of year."
But it is the "Jim And Tonic" connection that sees Mosse a live chance to upset a powerful home team in the Mile on Siyouma, a Group One winner at her last two races and the star worker at the track sessions this week.
This time last year, Siyouma was headed for stud, on the back of a relatively undistinguished racing career with Alain de Royer-Dupre.
"She was an Aga Khan female, she never ran at two with De Royer-Dupre but he ran her twice at three and managed to win a maiden at Longchamp," Doumen recounted this week.
"And then she had some problems apparently and was sent to the Aga Khan's stud farm. Then she went to the sales, more as a breeding prospect, but we surprised everybody and bought her to run again."
Doumen said the consequence of such a light career had been that Siyouma was "very fresh, but she arrived at four and racing against horses with experience and she had none at all and it took a while for her to take off.
"And I realised how good she was only in July when I sent her to Newmarket. From then she never stopped improving," Doumen said. "Probably her early problems came because she was in a growing period and her bones were weak, but she got a lot of rest as a result and nothing more has happened since.
"Every run since, she improved and we don't know yet where the ceiling is. I always approach Hong Kong with confidence and I refused to run in the Kyoto Mile Championship to keep her fresh for this. I hope it will be worth my while."
Mosse was enthusiastic about Siyouma's prospects even before her sensational gallop on Thursday, having won the Sun Chariot Stakes at Newmarket and E. P. Taylor Stakes in Canada on her.
"She is very exciting. The Hong Kong horses are very strong, but I have no problem to compete with them. She has not shown us everything yet but still she played with them in those last two Group Ones," Mosse said.