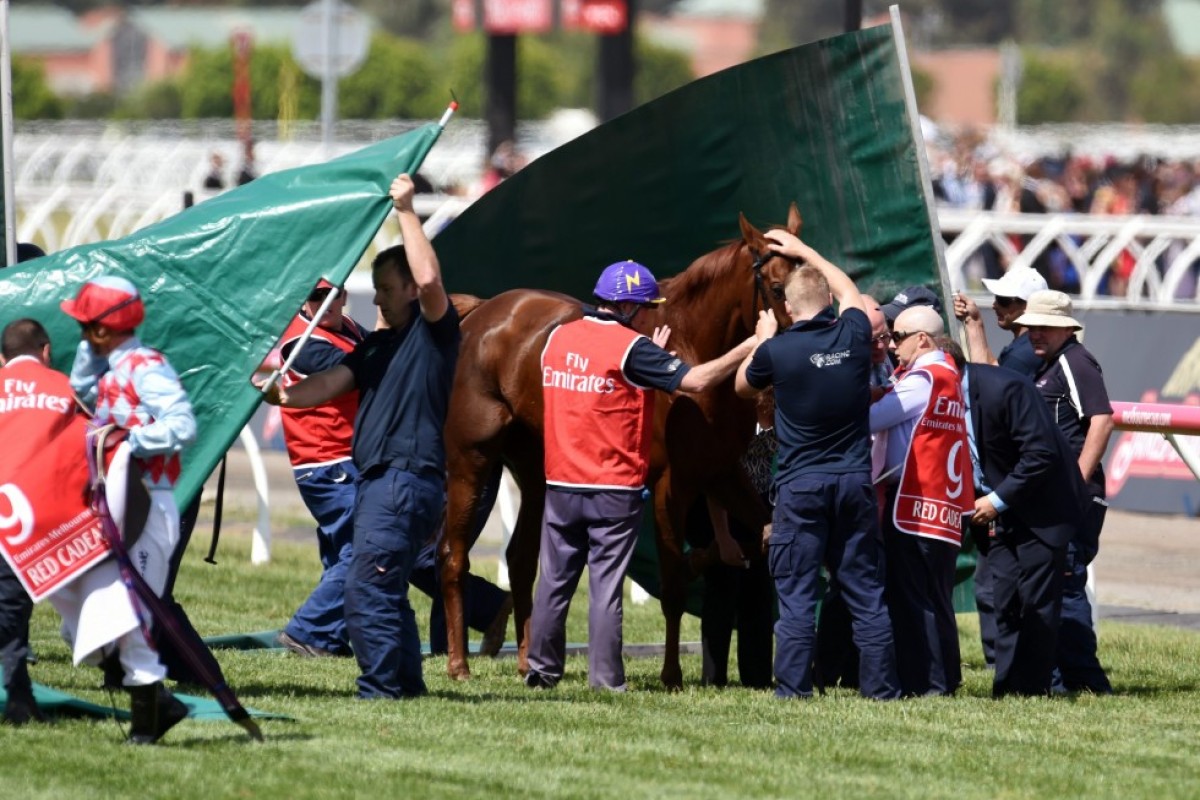 Hong Kong-owned Melbourne Cup icon Red Cadeaux has been euthanised after "complications arising" after life-saving surgery on his injured left foreleg suffered during this year's running of a race that stops a nation.
"We were so lucky to have him" said Red Cadeaux's owner Ronald Arculli this morning after the world's favourite stayer had to be euthanised in Australia due to post-surgery complications with his injured fetlock.
Racing Victoria issued a statement, saying that the horse's connections had "made the heartbreaking decision to humanely euthanise the horse after irreversible complications arose with the loss of blood flow to the foot on his injured left foreleg.
We were so lucky to have him
Experts at the University of Melbourne Equine Centre at Werribee, where the horse has been under veterinary care since the race, advised that there were no means by which they could successfully address the complication."
The grand stayer's last win came in the 2012 Hong Kong Vase, a particularly proud moment on home soil for Arculli, high profile lawyer, businessman, administrator and a former Hong Kong Jockey Club chairman.
READ MORE: Hong Kong-owned Red Cadeaux in Melbourne Cup disaster: surgery required for shock career-ending injury
But to his legion of fans worldwide, Red Cadeaux was best known as the incredible globetrotter, who competed in seven countries, often multiple times, over the past four years, and finished second in three Melbourne Cups, a Dubai World Cup and the Queen Elizabeth Stakes in Sydney.
"We knew it was going to be a long recovery process at Living Legends, maybe six to eight months, getting the horse back to being able to run around in a large paddock again," said a downcast Arculli. "It was not going to be an easy rehabilitation in any case and with the complications, he looked like he would lose a foot."
The release quoted trainer Ed Dunlop on behalf of connections, thanking the vets for their efforts to save the nine-year-old since he suffered the injury 18 days ago in the final stages of the Melbourne Cup, the race which had made Red Cadeaux such a crowd favourite around the world.
"This is my saddest day in racing. Red Cadeaux was a much loved member of our family and my thoughts are with his owner Mr Arculli and my staff, particularly Robin Trevor-Jones and Steve Nicholson, who spent every day caring for this horse," said Dunlop.
"Unfortunately, the complication was irreversible and the decision to euthanise the horse, whilst terribly hard, was made in his best interests.
"Red Cadeaux has given us and the racing public so much joy competing with great distinction across the world. He was an incredibly tough competitor with a wonderful nature and he will be dearly missed by all."
This is my saddest day in racing. Red Cadeaux was a much loved member of our family and my thoughts are with his owner Mr Arculli and my staff
In the release, Arculli said of Red Cadeaux: "For a race that stops a nation we were lucky to have a horse that touched a nation. We will miss Red Cadeaux dearly." At Arculli's request, Red Cadeaux's final resting place will be at Flemington racecourse, where the Melbourne Cup is run.
"He seemed to love the warmer weather whenever he travelled and Australia was his favourite," Arculli said, recalling that Red Cadeaux was one of those horse who didn't set the world alight from the start but very gradually emerged as a star over time.
"Who would have thought he would be the horse he was - looking back we have been so very lucky to have him. Ed Dunlop often teased me that when Red Cadeaux was a two-year-old he was too big to get up Warren Hill at Newmarket.
"When he was four, he'd won a couple of minor races by then and was improving and I half-jokingly said to Ed that I wanted to see him win the Melbourne Cup the next year. I nearly got that wish, as it was the year Dunaden beat him in the closest Cup finish ever. An amazing race, and such an amazing horse. To travel all that way during his career and to do so well so often - not many horses can do that."