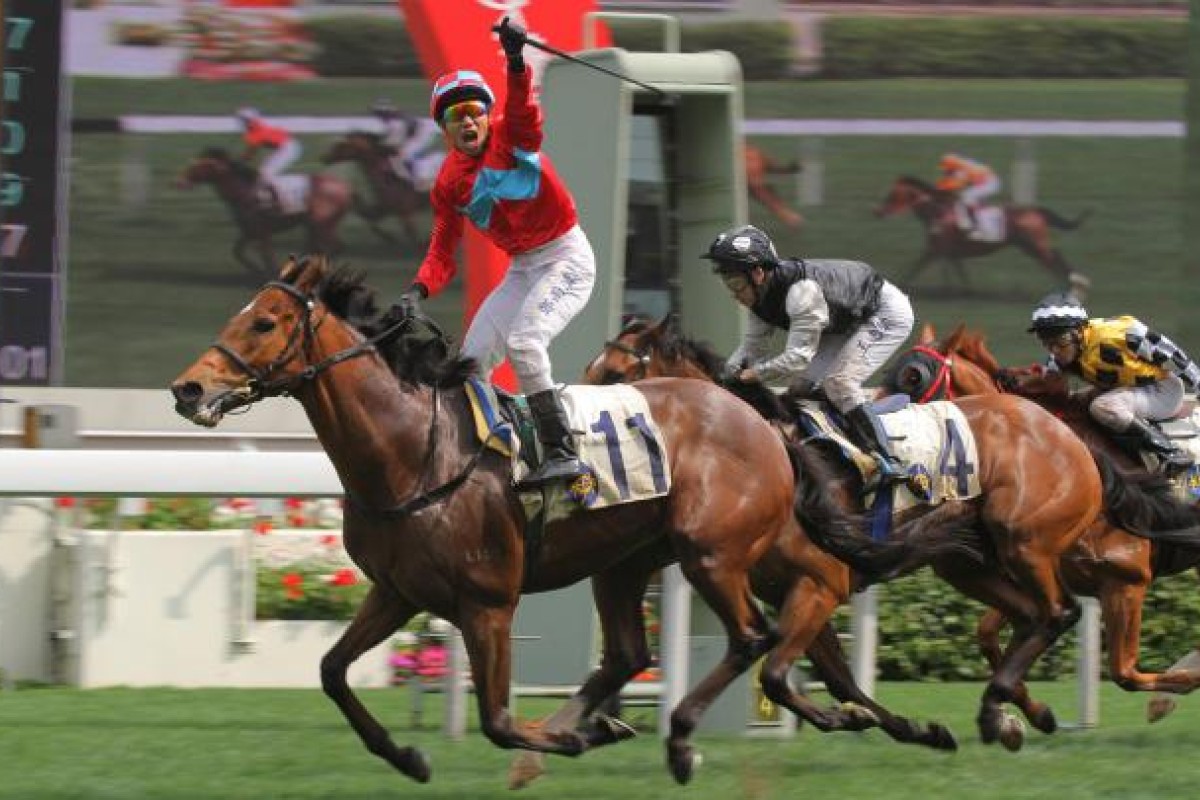 Veteran Peter Ng Bik-kuen is having an excellent final season and can provide a couple of bankers in the Triple Trio on Sunday, with the well-drawn pair Panther Run and Flying China standing out as run-on hopes - both assisted by solid speed.
Ng is seventh in the trainers' championship with 14 victories, and the 65-year-old seems intent on closing out his three-decade long career by improving on last season's 28-win effort.
Panther Run (Howard Cheng Yue-tin) drops from an horrendous draw into gate one and steps up to what looks like his best trip - 1,800m - in the middle pin of the TT, in which he should be getting home strongly from midfield.
Last start over a mile, Panther Run was jagged back to last from barrier 13 and Cheng was forced to get moving a long way out when the pace slackened dramatically with 800m to go. By the time he got to the straight, he was six wide but found the line strongly for second behind Real General.
Fourth-up over the trip he last won over, all Panther Run needs is a solid gallop up front. Kharu (Ben So Tik-hung) will cross from gate nine, with Bullish Power (Matthew Chadwick) making him work, while Danesouth (Jackie Tong Chi-kit) could also play pest.
Include Kharu and Bullish Power, along with All Bountiful - even though he has been a disappointingly unplaced favourite at his last three starts. Care Free Pegasus (Olivier Doleuze) is another option.
Ng benefitted greatly from the retirement of Alex Wong Yu-on, and his next winner from that stable could be Flying China (Brett Prebble), who hasn't run a bad race since an off-season re-handicap saw him drop back into Class Four.
He lost seven points during the break and has run fourth, third and second since - all over 1,200m on the all-weather track - and that sequence can continue with a win over the same course and distance.
Hearts Keeper (So) is finally back on the surface where he looks at his best - after some ill-advised runs on the turf - and he looks like an option as a double banker. He has drawn two and jumped out of the ground with a career-best effort over the track and distance two starts back.
Competition will come from some talented youngsters, and one of them holds the key to the speed - with a fast tempo critical for both Flying China and Hearts Keeper, who are likely to settle in the second half of the field.
Bullish Friend (Matthew Chadwick) will cut along at a decent clip, but he might keep going, too, after showing above-average ability as a griffin and in trials. Maroon Prince (Neil Callan) is a talent, but he'll need even more luck than he had last start jumping from the widest barrier. Darpana (Weichong Marwing) has excellent dirt track credentials and drops into a grade where he is dangerous.
The opening leg is the hardest, with a heap of out-of-form and inexperienced horses, but Champion Ranger (Cheng) is the best bet as a banker after a couple of luckless run-on performances.
One thing that does seem assured is speed, with a couple of go-forward types drawn wide with apprentices up - Double Dragon (Dicky Lui Cheuk-yin) and Winning Mascot (Alvin Ng Ka-chun). There's a big chance they could go too fast, suiting the bottom weight Champion Ranger, who has drawn seven.
Richard Gibson likes to progress newcomers from an educational 1,000m run into a 1,400m race, and it seems the right move for Winning Legend (Tim Clark), but it looks like he will have no option than to go back to last from gate 14. He will get a race run to suit, and needs to go in.
Consider Safari Magic (Tye Angland), who appreciated the step up to this trip last start.
TRACK STARS
RACE 1:
(1) City Of Lights, (5) Diamond Angel, (6) Fascinating Smile, (7) White Hart King.
RACE 2:
(1) Regency Champion, (9) Mega, (10) Speechmaker, (12) Treasure Man.
RACE 3:
(1) Dars Auto, (4) M's Magic, (7) Able Dragon, (9) Billion Gains.
RACE 4:
(2) Double Dragon, (8) Safari Magic, (13) Winning Legend, (14) Champion Ranger.
RACE 5:
(2) Care Free Pegasus, (5) Panther Run, (7) All Bountiful, (14) Danesouth.
RACE 6:
(4) Lord Dragon, (5) Maroon Prince, (8) Hearts Keeper, (9) Jade Christy.
RACE 7:
(1) My Name Is Bond, (2) Bundle Of Love, (4) Mi Savvy, (5) Winnie's Horse.
RACE 8:
(3) Nordic One, (5) Mentor, (6) Fujian Spirit, (11) Turin Champion.
RACE 9:
(2) Amber Sky, (4) Good Boy Boy, (5) Straight Gold, (6) Regency Luck.
RACE 10:
(1) Mizani, (5) Dance For Gold, (7) Holyangelholy, (9) Cultural City.
Read Michael Cox's blog - Flench flair adds a dash of diversity. Go to: http://www.scmp.com/author/michael-cox-0