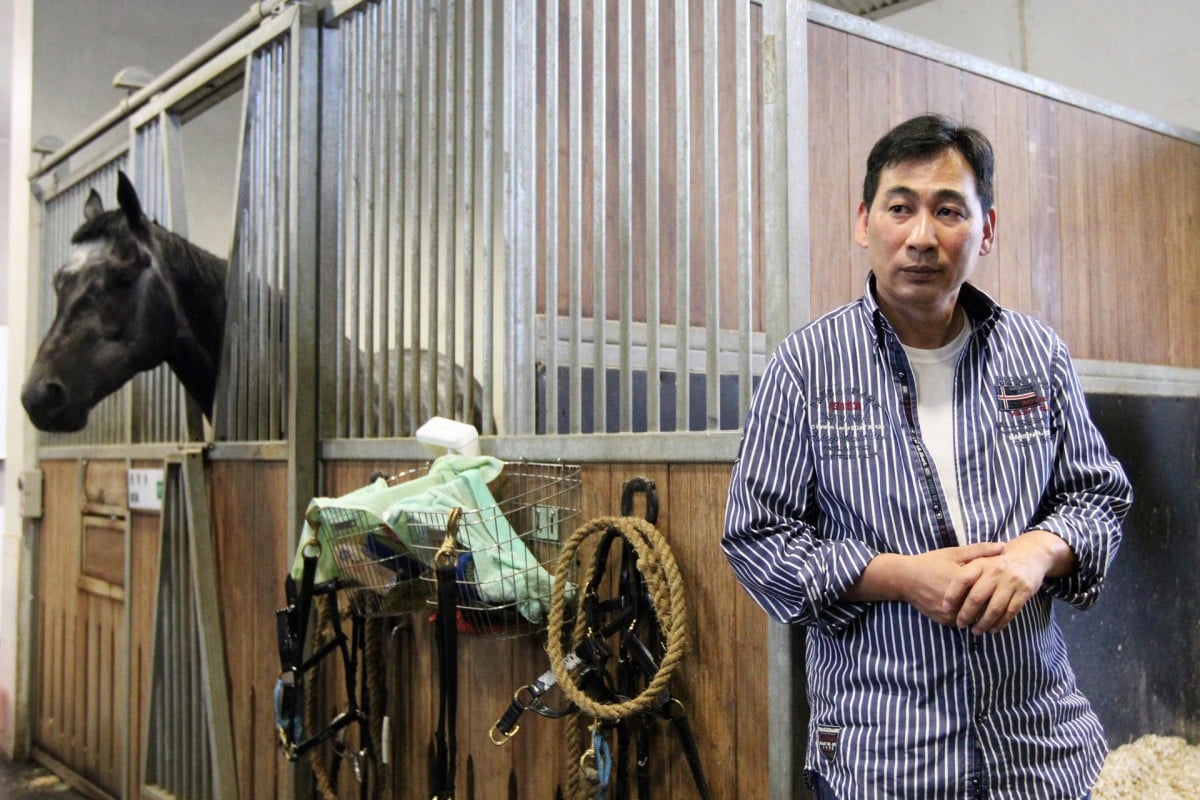 Ask Michael Chang Chun-wai to recall his earliest childhood memory and you unlock a window to the amateur era of Hong Kong racing.
It's the 1960s and Chang's father, Joe-kwan or "Joe" as he is known, was a groom, or mafoo as they are now known, to one of the many Russian trainers in Happy Valley.
HOW MICHAEL CHANG MADE HISTORY IN THE U.S. - CLICK HERE
A mafoo is the lowest ranking member of staff - his job is to take care of the stable's most menial tasks. Each morning before the horses were led down from the top of Shan Kwong Road, past homes to Happy Valley racecourse for workouts, Joe would wrap the horse's feet in special boots to dull the noise of the metal shoes on the asphalt.
As the seven-year-old Michael would awake, and draw back the curtains at first light, this is what he would see. "It was a very steep road, we lived in the quarters in a small flat on the first floor, right above the stables, they were on the ground floor," Chang recalls.
You have to communicate with the horse, you have to see the body language. Horses cannot talk to you so you need to watch them. It's all about body language
"So when I woke up, the first thing I would see were the horses. I would see them every day and I just I got used to it. It was a different time in Hong Kong, and the racing was very exciting - the speed of it excited me and I just loved the animal."
Joe Chang retired in 1998, having risen to the rank of "head lad". He is now 77, lives with his son, and attends every Sha Tin meeting. Chang learnt his guiding values from a mafoo - who just so happened to be his father - so little wonder that if you ask those who know the trainer best, they say that loyalty and respect to his staff are his strengths.
"You have to love the horses, but I always taught Michael that if you want to be an assistant trainer, and then a trainer, you have to be good to the stable staff. Be good to your team," Joe says.
"He always liked the horses very much, even when he was a young boy of seven and eight years old - long before he was a teenager - he would follow me to the stables."
What does Chang think he learnt from his father?
"Time and patience," he says. "You have to communicate with the horse, you have to see the body language. Horses cannot talk to you so you need to watch them. It's all about body language."
Unlike many of his Chinese colleagues, Chang doesn't believe in luck, despite having what appears to be a decidedly unfortunate, or at least disproportionate, 47 seconds to go with his 18 winners last season. He believes in hard work.
"Maybe there are some geniuses in racing, but I'm not one of them," he says. "But I have my experience. I learn from my mistakes. No short cuts, it is all about hard work." After learning to ride from 14, Chang set sail for the world at 21, landing in the stables of former Hong Kong-based English jockey Brian Rouse at Epsom and spending three years there, even gaining an apprentice jockey licence and riding in 17 races.
"Of course, when I was a little boy I wanted to be a jockey, but my size was always going to stop me," he says. "But it was a good experience and helped me see racing differently."
On returning to Hong Kong, Chang did the hard graft familiar to all Chinese trainers. From riding boy, to head lad. From head lad, to assistant trainer, and finally, horse trainer - battling with some of the best foreign trainers in the world.
Along the way he made study trips to the United States and Europe, trying to broaden his knowledge of the craft.
French jockey Olivier Doleuze is Rich Tapestry's regular jockey and says there is a European style about the trainer.
"Michael's strength is that he is very open-minded and patient," says Doleuze. "He doesn't rush horses, especially if they have a problem. That isn't easy when you are under pressure from the owners here. I love working with him on young horses, watching them learn and grow, and talking to him about them."
This is Chang's 10th season, and it hasn't been an easy ride. He has nearly 200 winners, but has scraped his way there, mainly stationed in the bottom third of the trainers' standings, struggling through lean seasons to begin with before finding the type of horse that can turn a career around.
Rich Tapestry came from Ireland, where he was under the care of famous trainer Dermot Weld, who had the then three-year-old set for the stamina test that is the Irish Derby.
Remember, Chang doesn't believe in genius, so is far too humble to claim it was anything but trial and error that saw him switch Rich Tapestry to shorter races, and then to the dirt surface where he has excelled.
The horse has now won more than HK$10 million for his owners, and taken Chang to Dubai, where he won a Group Three race and then competed at the world's richest race meeting - Rich Tapestry finishing second to another Hong Kong raider, Sterling City in the US$2 million Golden Shaheen.
This morning Chang made his latest overseas foray, starting Rich Tapestry's campaign in the Santa Anita Sprint Championship, where a fair performance will qualify him for the big dance in three weeks and a start in the Breeders' Cup Sprint.
Rich Tapestry is the first Hong Kong-trained horse to compete in the US for more than two decades, so Chang is a pioneer of sorts, but also by default, a poster boy for the anti-raceday medication brigade.
American racing is dogged by the stigma of drugs, but particularly a diuretic called Lasix. Global racing politics mean that the Hong Kong Jockey Club, a self-proclaimed bastion of "drug-free racing" has banned, or at least actively discouraged, Chang from using Lasix, perhaps to the trainer's competitive disadvantage.
"As the club officials said, there's no room for compromise, the HKJC don't allow use of that drug," Chang says.
"I don't think we are at a huge disadvantage. But honestly, I'm not sure. What I am confident about is my horse - he is an honest horse. We may not have used Lasix anyway, but I hope he can win without it."
Ask Joe if he is proud of his son, and it is clear he doesn't hand out compliments easily. He says his son's success was "expected", that from the very start there was a "love for the animal" that has carried him this far.
Ask Chang himself? "I think he is proud of his son," he says. "He can't come to America with me, but he will be watching on television, and if I win he will be the first person I call."