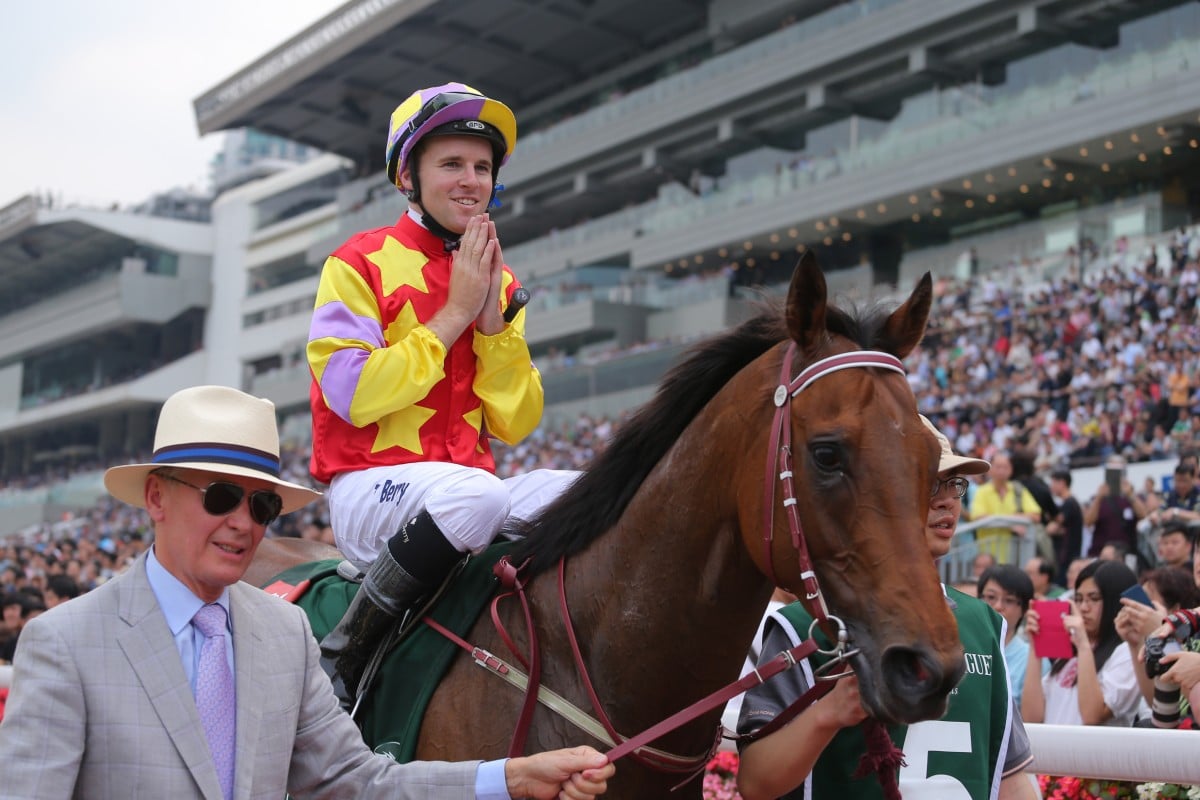 The hunt for the season's majors gets real on Sunday with the Group Two Oriental Watch Sha Tin Trophy day, and fate has allowed trainer John Moore to separate the yard's two big guns who provided such thrilling theatre last season.
The Sha Tin Trophy sees a who's who of Hong Kong's top grade with 23 Group One wins between the 14 runners - eight of those at international level - and the field includes three horse of the year award winners.
In other circumstances, Able Friend and Designs On Rome would probably have added this Sha Tin Trophy to their series of spine-tingling clashes in the four-year-old classics earlier this year.
He's that versatile type of horse who will sprint with the best of them when he's fresh
But Able Friend's minor setback after wrenching a leg in work last month sees him having his first run of the campaign in the shorter Premier Bowl instead.
"The 1,200m is more suitable to start Able Friend off and he'll step up to the Jockey Club Mile after this, and then on to the Hong Kong Mile," Moore said.
"There are no issues with him, he's in good shape and I expect he'll be competitive if he can draw a gate. He's a better miler, of course, but he's that versatile type of horse who will sprint with the best of them when he's fresh. But he does want a draw - last season he got a few wide draws, which really dictated the tactics and that will be the case again."
Moore has won the Sha Tin Trophy five times, the first in 1985, and will not be surprised if Horse of the Year Designs On Rome gives him another on Sunday, though he admits the horse nearly surprised him with a win first-up in the Celebration Cup.
"The 1,400m was too short and he wasn't wound up, but he flashed home and nearly won it and that was well above my expectations," Moore said. "Seeing him run like that first-up suggested that maybe he was coming to hand quicker than I'd anticipated, so I haven't done a lot with him since."
The performance left the trainer with a balancing act in his preparation for Sunday's Group Two, where Moore also saddles up Hong Kong Vase winner Dominant, Flagship Shine and Rewarding Hero.
"Designs On Rome is a little fitter than he was for that last run, and he's one of the ones to beat on Sunday, but I've left improvement there," he said. "The first run showed he might be ahead of schedule and I don't want him peaking too soon. We want him at his best, not over the top, on international day."