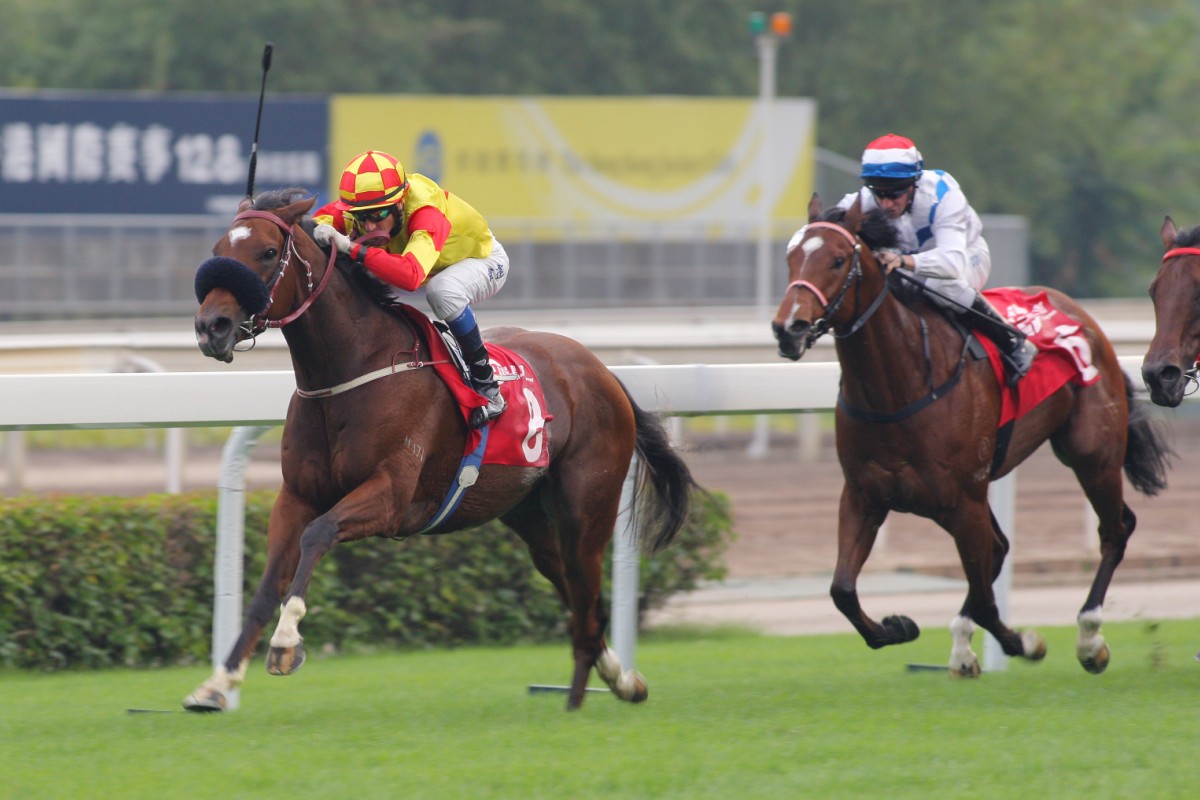 The latest Hunger Games film, released this week, is marketed by the franchise's catchphrase once again: "May the odds be ever in your favour."
That should be the new slogan adopted by Australian bookmaker Sportsbet - a subsidiary of UK corporate Paddy Power – after they posted markets on the four international features last week. The odds are most definitely in their favour, and it is almost a comical and futile exercise to try and find value.
Does anyone seriously want to be taking anything under 20/1 for any of these races, all-in, three weeks out? Surely, just be patient and wait until the provisional fields are released next Wednesday, or at least until Sunday's three international trials highlights the local assault.
Of course, if there's something at over the odds, go ahead, but it is a desperate task.
Before the market is thinned even further, we've pulled apart each of the four races - in particular the Sprint and the Mile, where Hong Kong is likely to be strongest - and tried to find some value, as well as looking at some of the idiotic prices on offer.
For Hong Kong readers, you will only be able to read along, laugh and be glad to live in an all-tote environment where you cannot be sucked into these markets. For those overseas, we've provided a couple of horses that will probably be over the odds come raceday.
Hong Kong Sprint
Market Percentage: 255%
Market (as of 9am this morning):
$5 Aerovelocity, Gold-Fun
$7 Teofilo Calva
$7.50 Snow Dragon
$8 G Force, Spalato
$9 Lucky Nine, Buffering
$10 Peniaphobia, Smart Volatility, Straight Girl
$12 Sole Power, Noozhoh Canarias
$14 Able Friend, Gordon Lord Byron
$17 San Carlo, Exciting Dream, Golden Harvest, Robe Tissage
$21+ Others
Talk about criminal – 18 horses under 20/1! Out of only 54 horses in their market, too.
A common theme throughout is horses that are millions to even start in the race being ludicrously short.
Take Teofilo Calva – he's a very promising sprinter and 12 months down the road, there is every chance we could be talking about him as the local hope to hold out the internationals in the Hong Kong Sprint.
But for him to make the field, he'd need a miracle. Forget the fact he is with John Size, who has been deliberately patient with the horse and will not rush him for the sake of making the Sprint this year.
He runs in a Class Two on Sunday off a mark of 96. Even a dominant victory is unlikely to see his mark rise by more than 10 points, which would take him to 106.
Last year, the lowest rated local to make the field was Go Baby Go, who had a rating of 117.
So forget Teofilo Calva – he won't run.
There is a big query over how many locals will sneak into the field, with this race attracting most of the international attention this year - perhaps because it was the only race the internationals stole last year.
Using last year's 117 benchmark (and even the five-year average of 115.2), it leaves Bundle Of Joy (112), Peniaphobia (111), Exciting Dream (110), Golden Harvest, Smart Volatility and Super Jockey (all 106) needing a top performance this weekend if they are to sneak into the final field.
Then, you have the likes of Gold-Fun and Able Friend who are bound for the Hong Kong Mile rather than the Hong Kong Sprint.
The madness of Amber Sky at 100/1 is gone, sadly. Yes, he has to get 1,200m around a bend, which he gets tested at again on Sunday, but 100/1 about a horse of his calibre was delusional - particularly given the scope of the market. He's now a more acceptable 20/1.
On the flipside, there are two John Moore horses who appear a silly price – in the scheme of things, anyway.
Charles The Great (66/1) has been struggling to concede weight in three handicaps this season. He won the Jockey Club Sprint last year and back to the set weights conditions on Sunday should prove competitive again.
In fact, the four times in the last year he has run in set weights races over the Sha Tin 1,200m, he has won the Jockey Club Sprint, finished 11th in the Hong Kong Sprint when he refused to settle for most of the race and did not see daylight in the straight, finished second in the Chairman's Sprint Prize to Lucky Nine and won the Sprint Cup.
The other is Flagship Shine (100/1), who reverts to sprinting this weekend after another failure over a mile. He has always looked the type that could make a nice sprinter, but the lure of the four-year-old classics proved too strong.
Both are almost certainly guaranteed runs, which is a lot more than can be said for most horses in their market.
Hong Kong Mile
Market Percentage: 275%
$6 Able Friend, Divine Calling
$6.50 Gold-Fun
$7 Just A Way, Ambitious Dragon, Beauty Only
$8 Glorious Days, Grand Prix Boss, Gordon Lord Byron
$10 Captain Cat, Custom Cut, Tosen Ra
$11 Noozhoh Canarias
$13 Tullius
$14 Aljamaaheer, Karakontie, Obviously, Spalato
$17 Beauty Flame, Lucky Lion
$21+ Others
Just as with Teofilo Calva above, there are two horses here which are seemingly unders given they are unlikely to run.
Divine Calling is perhaps understandable, given the Hong Kong Mile was mentioned as a target after his dominant first-up victory. However, his rating languishes at 105 and he'd need to get it up towards 120 if he wants to run in this race. Given he trials on Friday morning, the 1,400m Class One on international day looks a logical target as he heads towards the Classic Mile.
Another heading that way is Beauty Only. Sure, he's won his only two starts so far in Hong Kong, but his rating is well down at 93. It is impossible that he will get a run, and for him to be the same price as a horse like Ambitious Dragon is highway robbery.
It is important to note that Hong Kong's mile division is traditionally the strongest, and the Hong Kong Mile has not been won by a foreigner since Katsuhiko Sumii's Hat Trick won for Japan in 2005.
Last year, the lowest rated local to make the field - John Size's Real Specialist - had a mark of 120 pre-race. Most years, the cut-off is around that mark too, although this year it looks like being lower.
Still, it is best to look for a local horse rated over 120 – which leaves Gold-Fun, Glorious Days, Ambitious Dragon and Able Friend. And really, unless there's a surprise next week, not sure you really want to be looking elsewhere anyway.
Longines Hong Kong Cup
Market Percentage: 264%
$4 Designs On Rome
$5 Farraaj, Military Attack
$6 Just A Way
$7 Beauty Only
$8 Al Kazeem
$9 Cirrus des Aigles
$10 Criterion, Tullius
$11 Nuovo Record, Toast Of New York
$15 Curren Mirotic, Epiphaneia, Lucky Lion
$21+ Others
The same point as Beauty Only applies here, and while the rating threshold is somewhat less here, it is still impossible that he will get a start.
It becomes obvious that Australians set this market, as last start Mackinnon Stakes third Farraaj holds down equal second favouritism. Farraaj was a terrific run in the Mackinnon and is a chance, but the same price as Military Attack on his home turf? Seems a bit rich.
Again, it is a matter of dealing with unlikely horses, but this time it is mainly internationals. Al Kazeem has been ruled out by Roger Charlton, Nuovo Record may come to Hong Kong but not until April's Audemars Piguet QE II Cup and Toast Of New York is staying away from the turf.
It's hard to see any of the locals knocking off Designs On Rome or Military Attack, but the price about California Memory (33/1) seems big.
Longines Hong Kong Vase
Market Percentage: 235%
$4.80 Flintshire.
$5 Red Cadeaux
$7 Farraaj, Willie Cazals
$8 Nuovo Record
$9 Al Kazeem, Cirrus des Aigles, Ivanhowe
$11 Dominant, Snow Sky, Telescope
$14 Curren Mirotic
$16 Denim and Ruby, Mutual Regard
$18 Brown Panther, Blazing Speed
$21+ Others
The Vase is the hardest race to predict in terms of a final field, especially because the majority of the field is made up of foreigners.
With confirmation from the SCMP that Flintshire was a definite runner, he has moved into favouritism ahead of Red Cadeaux. Also confirmed from the list above is Curren Mirotic, while connections of Snow Sky are chasing an invite.
From a local viewpoint, it seems bizarre that Willie Cazals is four points shorter than Dominant. Willie Cazals has been racing in easier races than Dominant and running well, and could easily finish in front of him again this weekend with the five-pound allowance. However, on international day, expect them to be evenly matched.