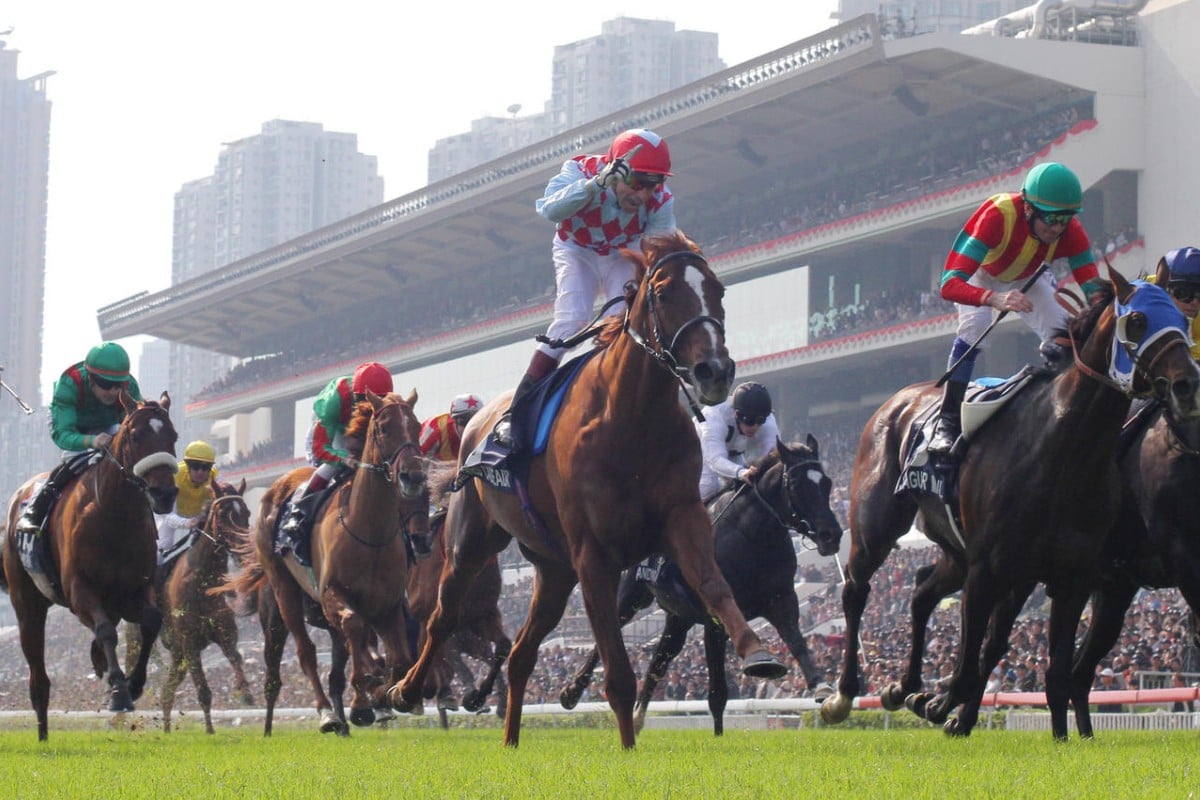 Before the 2012 Dubai World Cup, former chairman of the Hong Kong Jockey Club and long-time racehorse owner Ronald Arculli said: "There are a small number of horses who are able to travel - that's the trick, the best horses don't necessarily travel well."
It seems odd now that Arculli was actually talking about his sprinter-miler, Red Jazz, for if the words were applied to his over-achieving stayer, Red Cadeaux, they would have been remarkably prophetic for a horse that has since rewritten the rules on international travel for racehorses.
On the first Tuesday of the previous November, Red Cadeaux made his first impression on the world stage. It came after his first flight, arriving in Australia via Copenhagen, Sharjah and Singapore, 38 hours from "box to box" - an experience that can cause extreme stress to a naturally flighty and highly strung thoroughbred.
It took longer for the judge to sort out the photo than it took the following race to be run
Red Cadeaux had gone from the comfort of his stable in Newmarket, England, to a barn in Werribee International Horse Centre, just outside Melbourne. For a first-time flier, the signs were good - he travelled like a bored businessman on his 100th first-class flight, thrived in the spring sunshine and ran the race of his life, only to "be beaten by technology", as Arculli puts it, in the Melbourne Cup.
He was defeated in the closest Cup in history by Dunaden - a race where the official winning margin should have been listed as a pixel, not a nose.
"It took longer for the judge to sort out the photo than it took the following race to be run," Arculli recalled last week at Happy Valley.
That memorable race was the start of a three-year span that has seen the now eight-year-old board 19 flights and compete in eight countries, earning more than HK$46 million outside of Europe alone, as he stays away from home for months at a time.
Three seconds out of four runs in the Melbourne Cup have etched Red Cadeaux's name in folklore Down Under, to the point where Werribee held a "going away ceremony" for the horse last month and named a barn in his honour.
Now - weeks before he officially turns nine - Red Cadeaux returns for a fourth shot at the Hong Kong Vase at Sha Tin, the scene of his last win two years ago, and only triumph at Group One level.
The horse's trainer, Ed Dunlop, concedes he has trained better horses, and ones that could travel, too - including champion mares Snow Fairy and Ouija Board. The Englishman admits there is an element of frustration to Red Cadeaux's record of 12 second placings in a 47-start career.
But the trainer is adamant the chestnut gelding is by far the most popular, and perhaps unique, horse he has trained.
"He has run some phenomenal races and his best performances come around the world," Dunlop said. "He does seem to save his best for away from home."
Dunlop deflects credit for the horse's performances - firstly to Arculli and jockey Gerald Mosse, who has ridden the horse in each of his overseas runs since that agonising nose defeat in 2011, but primarily to his travelling staff of two.
Dunlop's long-serving team of foreman Robin Trevor-Jones and trackwork rider Stephen Nicholson have been everywhere with Red Cadeaux from day one, and are fiercely protective of their charge. Trevor-Jones' criticism of the Sha Tin training track as "nearly unusable" three days ago is a prime example.
Trevor-Jones also bristles at suggestions Red Cadeaux is a better traveller than he is a racehorse.
"Don't dog him," he said. "I can assure you now that Snow Fairy or Ouija Board wouldn't beat him around Flemington over two miles. He would gallop that pair to sleep over a mile and a half and farther - he just keeps going."
Dunlop says the globetrotting escapades wouldn't have even happened without Arculli's astute racing knowledge, ambition and, of course, the former chairman of the Hong Kong Exchanges and Clearing's bank balance.
Sending horses overseas is an expensive exercise. A Melbourne Cup campaign costs more than £100,000 (HK$1.2 million), once flights, staff wages and race entry fees are calculated - with no guarantee of a return.
Red Cadeaux has more than paid his way, though - his consistency has seen him collect cheques in all but three of his 13 runs outside of Europe, at an average return of around HK$3.5 million per race.
"Without Mr Arculli, none of this would have happened," Dunlop said. "He told me 18 months before he got on that first flight that Red Cadeaux was his Melbourne Cup horse."
At that stage, Red Cadeaux was running around in lowly handicaps with purses of less than £10,000, at tracks like Kempton Park and Chester in front of hundreds, not tens of thousands, of racegoers.
Arculli recalls that early call on the Melbourne Cup was made with tongue firmly in cheek - "he didn't look anywhere near good enough" - but it wouldn't be the first time what seemed overly ambitious race programming by the owner paid off.
In Dubai in 2013, Arculli convinced Dunlop to enter the horse in the world's richest race, the US$10 million Dubai World Cup (2,000m) in favour of less lucrative, but far more suitable options at 2,400m and two miles.
Dunlop faced a pre-race press conference and joked with media as to why his horse was entered in the "wrong race": "I know it's vulgar, but we're here for the money and - if we can get some - we're delighted."
Arculli recalled: "It wasn't just worth a lot more money, US$6 million to the winner, but I thought the race looked easier than the Sheema Classic and Dubai Gold Cup".
As it turned out, another second placing under a magical ride by Mosse delivered the biggest pay cheque of the horse's career - US$2 million. So ecstatic were Arculli, Dunlop and guests that the TV cameras zeroed in on the jubilant group, thinking their wild celebrations were for a win.
Although Arculli's champion River Verdon ran unplaced in the 1994 Melbourne Cup, the 75-year-old's obsession with the race began long before that, and looks like continuing for a while yet. "When I was growing up, one of my cousins went to school in Australia and he told me, 'there's this race in Australia, and they call it the race that stops the nation and it's amazing', so maybe that's where it started."
Arculli has seven horses in training with Dunlop, and three in Hong Kong with John Size, but as Red Cadeaux's career inevitably draws to a close, it is a close relation not yet on the track that he has a keen eye on. "We bought the half brother to Red Cadeaux as a foal [by Teofilo] and he is just turning two now."
So, the legacy lives on, the 2018 Melbourne Cup perhaps? This time Arculli wasn't prepared to make any long-range predictions, but if he does, it might pay to get on.