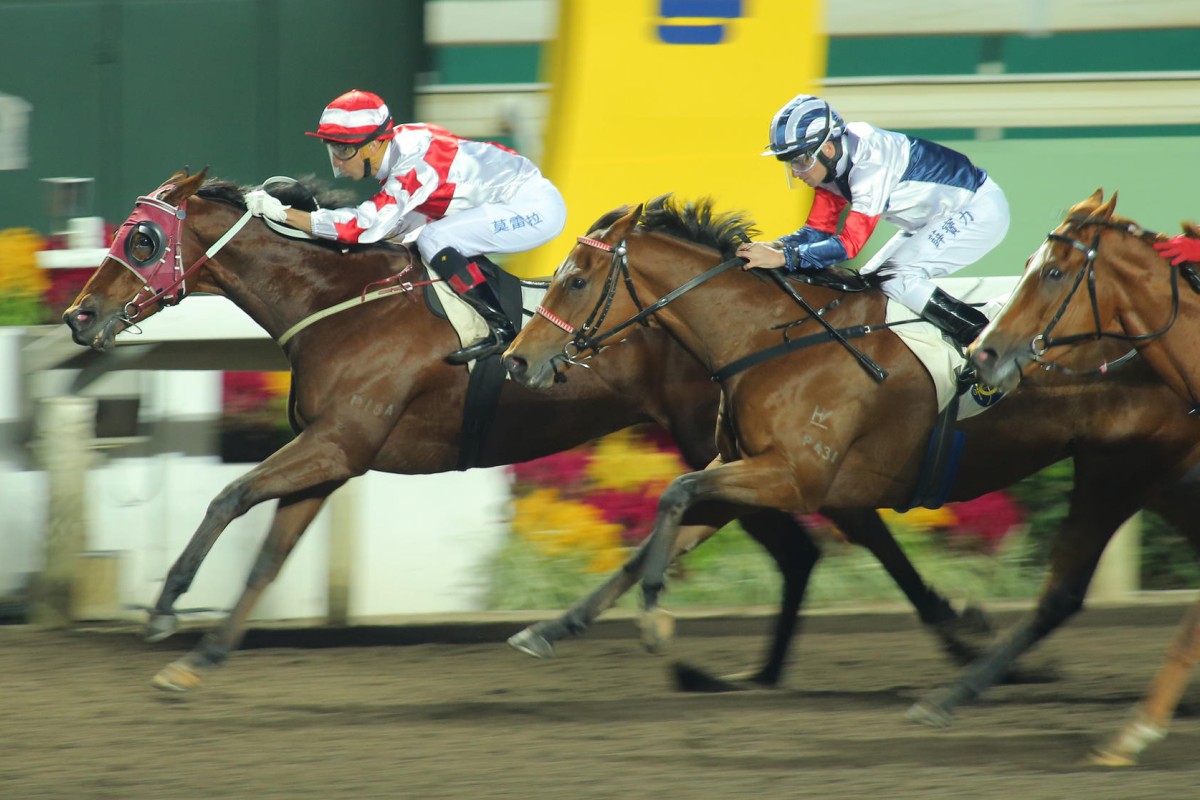 Trainer John Moore believes he is going to the Longines Hong Kong International Races this weekend with his "best team ever" and was thrilled to include jockey Joao Moreira in that statement after the Magic Man steered home Verdane for his third win of the season in the final race.
"If you'd asked me last season what I might win three with this time, Verdane wouldn't have been a name I'd have come up with - he looked like being a Class Five horse at one point and now he's winning in Class Three," Moore said. "But today's win I put down to a great ride from Joao, who really gets on with this horse.
"It's great to have Joao in top form heading into the international week but, really, Joao's always in top form, isn't he? Big races, small races, he just delivers. I told him just to keep going how he's going into the International Jockeys' Championship on Wednesday and then the big day next Sunday."
Moore, the only trainer to have won all four internationals, said he believes that his team for next Sunday is the best he has ever sent out and Moreira looks to be a key component of that team, with the rides on Able Friend (Hong Kong Mile), Designs On Rome (Cup), Dominant (Vase) and Sterling City (Sprint).
"I don't think there's a trainer anywhere who wouldn't want to be saddling up the group of horses I have next week, with real live winning chances," said Moore, and his enthusiasm was echoed by the Brazilian jockey.
"It's exciting. And it's great to have a couple of winners today before the big week - it doesn't matter what kind of races you are winning, even a Class Five, when a jockey is winning races it's good for confidence," Moreira said. "And confidence will make you win or lose races - when you are confident, you don't think about what you are doing, you just do it."
Moore played a role in Verdane's win, asking Moreira to keep the four-year-old closer to the lead than he normally has been lately and, in the slow pace, Moreira was able to get him there then thread a passage through on the rail following the eventual runner-up, Oscar Miracle.
"The owner asked me why Verdane is going so much better now and I said the only thing I could think of is that the horse is stronger now, he's carrying more condition, and he is holding that condition," Moore said. "And that comes down to him having been here for a while and adjusting to life in Hong Kong."
Verdane was the second leg of a double for both jockey and trainer, with Moreira scoring earlier for Benno Yung Tin-pang on Startling Power, while Moore's earlier winner was Able Warrior, who in turn gave Karis Teetan a double.
"I had a slow start but the winners are flowing better now - that's just Hong Kong," said Teetan, who took a sit on Able Warrior after he had led throughout at his last appearance.
"With Ambitious King in the race, Mr Moore just said to me not to challenge him if he wanted to lead and I didn't mind sitting him in behind. When I trialled him and sat behind, he gave a nice kick too so I wasn't too concerned about him not leading today.
"The horse seems to have taken a lot of confidence from winning the other day and he always felt like the winner today."