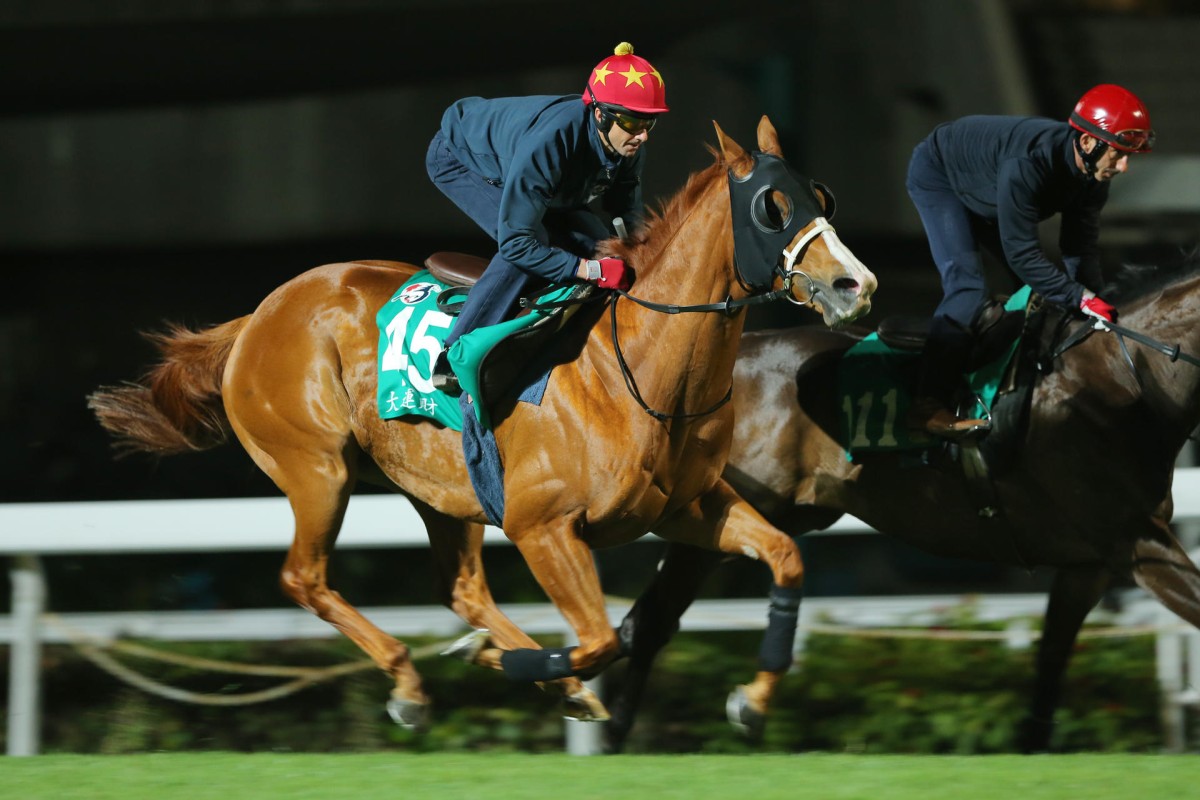 Twelve months on, trainer Richard Gibson is more comfortable with Gold-Fun as the Longines Hong Kong Mile underdog and the changing conditions at a cooler Sha Tin this past week have lifted his confidence in the giant-killing role.
The 2013 Mile favourite was edged out in the final strides by Glorious Days but will be the hunter, not the hunted this time, with Able Friend carrying the tag of the horse to beat after a hollow Jockey Club Mile win.
He is a natural athlete and he is fine-tuned for Sunday. It is great to have a multiple Group One winner in such excellent shape
"Well, everyone last year told me I was going to win and we got beat on the line, I would prefer to be on the other side of that," Gibson said after Gold-Fun wrapped up his preparation with a strong turf gallop yesterday.
The sight of an ever-thickening coverage of winter grass on the Sha Tin course proper has pleased Gibson, who hopes a more forgiving surface can help Gold-Fun close the gap on overwhelming favourite Able Friend.
The rock hard ground on prelude day just under three weeks ago produced not only fast times but left some competitors feeling the after-effects, including Gold-Fun. Gibson said the horse was "as sore as he has ever been post-race" following a second to Able Friend in the Jockey Club Mile.
Since then the weather has cooled, rain has fallen and the conditions have allowed a cushion of rye grass to poke through past the receding summer grass.
"It is good from our perspective because he certainly wasn't at his most comfortable in the lead-up race, so we welcome the fact the sting has come out of the ground and we think that will swing things back in our favour on Sunday," Gibson said.
"He was jarred up after that run and he is much more fluid and comfortable on this easier going." Gibson had just watched jockey Douglas Whyte take the five-year-old through controlled but stern early morning exercise on the turf five days out from the HK$23 million race.
The handsome chestnut worked over 1,200m with Class Three stablemate Great Charm on the course proper, finishing off his last 400m in 22.8 seconds and his last 200m in 11.1 seconds in a gallop that left track watchers impressed.
"He is a natural athlete and he is fine-tuned for Sunday. It is great to have a multiple Group One winner in such excellent shape," Gibson said. "That was his last punch-out this morning and we were delighted with it."
Whyte said Gibson had struck the right balance with the preparation of last season's champion miler, who will be having his fourth run of the term on Sunday.
"We don't want him stagnant. Other horses you might want going in quiet and 100 per cent fit, but you want him to be a bit bouncy," Whyte said.
Whyte said some luck at tomorrow's barrier draw could also close the gap between Gold-Fun and Able Friend, who cruised to a two-and-a-quarter length win last start after getting a soft run in a slow-run race.
"He is the horse to beat and couldn't have been more impressive," Whyte said.
"I would love to draw one to six."