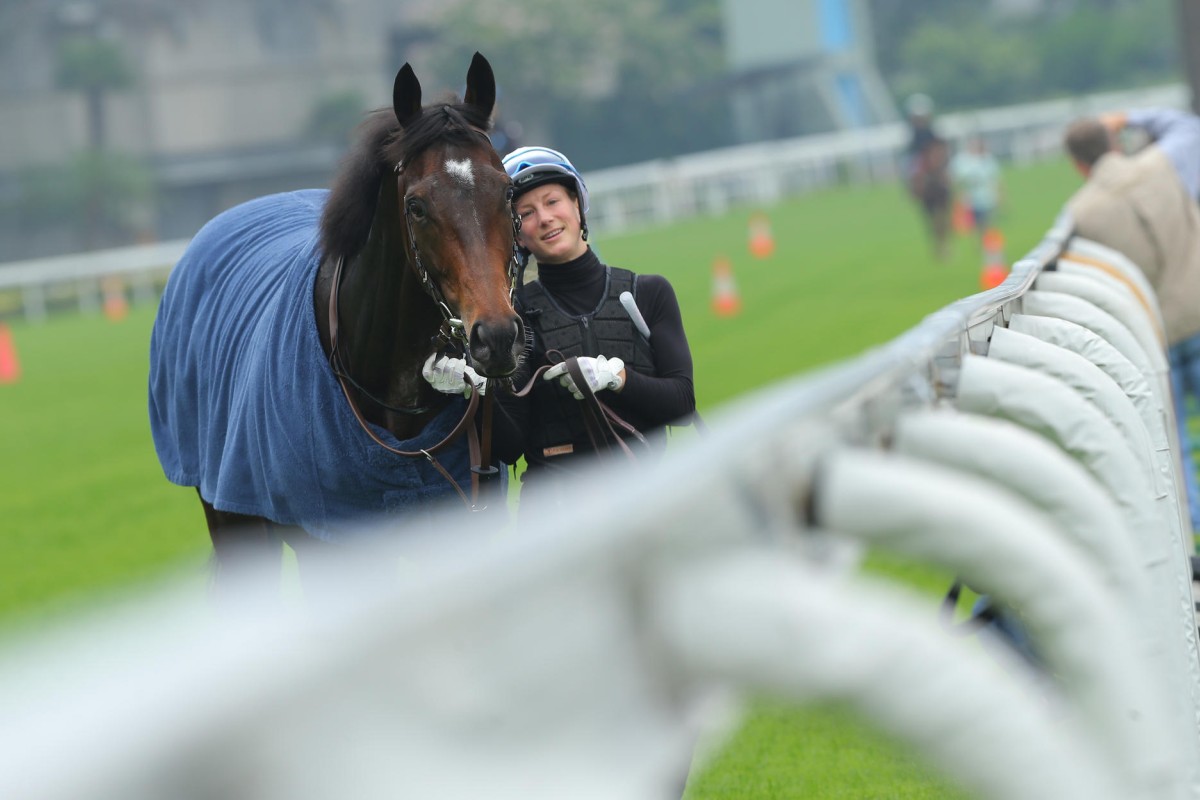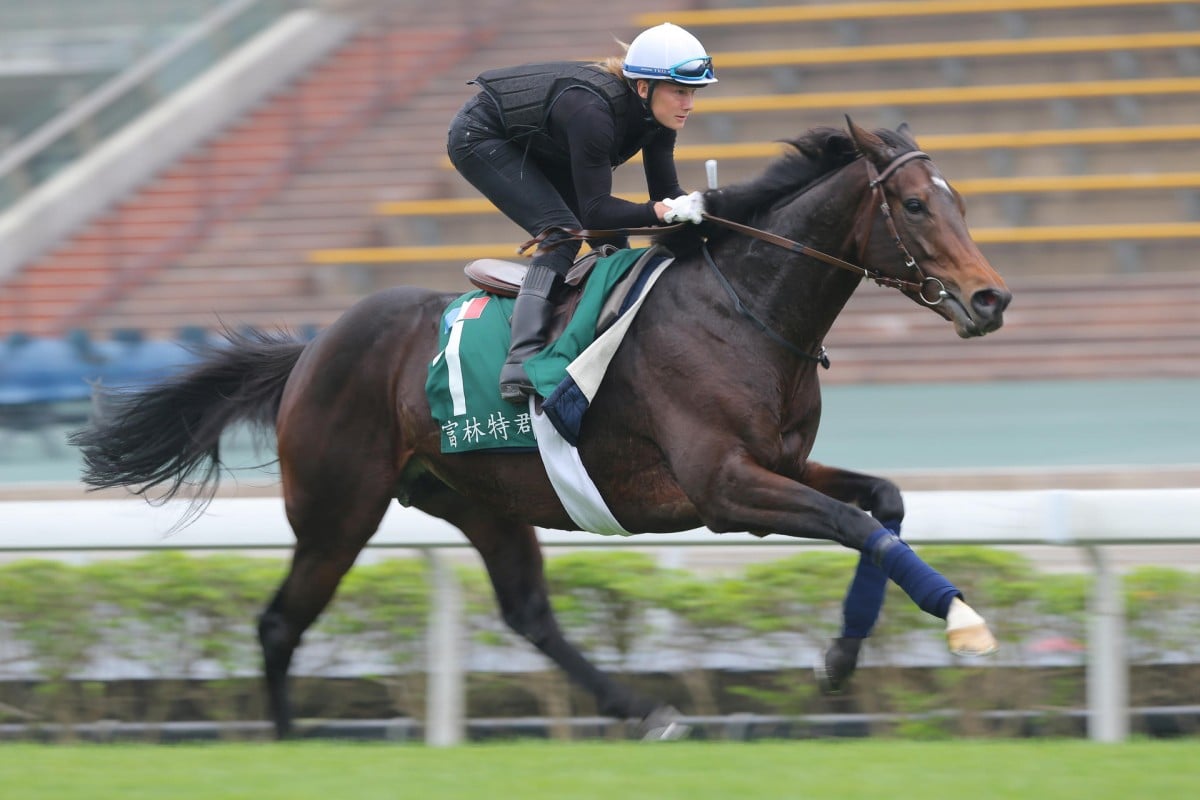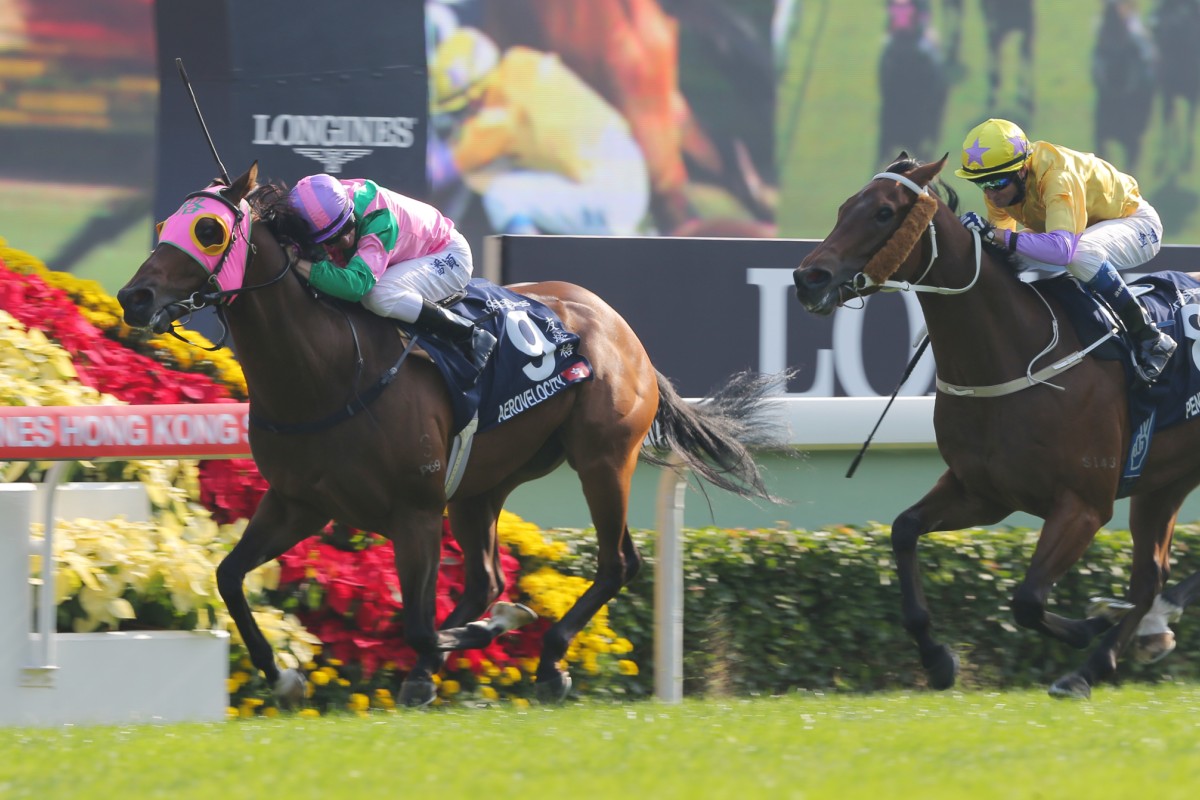 The towering presence of Flintshire at Sha Tin yesterday was a vivid reminder the "Turf World Championships" are in progress, and the highest-rated thoroughbred at Sunday's meeting was not about to let anyone down.
Flintshire has been the elephant in the room at Sha Tin trackwork sessions in recent days - everyone knows who he is, but his rivals prefer to pretend he is not there.
But yesterday, the handsome Dansili colt made a statement that was impossible to ignore.
The ground here is fast and he just loves it. The inner side of the course is a little bit better as it is all new ... he just thrives on it
Firstly, the bare facts: Flintshire came out solo onto the Sha Tin course proper, ridden by Annelie Ackerman. The handsome brown colt moved off from the 1,200 metres, but was outside even time until he swung for home. Then he really put the wind through Ackerman's hair.
Even to untrained observers, however, Flintshire was simply having a leisurely stroll. His effortless, fluid action gave no hint of the brilliant time he clocked - his last 400m in 22.04 and the ultimate 200m in a blistering 10.78.
If Designs On Rome laid down the challenge on behalf of the locals with his gallop on Tuesday, then this was an emphatic reply from the visitors.
Flintshire is trained by one of the world's great handlers, 69-year-old Andre Fabre, who has accepted the trophy for the title of champion trainer in France 24 times.
Fabre's travelling head lad, Richard Lambert, said Flintshire was completely at home on the quick Sha Tin surface. "He was beautiful this morning and we are all very pleased," Lambert said.
"The ground here is fast and he just loves it. The inner side of the course is a little bit better as it is all new. This is the kind of ground you'd want for him; he just thrives on it.
"We put him on the turf, so he'd get a feel for the course. When he got into the straight, he just went on his own, according to Annelie, who is all smiles.
"We then took him to the parade ring, as usual when we send horses over here. We like them to get accustomed to the place, not to be surprised on the big day. There won't be much more to do now - he's done what he was supposed to do."
Flintshire arrives in Hong Kong off second placings in two of the majors of the sport, the Prix de l'Arc de Triomphe in Paris (October 5) and the Breeders' Cup Turf at Santa Anita (November 1).
Each was decided at 2,400 metres, the distance of Sunday's HK$16.5 million Longines Hong Kong Vase.
He holds the honour of being the highest-rated horse at Sunday's international meeting on a mark of 124, one pound clear of Cirrus des Aigles, Designs On Rome and Military Attack.
Fabre has a global reputation as a successful traveller of horses, and has a Hong Kong Vase on his résumé with Borgia 15 years ago.
Flintshire also adds to the international flavour of the meeting through the ownership of Khalid bin Abdullah al-Saud, a Saudi prince who has been one of the world's premier owners and breeders for over three decades.
It is just over 35 years since Abdullah won his first Group One race with handsome colt Known Fact in the 1979 Middle Park Stakes. Since then, Abdullah's green white and pink silks have been carried to countless Group One wins, with the standout highlights being Dancing Brave's classic year in 1986 and the unbeaten 14-start career of champion Frankel.
Comparisons with Flintshire took the gloss off what would normally have been excellent gallops from others, notably Japanese visitor Archimedes, who sprinted up the straight in 24.4 seconds. None of the major Hong Kong horses galloped, though defending Hong Kong Mile hero Glorious Days looked in tremendous shape doing a steady pace on the all-weather track.