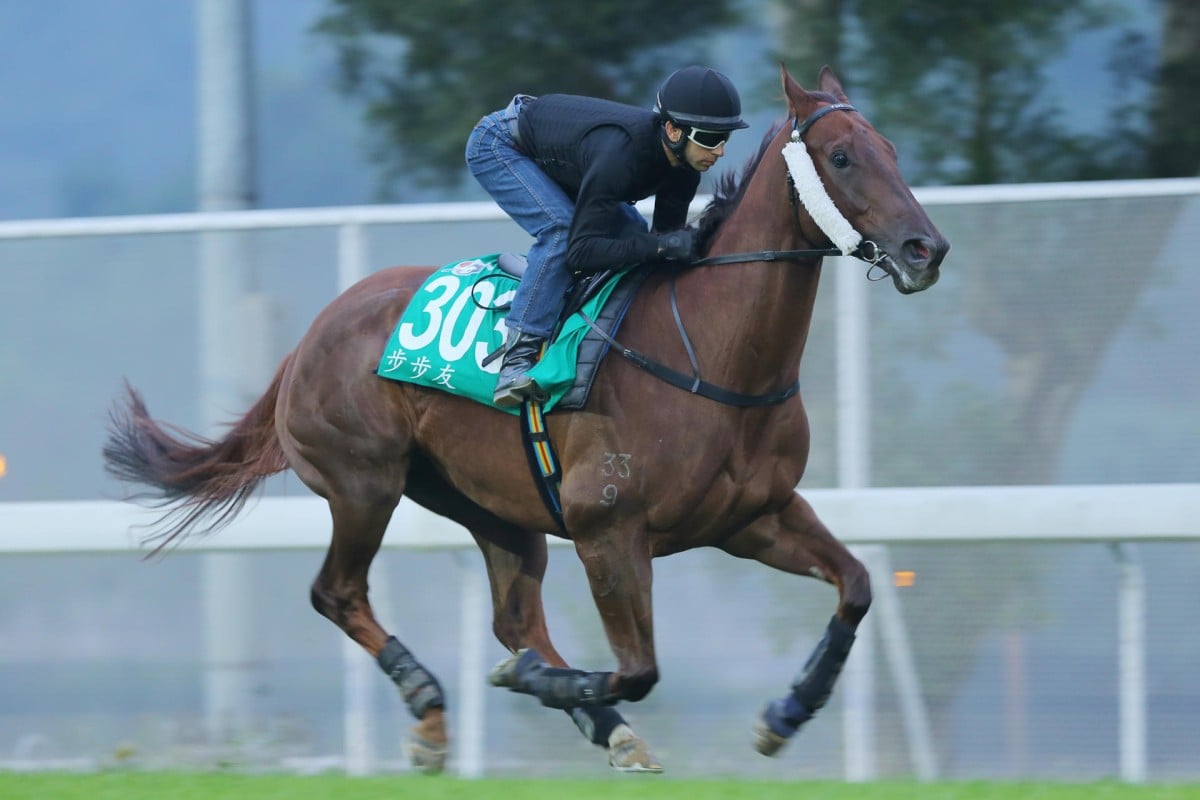 Barrier draws for major races are often overrated, but post positions for the world's richest mile race yesterday added a touch of spice to Able Friend's quest for super stardom and the HK$23 million Longines Hong Kong Mile.
The John Moore-trained five-year-old was set to be the hottest favourite for a December international since Viva Pataca's shock Cup defeat six years ago, until Moore peeled back the label to reveal the outside gate of the 11-horse Mile field. A door was left ajar for his rivals even if Moore and jockey Joao Moreira were showing no fear.
"It's better than 14. I don't think it's a disadvantage for a horse as versatile as he is and especially with Joao on board," said Moore. "All my other draws are good."
Eleven is not the end of the world. We might be able to find a one-off spot somewhere, but the worst-case scenario is we go back
Among Able Friend's chief rivals, Richard Gibson was pleased with barrier six for Gold-Fun as "it gives us options", while John Size was not complaining about seven for Glorious Days, who won from 13 in 2013.
Moreira said Able Friend's draw was "tricky", but he had a great deal of faith in the horse and there was a past record of success for outside gates in the race.
"Midfield with cover would be fine. We have to play with what we've got," said the Magic Man, and was equally unfazed by an inside draw for Designs On Rome in the Cup. "Three is no problem. I won't be in a hurry, the other horses will all be going around him early. It's only later that I'll want to come outside."
Another favourite, Andre Fabre-trained Flintshire, in the Vase, appeared well-suited to barrier four in the 2,400m race but is probably least influenced by the draws. "That is fine - we just don't want him to get caught on the inside," said stable representative, Richard Lambert.
Gate eight for 2012 winner, Red Cadeaux, was seen as a good omen by handler, Robin Trevor-Jones. "That's where he drew when he won it. There's a little speed around him, which is perfect and, hopefully, Gerald Mosse can give him the same ride he did that day," he said.
Caspar Fownes was thrilled with Lucky Nine's four barrier for the Hong Kong Sprint although non-plussed by eight for Military Attack in the Cup.
"It's less than ideal. We'll have to study where everyone else is and look at the speed," Fownes said. "Maybe we'll have to take him back and ride him quietly."
California Memory is bidding for a third Hong Kong Cup as he nears his ninth birthday and won both from barrier one, but he got two ones in his barrier this time.
"Eleven is not the end of the world. We might be able to find a one-off spot somewhere, but the worst-case scenario is we go back - and it is only a 12-horse field," said jockey Matt Chadwick, while the natty grey's stablemate Blazing Speed also fared poorly in 12.
The Hong Kong Sprint has been a race influenced over the years by barrier draws, but the sting in the tail was not there as the pace horses drew middle positions, with Aerovelocity and Australia's Buffering drawn side by side in seven and eight.
"Aerovelocity should get a nice run from there and I'd rather have drawn seven than one - Buffering will go forward and he's a good one to follow," said Paul O'Sullivan.
"We wanted between four and seven, we got eight," said Buffering's trainer, Rob Heathcote. "He may not get all the way across, but should at least be outside the leader and we are happy with that. Horses that take Buffering on in front tend to struggle, as Lankan Rupee found in the Darley Classic in Melbourne."
And barrier six looked perfect for Peniaphobia, according to Tony Cruz: "If he can sit just off the pace, I'll be happy. As he's matured, he's lost some early speed and now comes home with a stronger finish."
Ed Lynam said last year's Sprint runner-up from barrier nine, Sole Power, was perfect in five: "No excuses from the draw. I'll have to think of something else if he gets beaten."
The main casualties of that draw were Singapore's Spalato, in 11, and two of the Japanese sprinters, Snow Dragon (10) and Straight Girl (13).