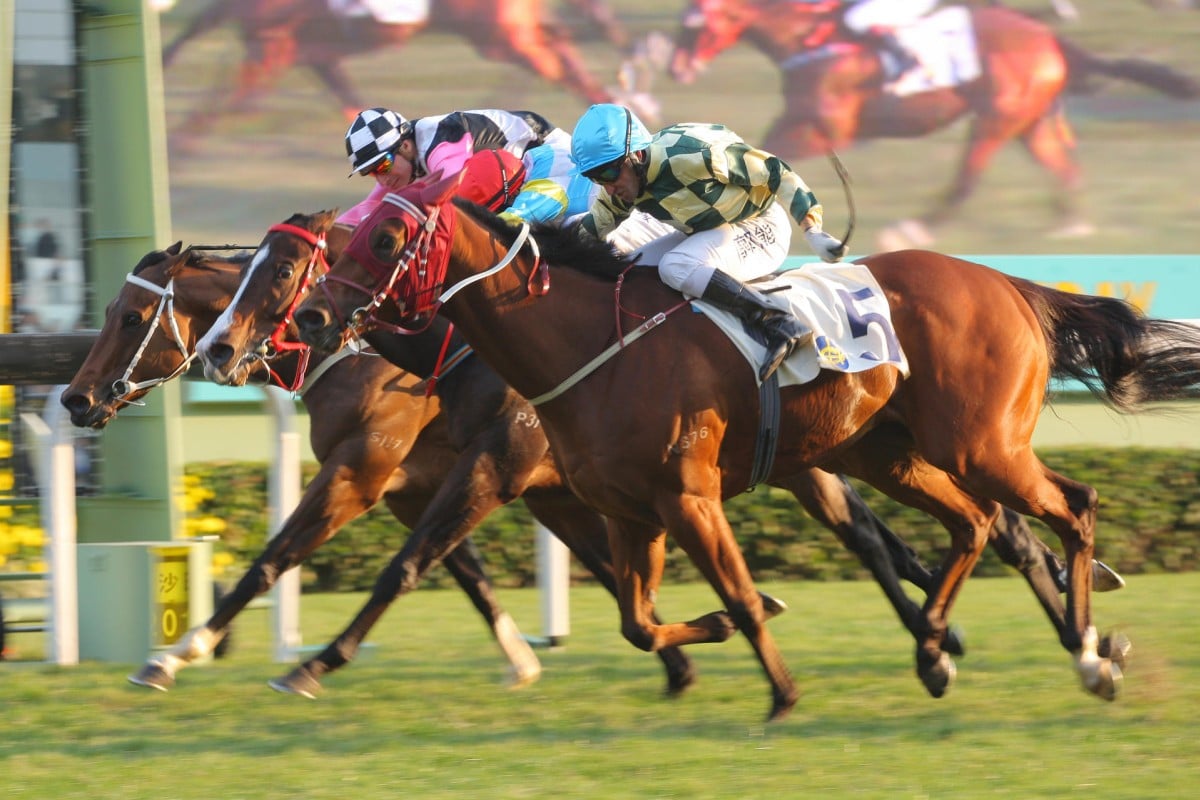 John Moore-trained Rewarding Hero stepped out of the shadow of more illustrious stablemates to grab himself a well-earned Group Three in the Chinese Club Challenge Cup yesterday, but he'd better suck it up and get used to more bridesmaid roles in the future.
Thrown over the line by Neil Callan, the six-year-old won his first black type race by a short head over All You Wish with a similar margin to Beauty Flame, giving Moore back-to-back victories and his fourth success in the traditional New Year feature.
Moore had won with Sterling City in 2014, who went on to Group One glory in Dubai but the trainer was more circumspect about what was ahead of Rewarding Hero.
"It's not a surprise to see him at this level. Every jockey that ever rode him early on said he would make the grade," said Moore. "We've always felt he would get to this level and win himself a Group race and that's his fifth attempt and now he's done it.
"Since we worked out some time ago that he doesn't like to be blocked in and he's a different horse when he has room to move, he's kept on winning and taking himself up the ladder."
But the future for the gelding, rated 110 even before the race, had the distinct look of too much mountain.
"The handicaps will ensure there isn't anywhere to go with him now but into the Group Ones, so the Stewards' Cup is his next run," said Moore.
There's always a place for the horses who chase home the champions and run into the prize money
"It's hard to see him beating a horse like Able Friend there, but I expect this guy to keep giving us his best and hopefully pick up some nice prize money cheques. There's always a place for the horses who chase home the champions and run into the prize money."
Callan was content to drop Rewarding Hero to the rear and get in behind betting favourite All You Wish (Douglas Whyte).
"Look it's not rocket science in these better races - you know how they'll be run and who goes where - and then it's a matter of being patient," Callan said. "I know how he likes to be ridden because I won on him last season holding him up, he's pretty straight forward and gives a good kick.
"They went a good pace, I knew Douglas would be parked on the back of the horses getting forward so I parked on him and the plan was to come out and join him at the top of the straight. I knew my bloke would be strong at the finish of 1,400m because he's won over a mile."
Callan echoed Moore's thoughts on the future, but asked if Rewarding Hero needs to prove anything after eight wins and more than HK$8 million in stakes.
"You have to be realistic - meeting Able Friend is a tough nut to crack - but Rewarding Hero would be a horse to pick up money," Callan said. "Hey, whatever happens now he's done his job, hasn't he?"
John Size-trained Tour de Force finished a solid-finishing fourth and had claims to being unlucky after an incident thatlater saw Matthew Chadwick on stablemate Wonderful Moments plead guilty in the stewards' room to careless riding.
Tour de Force had found the one-out, one-back trail early but then lost his good position near the 1,000m when Chadwick went forward outside Flagship Shine, squeezing that horse in across the path of Tour De Force who was spat out the back.
Chadwick pleaded guilty and was suspended for three days, with the penalty to take effect after racing on January 10.