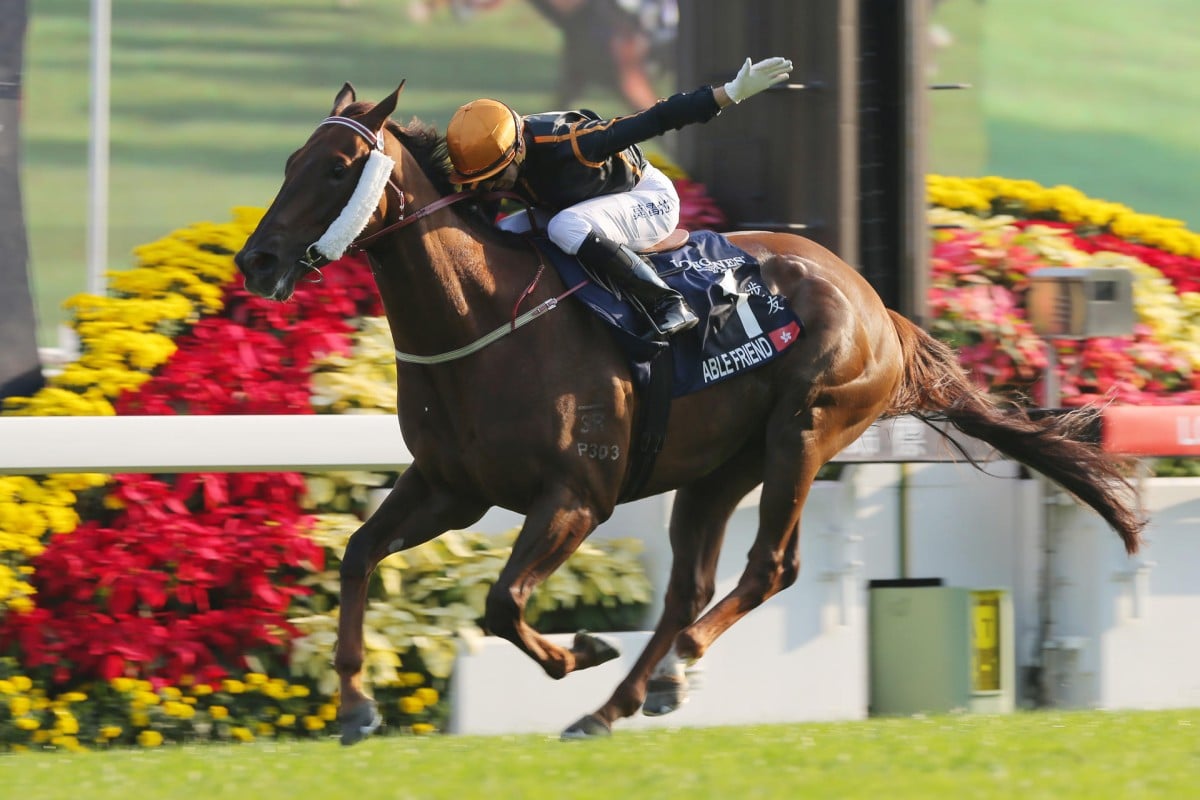 As rivals cling to the "great uncertainty of racing" for any hope of winning Sunday's HK$10 million Stewards' Cup, the race's red-hot favourite Able Friend was officially named Hong Kong's highest-ever-rated horse on Tuesday night.
At the 2014 Longines World's Best Racehorse ceremony in London, the five-year-old's 127 rating earned in his emphatic 2014 Hong Kong Mile win last month put him behind just two horses - Japanese duo Just A Way (130) and Epiphaneia (129) - for the preceding 12 months and equal with Australia, Kingman, The Grey Gatsby and Variety Club, winner of the 2014 Champions Mile in Hong Kong.
It puts Able Friend well clear of the previous best achieved by a locally trained horse: Good Ba Ba (2008), Ambitious Dragon ( 2012) and Military Attack (2013) all hit 124 in their prime.
When he is happy he shows that, when he is unhappy you pick it up right away - and this week he is very happy
Hong Kong-trained horses also achieved an all-time best with 23 of the top 200 prepared at Sha Tin, up from the previous mark of 21 in 2011 and 2013.
Of course, rival trainers and jockeys don't need a number to remind them of the task they face in the Stewards' Cup, one trainer labelling it "mission impossible" and a rider joking that a sniper in the grandstand is the only thing that could conceivably stop the 1,300-pound chestnut.
And Able Friend's jockey, Joao Moreira, has more bad news: the John Moore-trained star is having an especially good week.
"When he is happy he shows that, when he is unhappy you pick it up right away - and this week he is very happy," said Moreira, who has ridden Able Friend in his two Group One wins.
"You see it in his attitude, when he is happy he walks out very smoothly, he is calm and relaxed. But when he is unhappy he doesn't look around, he keeps his head down low and he takes care of himself. That's not happening this week. I'm happy with the way he is carrying himself.
"His work was great on Saturday, he took me right through the line on the bridle and his trial before that was nice, too."
Able Friend is likely to face eight rivals on Sunday, two of which - Gold-Fun and Glorious Days - he easily beat last start under the same race conditions. "I don't think it will be any different to last time, in the sense that he was favourite and everybody knew how good he was," Moreira said.
"Fortunately, things went his way that day. They went hard in front and he was able to get cover coming to the turn and a lovely run appeared between horses coming into the straight.
"Things could be different this time, but I really don't think I have to think too much about it. I know what he needs and I know what he is capable of, so we just have to look forward to the race."