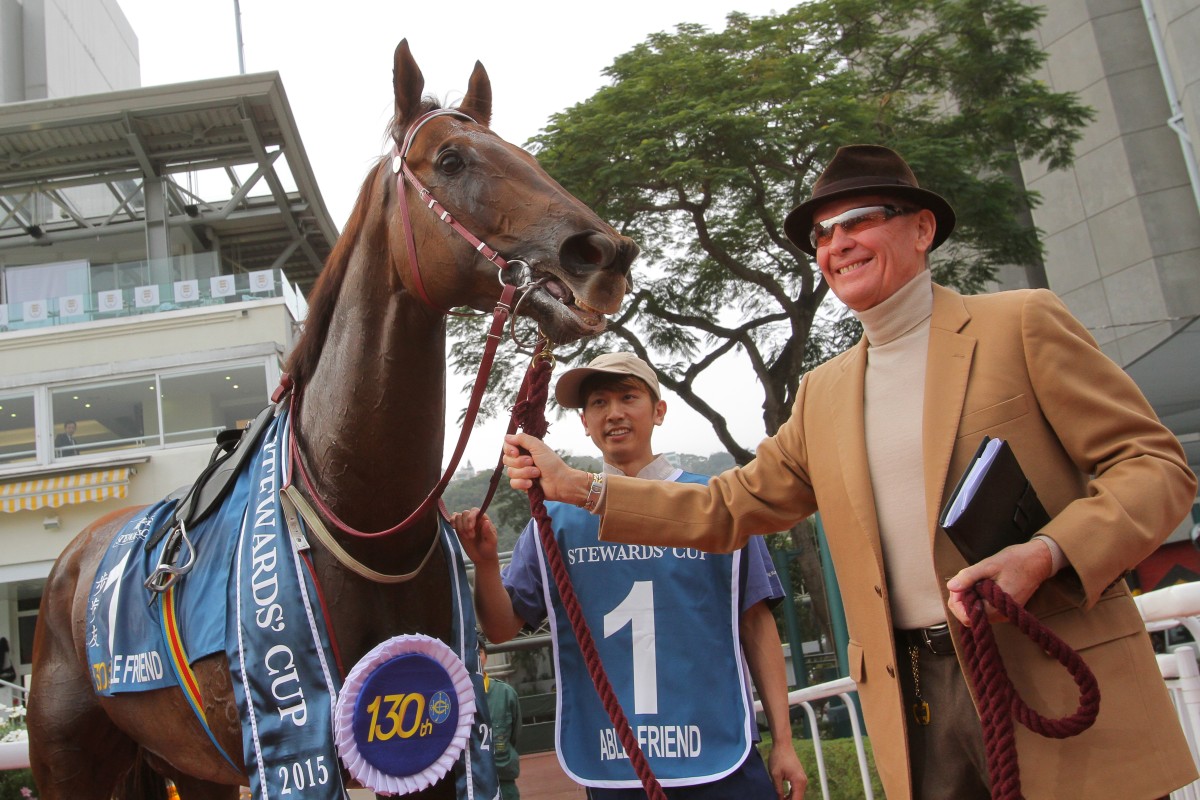 It was a case of "first-world problems" when Able Friend coasted around to win the HK$10 million Stewards' Cup on Sunday and moved himself one step closer to heading up a huge Hong Kong charge at the Dubai World Cup meeting in March.
Horses just don't win Group One races more easily than Able Friend did on Sunday. Jockey Joao Moreira could have come down the straight reading a book or plaiting the gelding's mane, so little was required of him in the job that he puts on his tax return.
Yet both he and trainer John Moore talked of Able Friend having moved from racehorse to public property and the pressure that goes with getting it right.
I've seen all the best horses Hong Kong has had and I'd say now that I'd put [Able Friend] on a par with Silent Witness
"I've seen all the best horses Hong Kong has had and I'd say now that I'd put this horse on a par with Silent Witness," said Moore. "I couldn't beat him, but I used to think it was fantastic as an admirer of racing quality, to sit in the stand and watch Silent Witness race.
"He's the best Hong Kong has produced but I'm putting Able Friend on a par with him now. And there is pressure with a horse like this - everyone expects him to come and win every time now.
"I'm starting to feel what Tony Cruz felt with Silent Witness, or Peter Moody must have felt with Black Caviar. It all seems so easy but you can't afford to make any mistakes or it doesn't happen. It's a nice problem to have but there is pressure."
Moreira was unable to take the grin off his face even two hours later as he left the course. "There is a lot of expectation. He's a fantastic horse, any jockey could have won on him today but I'm just the lucky boy who gets to sit on him. But you can't make a mistake with this kind of horse," he said.
Moore said the global nature of racing now probably ensures that Able Friend is more of an icon outside of Hong Kong than Silent Witness ever was.
"Silent Witness went overseas to Japan and proved himself and we have to do that yet," he said. "With commingling and telecasting all over the world these days, this horse is probably already better recognised elsewhere than Silent Witness was, but hopefully now we can go overseas and he can prove himself too."
Moore is hoping that the Dubai Duty Free will remedy whatever deficiency exists in Able Friend's international profile and, with the pendulum now swinging that way, he looks the captain of what could be the strongest Hong Kong challenge ever in Dubai.
After Peniaphobia won the Kent & Curwen Centenary Sprint Cup down the straight 1,000m, winning trainer Tony Cruz confirmed he was keen to take his chances on the dirt in the Dubai Golden Shaheen, while David Hall said runner-up Bundle Of Joy will be in the Al Quoz Sprint after the second round of entries on February 11 and, presumably, last year's Al Quoz winner Amber Sky will be there too.
Paul O'Sullivan has confirmed the Golden Shaheen for Hong Kong Sprint winner Aerovelocity, where he will likely meet Rich Tapestry, and Moore has Designs On Rome firmly directed at the Sheema Classic. The Gold Cup next month may throw up even more prospects and Caspar Fownes has Military Attack entered for Meydan.