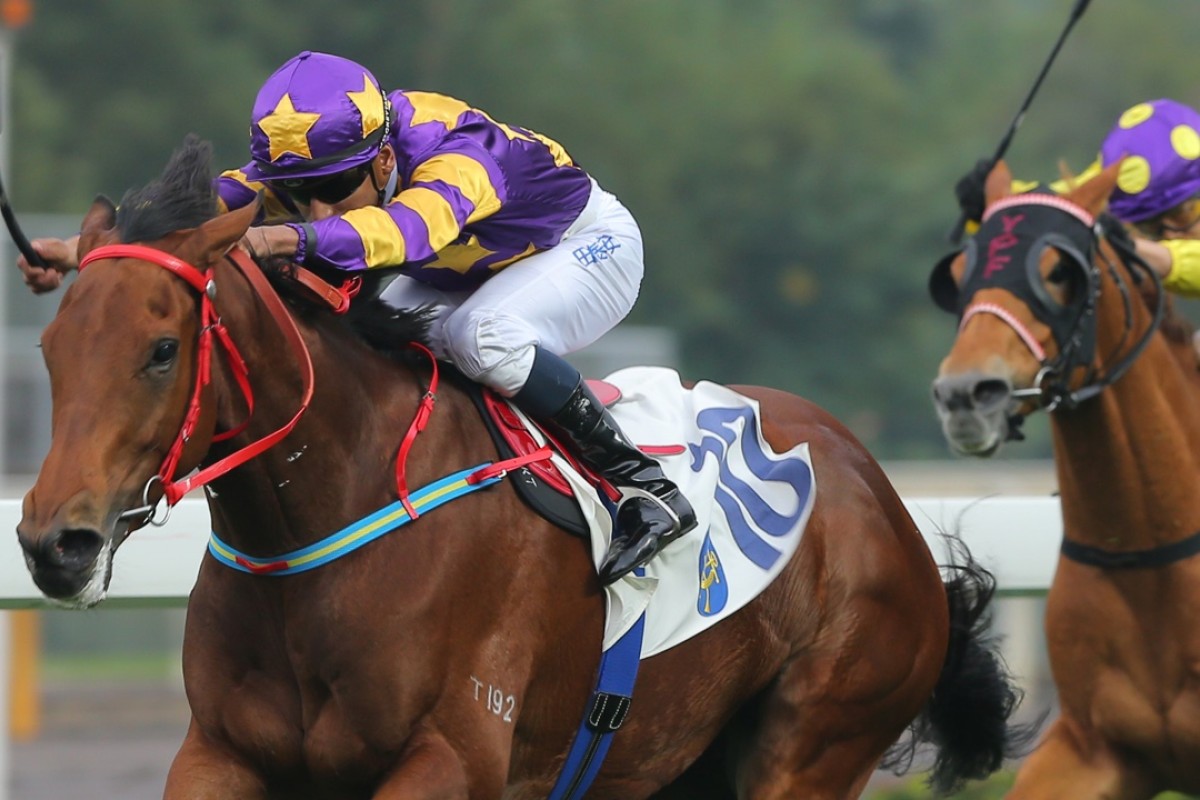 Seven-time champion trainer John Size finally burrowed his way through to the season's championship lead yesterday, twice, and unearthed his Hong Kong Derby 'longshot' hopeful along the way.
He is a northern hemisphere June foal, so he's very young for what I'm asking of him
Eastern Express (Karis Teetan), raced by two-time Derby-winning owner Larry Yung Chi-kin, produced a strong staying display to win the Lok Sin Tong Cup (1,800m) as part of a Size treble but the trainer is under no illusions about the task ahead.
"He is a northern hemisphere June foal, so he's very young for what I'm asking of him but sadly he'll have to live with that," Size explained. "He's won off a rating of 69 today and that was workmanlike, as he has been all along. I would like to get him to the Derby, so I'll keep racing him, hoping he can get enough points or a good enough record that he can earn a start but it's a longshot and my expectations aren't high that he'll get there in time."
It was the first time to a middle distance for the staying-bred son of Fastnet Rock, and a hotter than expected early lead tempo saw Teetan have Eastern Express right in the fire, outside the leader.
"Well, he had no option, there was no point him being back," Size said. "There didn't look many forward-going horses in the race so I asked Karis to be in the first three and I think he was fourth so for me that was fine. I was happy for him to have a lot of lengths head start into the straight on the ones that might have been finishing strongly to run him down. As it turned out, the one that did come had been sitting only fifth or sixth."
Derek Cruz-trained McQueen made a bid to get to Eastern Express when he should have been tiring, but Size's four-year-old dug into his reserves of stamina to hold him by a clear margin.
"I won on this horse over 1,200m and knew then that he was only doing that on sheer ability," Teetan said. "This is more his distance today and he will handle even further too. The pace was a little quick but he has a big action and you want him up out of trouble where he can keep using it and he just keeps finding more. Maybe the Derby will come too soon but he's a nice horse."
Maybe the Derby will come too soon but he's a nice horse
Size's win with G-One Bo Bo (Joao Moreira) in the third drew him level with trainers' title leader Francis Lui Kin-wai, who won the next to go clear again before Eastern Express saw them level once more, then So Fast (Vincent Cheminaud) took Size clear after winning the last race.
G-One Bo Bo spent most of 2015 on the sidelines with a knee problem but has quickly got his act together again, and Size was happy to see the 75mm of rain that fell on Sha Tin in the past few days to see the track good to yielding when racing started before a later upgrade.
"This horse has had a knee operation and does struggle a bit with soundness," he said.
"But I was able to get one race into him a couple of weeks ago and he backed it up and now he's won a race, but plenty of rain this week looks like it helped."
Moreira said the Irish-bred five-year-old is a sharper horse now than in his first campaign.
"He used to come out a bit slow and then look around in races and now he jumps well and he seems sharper – but that's what you expect with John's horses," the jockey said. "He got the beautiful run and the gap at the right time today but he looks like he could win another race or two."