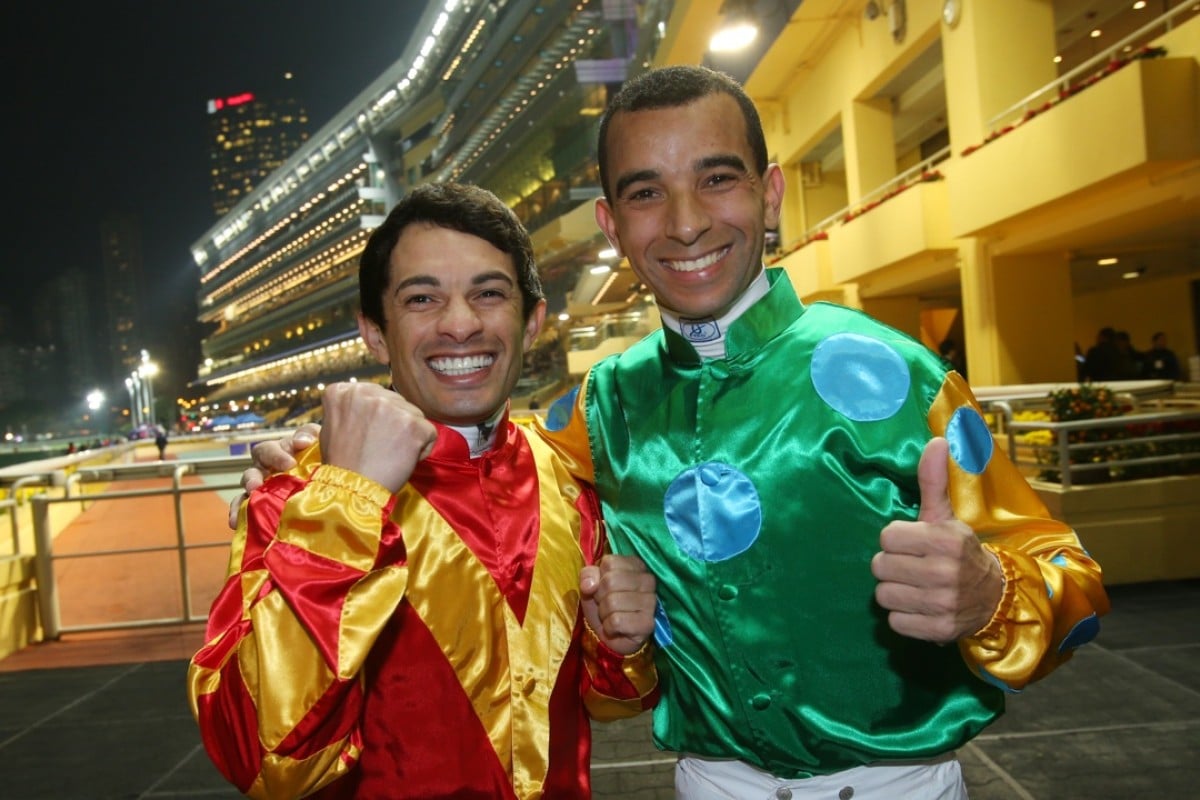 So what is it about these Brazilians? In less than three years, Joao Moreira is already chasing his own extraordinary riding records in Hong Kong and now his countryman Silvestre de Sousa has delivered one of the more memorable short-term stints of recent times – a standard day at Sha Tin has quickly become Brazil versus the world.
Is it some sort of special South American style or physical trait that makes them better suited to life in the saddle? A secret sixth sense with horses developed riding bareback across the countryside as children? None of the above – at least according to the two star jockeys.
In fact, both sum up in one word what has brought them to the top: "Hunger."
Nothing has come easy for the pair, in life or in racing, and it seems to have served them well.
"It's hard coming up the way we have," said De Sousa, who has ridden 16 winners from 10 meetings coming into today's Sha Tin meeting, the last of his whirlwind winter visit. "As a Brazilian jockey, when you get a chance, you cannot afford to make a mistake. I know what I have had to go through to get here, and when I go to the races, I am going to war – I don't just want to go and ride well, I want to ride a winner. It's a different mentality."
For Moreira, the word hunger took on a literal meaning growing up – one of eight children to a widowed mother, shoeless and half-starving – tapping on windows at traffic lights asking for spare change, an experience he carries like a badge of honour.
I know what I have had to go through to get here, and when I go to the races, I am going to war
"We are exposed to hard times in our home country – from day one it is tough. Your life itself, conditions are hard, not just racing, every day life can be a struggle. As a rider when you go overseas and are given a few opportunities – you might feel like that is the last opportunity of your life. You just grab it and never let it go; whatever it takes, you will do it."
The lives and careers of Moreira and De Sousa have run many parallels: kids from big families in Brazil – De Sousa is one of 10 – both spending years in the racing wilderness in their early 20s and struggling with the English language, before breakthrough success as "late bloomers". Then somehow establishing themselves as superstars in the sport of kings. One is at the pinnacle of Asian racing, the other was an underdog championship winner in Britain last season. And now, for an exhilarating six weeks, they have been riding head-to-head in Hong Kong, standing out as a clear top two among a selection of some of the world's best riders.
Yet it's not the first time their paths have crossed, in fact their skills were forged in the same school of hard knocks; Sao Paulo Jockey Club's once-revered apprentice school.
These winding roads to racing stardom intersected in Sao Paulo in 2000 – albeit only briefly; De Sousa, two years Moreira's senior, was leaving as Hong Kong's current champion was just arriving as a wide-eyed teenager.
"The school was amazing," recalled De Sousa. "When you walked in there it made you feel like you wanted success, that you wanted to be somebody. But it was tough too, you needed to prove a point all the time and fight for everything."
With 24 apprentices at a time in the school, and an intake of 12 each year taken from a crop of more than 150 applicants, competition is cutthroat from the start. At the end of each year space must be made for the dozen newcomers, and back then it was a case of ride six winners or you are out – in fact, Moreira left it to the final weekend of his first year to qualify, requiring two wins from four rides to keep his licence.
"It makes you stronger," said De Sousa. "It's easier now; you get kicked out and you can keep your apprenticeship, but back then it was a case of 'get out' and you were finished for good as a rider."
It's probably just as well the feisty pair didn't spend too much time pitted against each other as apprentices.
Today they laugh and joke for the Post photographer, but back at school, competition for rides was fierce and fistfights between schoolmates were commonplace.
You think rivals get upset when Moreira gets on one of their last-start rides now?
"We were all chasing the same rides, and we would be very jealous of the boys who were getting the most support," Moreira said. "There were fights, and sure I had fights, but if a guy jumps on you, what are you going to do, just get your butt kicked? You have to fight."
While Moreira's career trajectory after leaving the school rose steadily, even if it was in the relative anonymity of his homeland until he found success in Singapore, De Sousa's career flatlined when he left Brazil.
Taking a job with Irish trainer Dermot Weld as a trackwork rider, he didn't get so much as to see a racecourse for the best part of three years. "I was frustrated, and language was my biggest barrier, I couldn't speak English, so I couldn't push for rides. With a bit of dedication and when I started speaking English fluently things became easier."
In those lonely times out on the Curragh, Moreira was winning championships back home in Brazil, but it wasn't long before De Sousa's name was up in lights as stable rider for Godolphin and he had again leapfrogged his fellow Sao Paulo alumni's fame.
De Sousa even won the world's richest race in Sheikh Mohammed's blue silks – taking the Dubai World Cup on African Story in 2014 – but his contract was not renewed at the end of that year.
It was a blow – but De Sousa again bounced back and somehow willed his way to a British championship, notably without a retainer from a major owner or support from a big stable.
Again it was that desperate drive that motivated the 34-year-old to travel to all corners of England to chase that next winner, and what is taking him back to his Newmarket home in preparation for the upcoming summer.
"I have to get in early, before the other top jockeys get back, start talking to trainers and riding work," he said about extending his stay in Hong Kong.
Though both riders have "made it" – money is no longer a problem and fighting for rides doesn't mean actual fistfights any more – there is still no shortage of motivation for the pair.
"Not everyone makes it," Moreira said. "There are plenty of riders who were better than me back home in Brazil, they just didn't get the same opportunities. Or worse still, life just swallowed them up, and sometimes people who did make it, they didn't have the life skills to handle the success."
De Sousa, like his compatriot, makes an annual pilgrimage back to his homeland for family time and gets another dose of motivation. "When I look back at the senior jocks who I was up against at school, and guys I once wanted to be as good as, and they come to me and say how proud they are – that is something that makes me even hungrier."