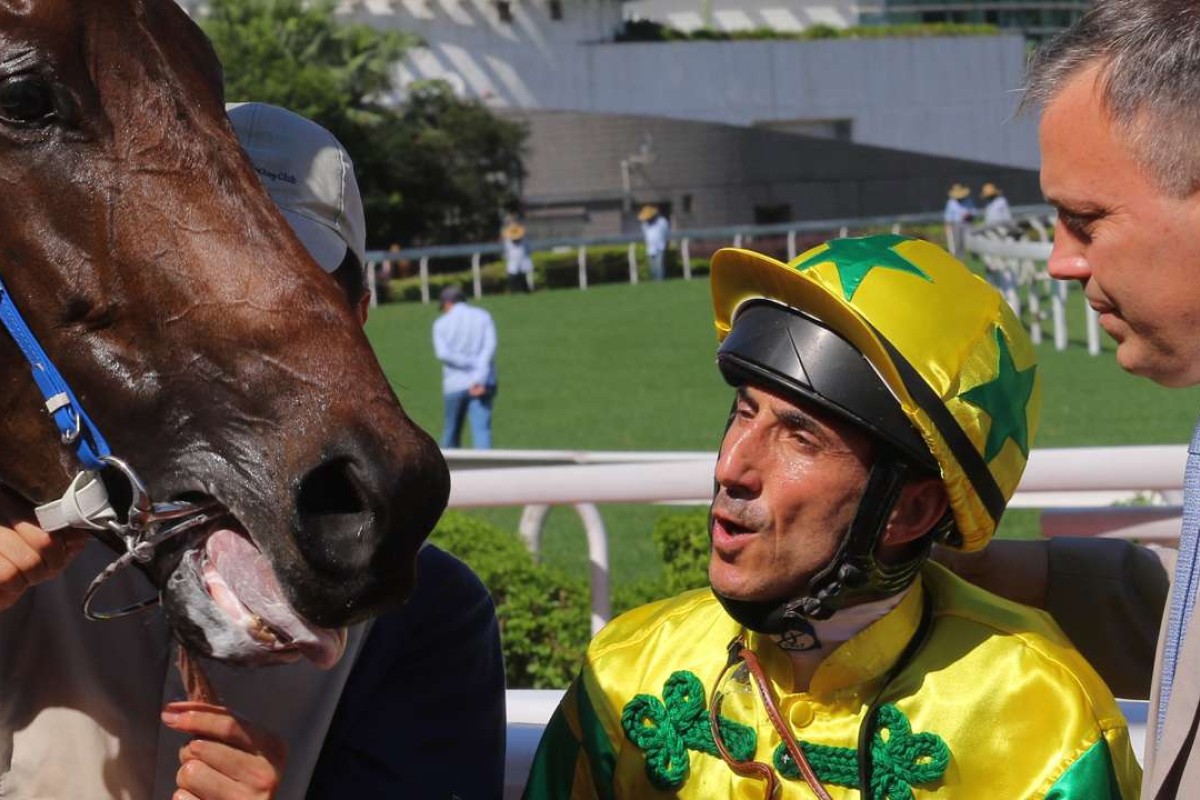 Nobody in Hong Kong celebrates a win the way Brett Prebble does but the little voice in his head that so often tells him to punch the sky and hoot and holler came to his rescue yesterday when he lost a desperately tight photo to Sky King and Olivier Doleuze.
In the tightest denouement of the day, Prebble launched Winston's Lad into a line of five horses attacking the finish with 100 metres to go in the Lapis Lazuli Handicap (1,400m) and thought he had the strength and momentum to call himself the winner on the line.
"I thought I'd got there and I was about to go up and celebrate but just something said to me to hold off, that it might not be that clear cut," Prebble said, and the photo print said he'd done the right thing.
After a tooth and nail battle with Caspar Fownes-trained Sky King (Doleuze), Prebble had missed by the barest of margins, with less than a length covering the first five home.
"I'd have preferred the win but I enjoyed the last 100m – it's been a while since Olivier and I have gone head to head like that in a finish and that was the next best thing to winning," Prebble said.
Sky King hadn't really put his best on show in five starts at Sha Tin before a trip to Happy Valley and a class drop last time helped him to record an impressive breakthrough win, but Fownes said the three-year-old is very much a horse for next season.
"His runs had not been too bad here but I took him to the Valley to shake him up, show him something different and get him more focused and tougher and it worked," he said.
"I didn't have any worries about coming back here and I'm looking forward to next year with him. Sky King knows nothing about racing about the moment, he gawks when he hits the front, he's a huge horse still learning how to use himself and I'm just thankful today that he's got such a big head."
There will be no temptation to race the gelding again now that he has put two wins together, Fownes said.
"No, that's his season done, he'll have a break for the summer and I'll be looking at longer races for him next campaign too," he said. "He's such a chilled dude, he'll get a lot further than 1,400m and a bit of ground is where you're going to see the best of him."