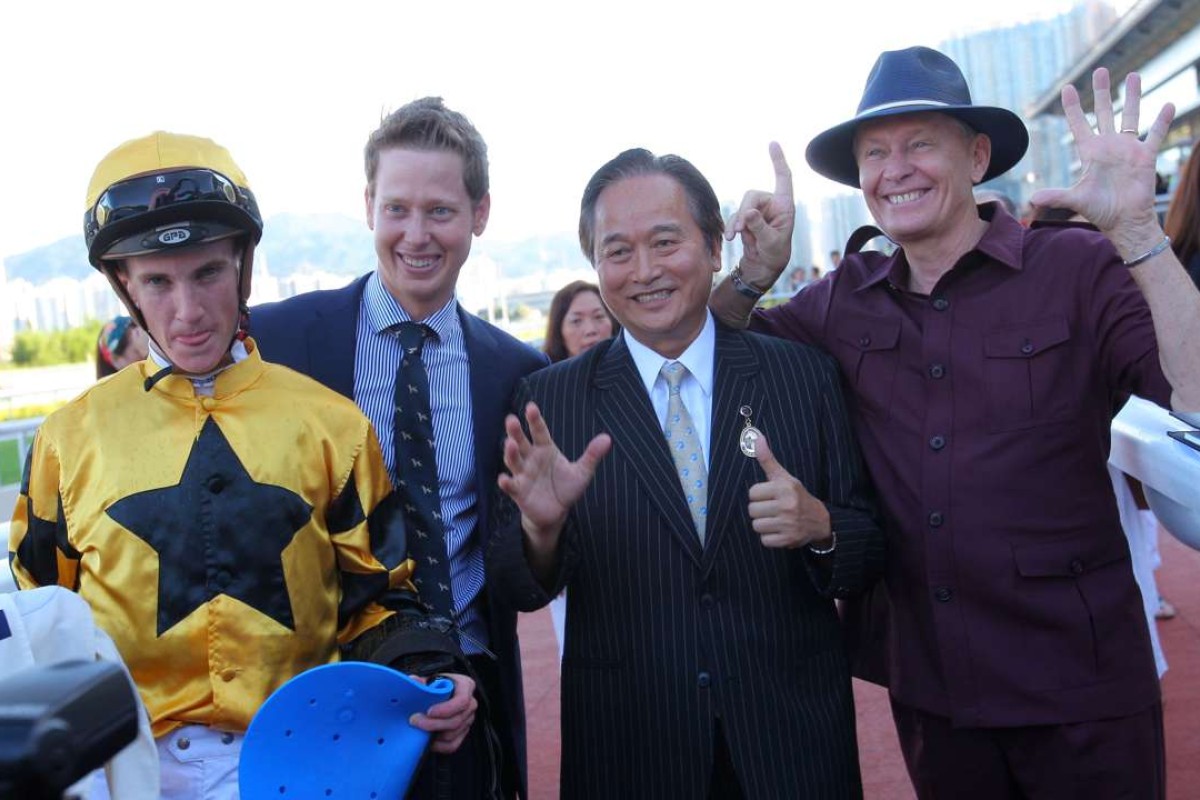 John Moore took time yesterday to reflect on reaching 1,500 Hong Kong winners but, typically, it didn't take long for the evergreen 66-year-old to start looking to the future after late blooming import Mr Bogart brought up the milestone.
Already the most successful trainer by wins in Hong Kong racing history, Mr Bogart's breakthrough gave Moore three wins for the day after Helene Paragon and Happy Meteor scored earlier – but the big race specialist is still hungry for more.
"We are very proud to have chalked that record up and now we can look at winning 500 more while we are still here in Hong Kong," Moore said, even if that would seem an unrealistic goal under current rules, which would allow him to train out of Sha Tin for another four seasons at most. "Things are on the up still, we've got some great talent in the stable and we have bought well for next season too. We are incredibly happy with what we have achieved, the staff deserve a lot of credit for that, and we are in a good place for the future."
Moore would have already finished his glittering career if not for an adjustment in criteria that made trainers eligible for a season-by-season extension, providing they can finish either top five in wins or prize money.
Those criteria have been well and truly met this term by Moore, who has taken his customary spot on top of the prize money ladder and now has 49 wins in his 31st season of training. And while 500 more victories might seem like a reach, who knows? Perhaps another review of the rules is in the offing.
However long his run lasts, Moore sees more wins coming not only from an ever-growing classic crop for next season but the hefty Mr Bogart, who returned to the winner's stall for the first time since scoring in Sydney in February last year.
"He is a heavy set horse, he hadn't raced for quite a while when he came to us," Moore said, with the four-year-old's weight dropping from 1,263 pounds to 1,249 last start and finally to a slightly leaner 1,241 pounds on Sunday. "There's still more to come and we will try him up at 1,400m next start."
Last time out Howard Cheng Yue-tin's ride on Mr Bogart came under heavy scrutiny from stewards, but on Sunday, Chad Schofield was able to set the horse a much easier task from barrier three and with bottom weight on the 3.6 favourite.
Mr Bogart, bred and raced in Australia by Eduardo Cojuangco's Gooree Park racing operation, was offered for sale, along with Moore's now star three-year-old Rapper Dragon, bred by Cojuangco's late brother Henry and currently the top-rated contender for the 2017 Hong Kong Derby.
A long lay-off due to injury saw Moore initially knock Mr Bogart back, but the horse found his way to Hong Kong anyway, and finally arrived at his current home after a stint in Danny Shum Chap-shing's stable.
Moore was not only successful with another son of Northern Meteor yesterday in Happy Meteor, he revealed he has purchased recent Listed sprint winner Kamacite, also by the now-deceased Australian sire.
Happy Meteor has been given a new lease of life on the dirt after battling at his rating for much of the season, winning two of three since being switched to the surface.
"And he might have another one in him with a light weight up in Class Two," said winning jockey Zac Purton.