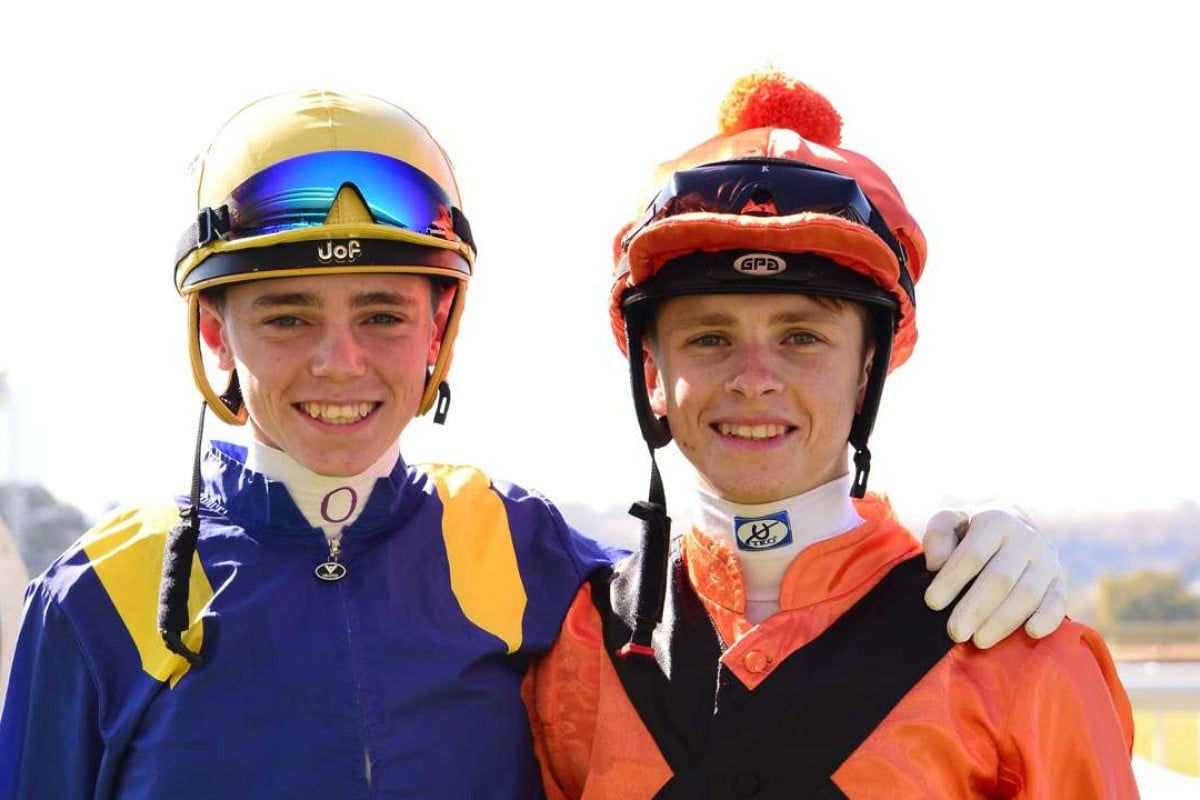 For over a century, the first Saturday in July has sparked a festival of celebration across South Africa. It is to the nation what the first Tuesday in November means in Australia or the first Saturday in May for the United States. For just over 130 seconds, all eyes turn to the eastern KwaZulu-Natal province as 18 of the land's finest thoroughbreds and jockeys go head-to-head in the Vodacom Durban July.
For apprentice jockey Lyle Hewitson, the 2016 July has come far sooner than he, or anyone, could have expected. The 18-year-old is still essentially a novice, having only started his professional riding career in March, but after riding 55 winners in four months, he has been booked to ride Justin Snaith-trained outsider Dynamic in the 2,200m feature – the most inexperienced July rider in the modern era.
In the jockeys' room, away from the action, sits Hewitson's arch rival – and close friend – Callan Murray, on track to be named South Africa's champion apprentice with a 17-win buffer on Hewitson entering the final month of the season. Baby-faced Murray, 19, was also set to make his debut in the July, the richest horse race in all of Africa, until his mount Deo Juvente was controversially omitted.
The Murray-Hewitson battle for champion apprentice is a tale of comparisons and contrasts, of drive and humility, of giant goals and small steps. The two young riders have even the steeliest of eagle-eyed observers reminiscing of the days of Basil Marcus and Douglas Whyte – South African riders who took their country by storm before winning champion jockey honours in one of the world's toughest jurisdictions, Hong Kong.
Whyte, the Durban Demon, has returned to his roots in a quest for an elusive July victory, and he is an inspiration to both men.
They have it in them to be as good as any apprentice to come out of this school – either could be the next Douglas Whyte or Karis Teetan, most definitely
In fact, while they acknowledge that they are hardly known outside of their homeland – yet – their light at the end of the tunnel, their lingering dream, is the chance to follow in Whyte's footsteps and find a spot among the world's elite riders at Sha Tin.
Hours after taking his place alongside some of South Africa's greatest jockeys, meeting president Jacob Zuma before finishing 12th on Dynamic behind The Conglomerate in the July, Hewitson stands in the Greyville parade ring, stripped down to his basic riding gear – a white skivvy and jodhpurs and black boots. He is unfussed by catcalls from revellers as he reflects on the unlikely journey that has catapulted him to global attention.
A day before, Murray welcomes the world's media to the South African Jockey Academy (SAJA), based on the site of a former monastery near the picturesque Summerveld training centre on the outskirts of Durban. Now settled in Johannesburg, his home town, Murray has returned to his soon-to-be alma mater to talk to the Post about life at the academy and his impending champion apprentice victory.
The Griffin in Durban: Does South Africa hold one of racing's best kept secrets?
What is immediately clear about both men is that their skills don't just lie in riding. Both have an innate hunger to succeed, both are clearly natural horsemen and top riders in the making, but their biggest asset lies in their people skills.
Both are polite, charming, talkative, relatable, carved out of the same mould as many SAJA alumni. They carry the professionalism of Whyte, the charisma of Karis Teetan, the steely resolve of Felix Coetzee.
The modest entrance hall to the academy, one of a collection of white brick buildings that feels less school and more convent, serves as a reminder of the calibre of jockeys produced here. Two wooden boards contain names like Michael Roberts, David Payne, Coetzee, Jeff Lloyd, Piere Strydom, Weichong Marwing (misspelt as Mawing), Anthony Delpech and Anton Marcus. The four South African riders who rose to the top in Hong Kong – champion jockeys Bartie Leisher, Basil Marcus, Robbie Fradd and Whyte – are also prominent.
In fact, between 1991 and 2014, there was only one year that the Hong Kong champion jockey was not South African – and it took Hong Kong legend Tony Cruz to break their stranglehold in 1994-95.
So what is it about the SAJA that has allowed the school, over a period of almost six decades, to produce such a collection of world class riders?
SAJA headmaster Graham Bailey points to a number of crucial differences between the South African system and most other countries.
Elsewhere, jockeys are indentured to certain trainers – Hong Kong's leading lady Kei Chiong Ka-kei, for instance, is attached to trainer Francis Lui Kin-wai, having been with Allan Sharrock in New Zealand – but in South Africa, apprentices are indentured to the academy itself. A riding master helps jockeys to book their rides and has the power to approve or reject bookings but, in their later years, they are essentially free agents – a crucial skill in Hong Kong where bargaining for rides is a trade necessity.
"When you get to the academy, a great deal of time is put into learning how to relate to trainers, owners, how to come across, how to sell yourself," Murray says. "Obviously, you are your own business and your own brand, and the focus on that has really helped all of us who graduate."
A typical day for a student is very tough ... those who can't handle it are sorted out pretty quickly
It is also an official school, with most apprentices accepted after ninth grade, or at the age of 15, before completing their final three years of academic education, in addition to learning to ride. Subjects are geared towards a jockey's needs – financial literacy and business studies sitting alongside equine studies and stable management.
"A typical day for a student is very tough and it is six days a week for the majority of the year," Bailey says. "For those in their first three years, they will be up by 4am, at the stables by 4.30am and will ride until 6.30am. Then they have to clean the stables and groom and feed their horses by 7.30am, before heading to the gym for a 45-minute session. There is a quick break for breakfast, before school starts at 10.20am, where they will remain until between 2.30pm and 3.30pm. Then it's back to the stables again until 5pm, a quick break for supper, before they spend their evening studying. Depending on their age, lights out will be 8.30pm or 9pm, and they are back up to do it at 4am the next morning, again and again. Those who can't handle it are sorted out pretty quickly."
To be accepted into the academy, candidates must pass strict medical tests – not in terms of fitness, but using indicators like weight, height, shoe size, knee height and a left wrist X-ray to determine whether they have the physical build necessary to be a jockey.
While both Murray and Hewitson are taller than average – by jockey standards, anyway – both easily fall into the parameters required.
"It is a very intense programme and there is a high dropout rate," Bailey says. "But 95% of trainees have never been near a horse before they start, so we begin right from the basics. It's a slow process, but the average apprentice will make it to the races between 18 months and two years after they begin."
Murray is the traditional SAJA graduate. The end of July marks the end of his five years with the academy and he looks set to cap it with a fairy tale graduation into the senior ranks. However, riding was not always a career option – his experience with horses before joining the academy amounted to touching one pony, and his prospects didn't look good in his early months in Durban.
"I didn't know anything about horse racing at all," he says with a broad grin. "I was more into motocross when I was young. I had been to the races only once, but I didn't understand it at all – I still thought a jockey rode the same horse in every race!
"Of the first years, I was the last to get going on the horses and the last to get to the track. I was a lot smaller and I was weak, and just before we were all supposed to start racing, I injured a hip and so I was well behind the others for a lot of the early part of my apprenticeship."
On the other hand, Hewitson is a unique case and has required special dispensation in order to complete his apprenticeship, having already received a top education from one of Durban's leading schools.
However, he says that the racing bug was never going to be held at bay for too long.
"My whole family has been involved in horses – my dad Carl was a jockey and my mum Samantha played polocrosse and rode in amateur races, so horses were in my blood," he says. "I've always been desperate to ride. I finished school at Kearsney College – mum was adamant that I graduate and I'm grateful, because I graduated with top marks and probably could have done anything – but the priority was to be a jockey, even though I was a bit tall and they were worried about my weight."
With Hewitson's academic education already complete, he will only serve a three-year apprenticeship as opposed to the traditional five years, and hopes to finish even earlier if possible.
His riding career began in amateur work rider races while he was still in school, rising to win the champion work rider award in 2015.
"There are only three such races in Durban, but in Johannesburg they have work rider races every two weeks, as well as a full card every three to four months," he says. "Everything about them is the same – proper racecourses, thoroughbreds, trainers – except perhaps they ride a bit rougher. It's mainly for the grooms, they go through a programme and are trained to race ride. I was at school in Durban so couldn't go through the same lessons but I managed to get an amateur licence and, in my first season, I won the championship."
SAJA headmaster Bailey says that Hewitson has presented the academy with a new problem, one that is unprecedented in the 58 years the academy has been in operation.
The Jockey Club obviously wants to bring the best riders to Hong Kong. However, the licensing committee has also encouraged management to identify young, emerging riders
"With Lyle, we have to do things differently," he says, reflecting on Hewitson's busy schedule that took him to all ends of the country in the days leading up to the July – Durban Wednesday, Johannesburg Thursday, Port Elizabeth Friday, before returning to Durban in time for the July on Saturday.
"Lyle is travelling everywhere, every opportunity he gets so it's about managing his burgeoning career and trying to make sure he doesn't burn himself out, rather than teaching him riding skills or helping him through his academics."
This year's July receives little coverage among Hong Kong's racing aficionados, save for Whyte and Gavin Lerena dashing from Sha Tin's Reunification Cup meeting to ride in Durban the next day.
One man watching closely, though, is Steve Railton, the Hong Kong Jockey Club's deputy chief steward. The Australian stipe's interest is two-fold: ensuring Sha Tin-based Whyte and Lerena emerge unscathed before the long return flight for the following Wednesday's Happy Valley meeting, and scouting for new talent for the Hong Kong jockey colony.
Railton is the man who brought Mauritian rider Teetan, a SAJA graduate in 2009, to Hong Kong, with great success – heading into today's final meeting, he sits equal third on the jockeys' championship with 47 wins, tied with Brett Prebble and only behind Joao Moreira and Zac Purton.
"The Jockey Club obviously wants to bring the best riders to Hong Kong," Railton says. "However, the licensing committee has also encouraged management to identify young, emerging riders who have the potential to become world class jockeys to add to the diversity of the riding roster.
"Karis was one such rider, he came here relatively young but has enhanced his standing quickly. There remains an ongoing search to identify other emerging riders from around the world who may add to the strength of roster in future years, and Lyle and Callan are two that we will watch for."
While Hewitson and Murray both see Hong Kong as a dream destination – "I don't just want to get to Hong Kong, but if I get there, I want to succeed," quips Hewitson – for now, their stocks are rising in South Africa. To the man that has served as their guide and mentor, the world is there for the taking.
"To make it to the top in racing, in any sport really, there has to be the right balance of self-confidence and humility," Bailey says. "You need to have that insatiable drive but it has to be matched by the right personality. Callan and Lyle both seem to have that balance worked out – they both are hungry to win but they are also fine young men.
"If they continue as they are currently, they will be successful wherever they go. They have it in them to be as good as any apprentice to come out of this school – either could be the next Douglas Whyte or Karis Teetan, most definitely."