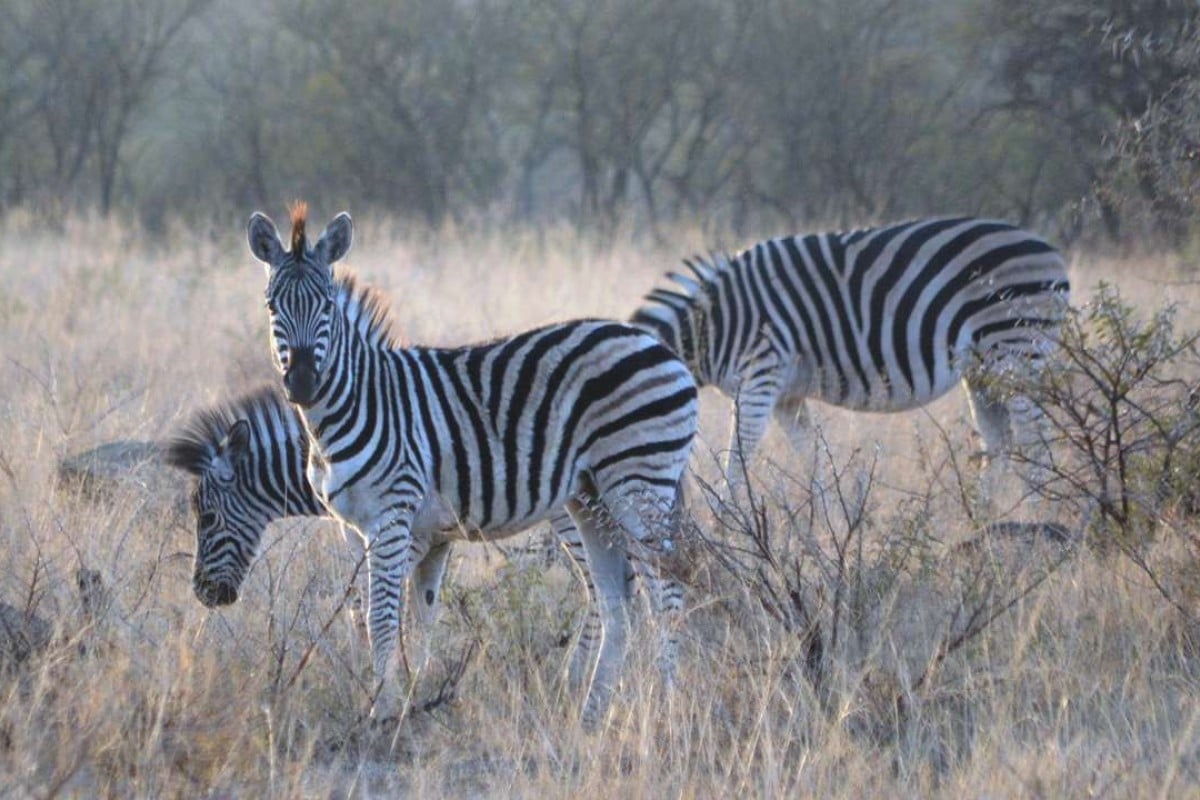 Through the course of the last year, The Griffin has had some wild and wacky experiences, all in the name of racing – dancing (badly) to famed Bollywood producers in Mumbai, rubbing shoulders with royalty (both racing and hereditary) in London, capturing a crazed Gold Ship (spit flying) in Osaka, an intense night of banter in Chicago, the only Australian singing the Star-Spangled Banner after California Chrome's win in Dubai – but Durban, you managed to top them all.
Standing face-to-face with three white dehorned rhinoceros, no more than 20 metres away, the alpha male cantankerous and ready to charge at any moment – it was a Mexican standoff that saw my life flashing before my eyes.
So how did three beasts trot into a tale about racing?
The Griffin travelled to South Africa last week, one of a number of international media invited to Africa's richest race, the Durban July, by racecourse operators Gold Circle. The trip was split into two parts: the first, all about racing; the second, an African safari the likes of which tops bucket lists all over the world.
Here were a few highlights:
DURBAN JULY
Is the Durban July the best-kept secret in world racing?
Well, it isn't really a secret, but with international participation unrealistic under current quarantine circumstances and South Africa so removed from the rest of the world, it flies under the radar currently.
And the reality is, it really shouldn't.
It has the atmosphere to match any big day or festival around the world. Constant comparisons were made by many media members between the Melbourne Cup and the Durban July – perhaps the Melbourne Cup gets more people but there are definite similarities – while one American scribe was heard to remark, "It's so much more fun than Royal Ascot!"
In the lead-up, I had been told that the fashion was quite "tacky" – a completely inaccurate description (says the guy whose fashion sense is completely non-existent). Tacky seems to suggest a lack of class, and all I could see were classy, intricate designs that had taken ages to make. The theme of this year's Durban July was "leader of the pack" and plenty seemed to have gone all out trying to find the perfect outfit to match it.
On the equine side, the possibility of seeing the next Dubai star was exciting. Horses like London News, Ipi Tombe and Greys Inn found success abroad after winning the July, while champion mare Igugu was the most prominent winner in recent years.
Of course, the likelihood of seeing any of those horses overseas is miniscule – the six-month quarantine process makes it arduous on both horse and trainer and makes what is already a tough task even harder.
Winning trainer Joey Ramsden said after the Durban July he wouldn't take The Conglomerate to Dubai, saying he "wasn't good enough."
If quarantine was easier, you could bet that he would be at Meydan early next year, but instead he will stay at home and chase less prize money.
There are downsides though.
The rebuilt Greyville racecourse now has a polytrack running inside the turf track, a necessity given the amount of rain Durban cops in the summer – meetings that were once abandoned are now switched to the polytrack.
In terms of width, though, it is tighter than Happy Valley and it seems extraordinary that 18 horses are allowed to run in the July, and it is no wonder that now the race seems to be more about who has the most luck rather than the best horse on the day.
The condition of the turf track also leaves a lot to be desired, too. Walking the track on the Thursday beforehand, it brought back memories of some of the tracks in country New South Wales where they would only race once or twice a year. It was quite patchy, and it is unlikely they would get away with playing under-10s cricket on the surface.
Still, in the overall scheme of things, they are minor issues that can be sorted. And if the major issue of quarantine is fixed, expect to see the Durban July become another major event on the global calendar in years to come.
THE 13TH RACE
This has turned a few heads around the world – a little surprising given it has been around for 30 years.
The 13th race is the dash that is made less than three minutes after they cross the line in the last race on the card, when (mostly) drunk men take to the Greyville track and sprint down the straight.
We'll leave it at these two photos, which tell enough of the story!
SUMMERVELD TRAINING CENTRE
One of the most picturesque scenes in racing, surely, Summerveld training centre – about 35 kilometres outside of the centre of Durban – hosts about 1,400 horses and some of South Africa's leading handlers, including Sean Tarry, Justin Snaith, Mike Bass, Mike Azzie and of course, Mike de Kock.
The early morning flurry of activity was best described as like ants moving up an ant hill – organised chaos. So many horses going in so many different directions, but somehow, it all works.
One of the most special moments came as some of Tarry's grooms rode horses back to his stables, singing as they went. Such natural harmonies. Well captured by the Thoroughbred Daily News' Lucas Marquardt.
Even got the chance to make friends with Tarry-trained Samurai Blade, a three-year-old colt whose dam is a sister to former Hong Kong galloper Dao Dao. A day later, he was well-beaten in the Durban July, but I'd still take him in as a pony ... if only he could fit into my tiny Hong Kong apartment.
SOUTH AFRICAN JOCKEY ACADEMY
The Jockey Academy, just near Summerveld, has produced almost all of the finest riders to come out of South Africa.
Headmaster Graham Bailey took us through the school, explaining the rigorous process each apprentice has to go through during his five years indentured to the academy.
The academy is set on the site of a former monastery, and in some aspects it does feel more like a convent – however, there is no doubting its success in producing world-class riders.
The media were given a snapshot into numerous aspects of the academy, watching some of the young apprentices being put through their paces in the gym.
Soon-to-be champion apprentice Callan Murray demonstrated the use of the equiciser as a training tool – At The Races presenter Tim Carroll also tried, but failed when his whip got caught up in his reins while stuck in a pocket worse than Lonhro in the Australian Cup – before sitting down for an interview with The Griffin and other journalists.
Make sure to read the Sunday Morning Post feature on the Jockey Academy and on emerging stars Murray and Lyle Hewitson.
SUMMERHILL STUD
One of South Africa's most renowned studs, a parade of all of Summerhill Stud's stallions was held at historic Hartford House on the Summerhill property.
Studmaster Mick Goss, one of world racing's most charismatic men, has been quite ill for the past few months but looked at his charming best as he introduced their roster.
There was Ato, the only horse other than his legendary stablemate Rocket Man to break Hong Kong's stranglehold on the now-defunct KrisFlyer International Sprint after 2009...
...Linngari, a multiple Group One winner and a three-time visitor to Sha Tin, ending his career with a third to Eagle Mountain in the 2008 Hong Kong Cup...
...and Golden Sword, second in the Irish Derby to Fame And Glory in 2009.
A special mention to 2014 Cape Guineas winner Act Of War, a good-looking son of Dynasty who had plenty drooling.
To top it off, there was an enthralling performance from Hartford House's iNgobamakhosi dancers, who starred in the Edinburgh Military Tattoo last year, among many global performances.
Also, a handy tip – if you ever have a chance to try Summerhill Stud's glühwein (a type of mulled wine), do not pass it up. It will change your life.
SAFARI AT SPRINGBOK LODGE, NAMBITI
The unbelievable climax to an already amazing trip was the three days spent at Springbok Lodge, nestled in the heart of the Nambiti Private Game Reserve, near Ladysmith.
Safaris have always seemed incredibly exotic, but something that would not happen any time soon. Racing may have taken me to South Africa, but I fell in love with the savanna.
The aim is to see all of the big five – the elephant, lion, buffalo, leopard and rhinoceros – but we came up agonisingly short. Four out of five.
Elephants were plentiful, including these two young bulls tussling in the long grass.
Lions were slightly more elusive, although we happened upon a pair mating in open space. A chance encounter!
The buffalo proved hardest to find, only seeing them from a distance. Not sure I would have wanted to be any closer anyway.
And the sole sighting of a black rhinoceros was magical – even if he did try to use his horn against our vehicle.
But it was the experience with three of the more common white rhinoceros, while sneaking through the tall grass that characterises the savanna, that will long live in the memory bank.
The scene looked more like the Von Trapp family crossing the Alps at the end of The Sound of Music, but with cameo appearances from two bull elephants, a herd of buffalo and our dear friends, the rhino.
So as not to provoke them, we were unable to take photos – although one of our journalist friends apparently got a photo as they sipped on a gin and tonic on an overlooking ridge, hoping to see a media mauling as the night's entertainment.
However, I managed to snap one as soon as we snuck away.
There were also plenty of other animals, including zebras, warthogs, impalas, kudus and giraffes.
And although it is not the Serengeti, it was only natural to take a picture of a large pack of wildebeest for Hong Kong-based trainer David Ferraris – his reference to the wildebeest on the Serengeti is legendary.
South Africa is a land of beauty, and the connection one feels with nature during a safari experience is indescribable.
The one question I've had most since my return has been, "Did you feel safe?"
The answer? Incredibly so, both in Durban and on safari. Not once did I feel threatened or unsafe. The people were welcoming and friendly, the racing was terrific, the landscape invigorating. If there is ever a chance to travel to South Africa, it would come with a strong recommendation.
Thank you South Africa for a magical experience – The Griffin is already looking to try and return in 2017.