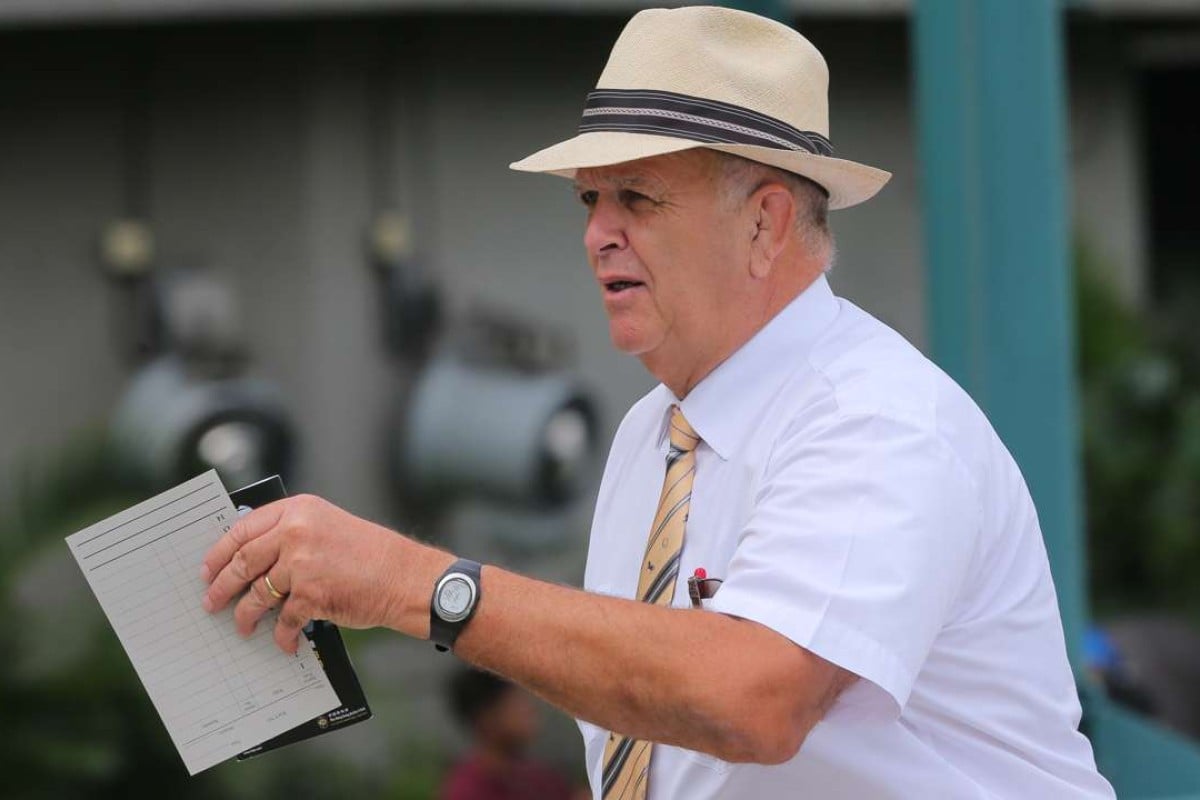 In horse racing, the job of starter can be thankless; you are only noticed when something goes wrong, and nowhere in the world is the pressure greater than in Hong Kong.
When the Jockey Club's long-serving starter, Tony McGovern, ends his 13-season tenure as starter at Sha Tin today, there might not be any fanfare, and that will be just the way the humble New Zealander likes it – a trouble-free and clean getaway.
The man on the Jockey Club's starters' stand is placed under more scrutiny than anywhere else, with more than HK$100 million bet on every race and the style of racing making the opening moments of a race crucial.
The environment is a stark contrast with the comparative laid back atmosphere with which McGovern had become accustomed to in the same role in his homeland.
"There's no comparison, the stakes are high here: the prize money, the betting, and that's every time you get up on that stand and hold that button," McGovern told the Post ahead of his final day in charge.
"There's a lot more pressure here. You scratch a horse at home in New Zealand and it might be taking NZ$400 (HK$2,200) or NZ$500 out of the betting pool, but here, there's millions on it. That's the difference, we've had horses scratched here and there has been HK$50 or HK$60 million refunded on a single horse, and that puts a lot of pressure on everyone.
"As a starter, you have to block that out. But the owners are paying a lot of money for horses, they want results. The pressure comes from the owner, through to the trainer and then the jockey – and they are all putting pressure on the horses."
And the race where there is most pressure is the Hong Kong Derby, the race owners want to win most, with relatively inexperienced horses jumping from in front of a boisterous crowd.
"When you see what these owners will spend trying to win one Derby, they'll spend more than what the race is worth to get the winner," he said.
"Three-quarters of that field have never been down in front of the grandstand before, and the crowd starts roaring as the last two horses go in and that gets them on edge, that is a tough race.
"Add to that it's such a tough start, one of the trickiest 2,000m starts in the world, it's right on a corner and everyone is on edge ready to take up a position."
McGovern is the nephew of former trainer Rory McGovern, and like most kids growing up in the horse-mad area of Cambridge, lived for racing.
"I couldn't wait for weekends so I could go to the races," he said.
Strapping his uncle's horses, then a part-time job as a barrier attendant, had to fit around an apprenticeship as a butcher – which he finished, and as McGovern jokes: "If you ask some jockeys they might say I've butchered a few starts, too."
A stint in asparagus farming was just another detour on a winding road to a full-time place in the sport of kings, with starter roles in the Waikato region and Auckland followed by the switch to Hong Kong.
When McGovern arrived in 2003 as assistant to then chief starter Philip Waldron, the role changed to include the education of horses in between race days, with barrier rogues and young horses sent to practice on Tuesdays and Fridays in the Sha Tin trotting ring – far from the glare of race day.
Jockey Club chief steward Kim Kelly described McGovern's record of re-educating horses as "remarkable" with just two horses in those 13 years refusing to load.
"The introduction of that afternoon barrier practice has greatly benefited connections here, I think that work Tony has done has gone a long way to establishing that record," Kelly said.
"When you think about it, with 700-plus races each season, 14-horse fields every single race at Sha Tin and 12-horse fields at Happy Valley, that's a lot of horses, and to only have two turned away is quite remarkable."
McGovern said this aspect of the job was his most satisfying, but added: "It can be the most disappointing. You can do a lot with horses, but we don't feed or train them, so we only get that one little bit of time to educate them.
"A horse's temperament can be affected by a lot of factors, so sometimes we can be fighting a losing battle – it's just the nature of the place.
"A lot of horses don't adapt to Hong Kong – they are used to being trained out of a nice grassy paddock somewhere back home.
"Back in New Zealand we had one or two horses in total that wore blindfolds in the gates, but here in every race there are horses with blindfolds – they work well, but it just shows the type of temperaments we are dealing with."
"One of the great parts is that we have the help of a team of work riders that work behind the gates and they come from all over the world. Everyone has got some experience of where they come from and where they have been, and maybe a different technique to introduce."
The 60-year-old McGovern hasn't been on the stand this season – a succession plan has seen soon to be chief starter Tony Speechley the man in the hot seat – and the retiree said he isn't tempted to climb on to the rostrum for one last press of the button and instead he will be filling the deputy's role behind the gates today.
With so much to offer the racing industry, it's hard to imagine McGovern not having some involvement when he returns to Cambridge with wife Cath, but the focus will be on enjoying more time with his two children and granddaughter – plus more time to watch his beloved All Blacks play rugby.
"It's just time to go home," he says. "We have enjoyed Hong Kong, it has been great, but job-wise it doesn't get any better – this is my Everest."