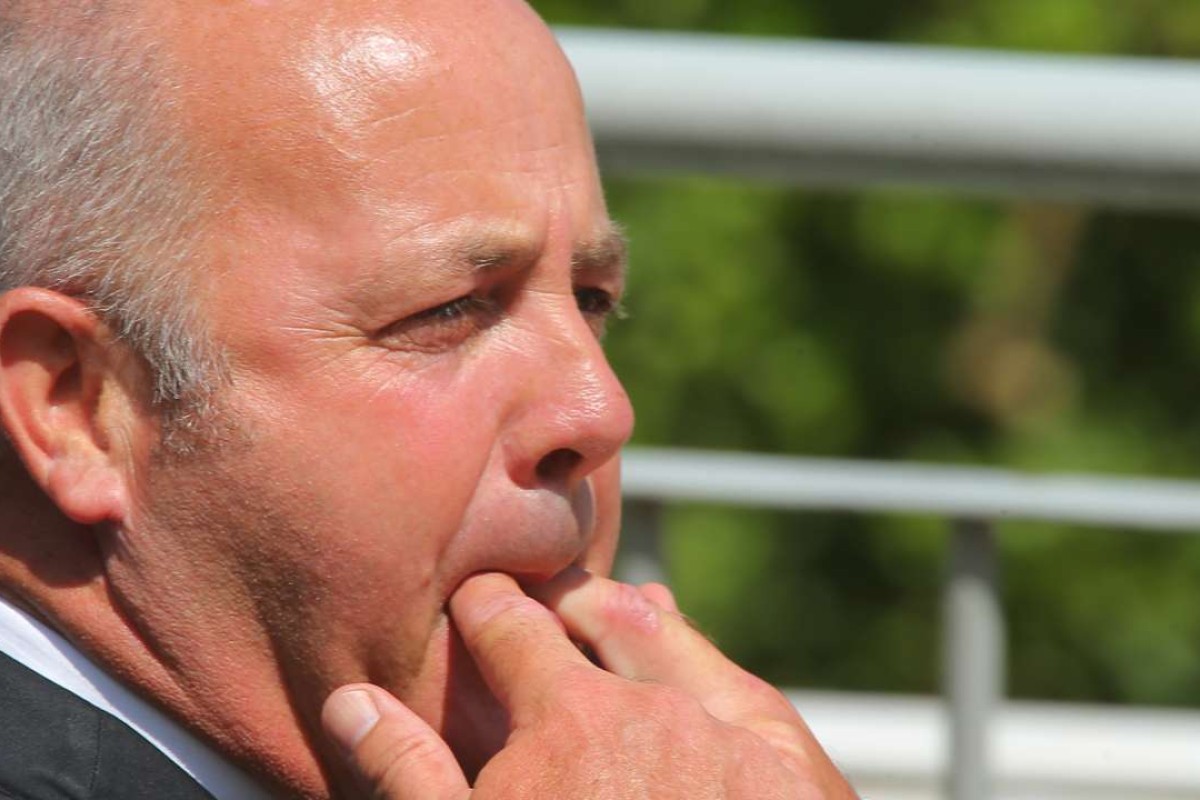 Sean Woods will seek legal advice on potential ­avenues of action to regain his Hong Kong trainer's licence after show cause and appeal hearings which he described as "sabotaged by the Jockey Club executive management" and an "unsavoury" process.
"I cannot say a great deal at the moment because I will seek legal counsel to decide the future, but the whole procedure was unsavoury," Woods said on Friday night.
"Both hearings were sabotaged by the executive management of the club, which infiltrated the show cause hearing as an aggressor, with lawyers, arguing why I should not have a licence, and did so again at the appeal. I do want to say I have no issue with the Board of Stewards of the club and I sympathise with them as they have been placed in a very difficult position by their management."
For the third time in his career, Woods had failed in the season just completed to meet the club's minimum performance requirements for trainers and last week failed to show cause before the Licensing Committee why his application for a licence next season should be approved.
He proceeded yesterday to an appeal before the Board Of Stewards, which was dismissed, but his deposit was refunded.
"That I did not satisfy the performance criteria is a fact, there is no dispute on that – I didn't," Woods ­explained. "But the show cause hearing was for me to present to the Licensing Committee the reasons why I was not able to do that, to present evidence so that they can make an informed decision.
Rejected: Andreas Schutz and Sean Woods lose Hong Kong licences
"The show cause was intended to be just me and the Licensing Committee, however, the club's executive management turned up as a third party ­aggressor and painted the worst possible picture of me – and I believe the same happened with Mr [Andreas] Schutz's hearing."
Fellow rejected trainer Andreas Schutz, who also failed the criteria for a third time this season and failed to show cause last week, will go before the same appeals panel on Tuesday.
Woods said his lawyer and barrister believed that the club management "had no right" to be at the show cause or appeal hearings, where they appeared with legal representation.
"So from 9am today until 5pm this evening, we ­argued about procedure and we made it clear that procedure was not followed at the Licensing ­Committee and that affected their ability to give me a fair hearing," Woods said.
"Again the club management appeared today, with lawyers, and sabotaged the process. The appeal panel made a ruling that I would not be permitted to present new evidence. I was also not allowed to call witnesses and was not allowed to cross examine ­anyone."
Woods and Schutz are the fifth and sixth trainers, respectively, to be rejected for a licence on the basis of performance, with the most recent David Hill in 2005, although a number of other trainers have ­voluntarily withdrawn licence applications when faced with similar circumstances and have not gone to the show cause stage.
But Woods, who was first licensed for the 2002-2003 season, would be the first to take the matter ­beyond the Jockey Club's own internal processes to a civil jurisdiction if he does take that path.
Hill did not appeal after failing to show cause but Bruce Hutchison, Chris Cheung Ting-pong and ­Wylie Wong Wai-lit appealed unsuccessfully in 2001.