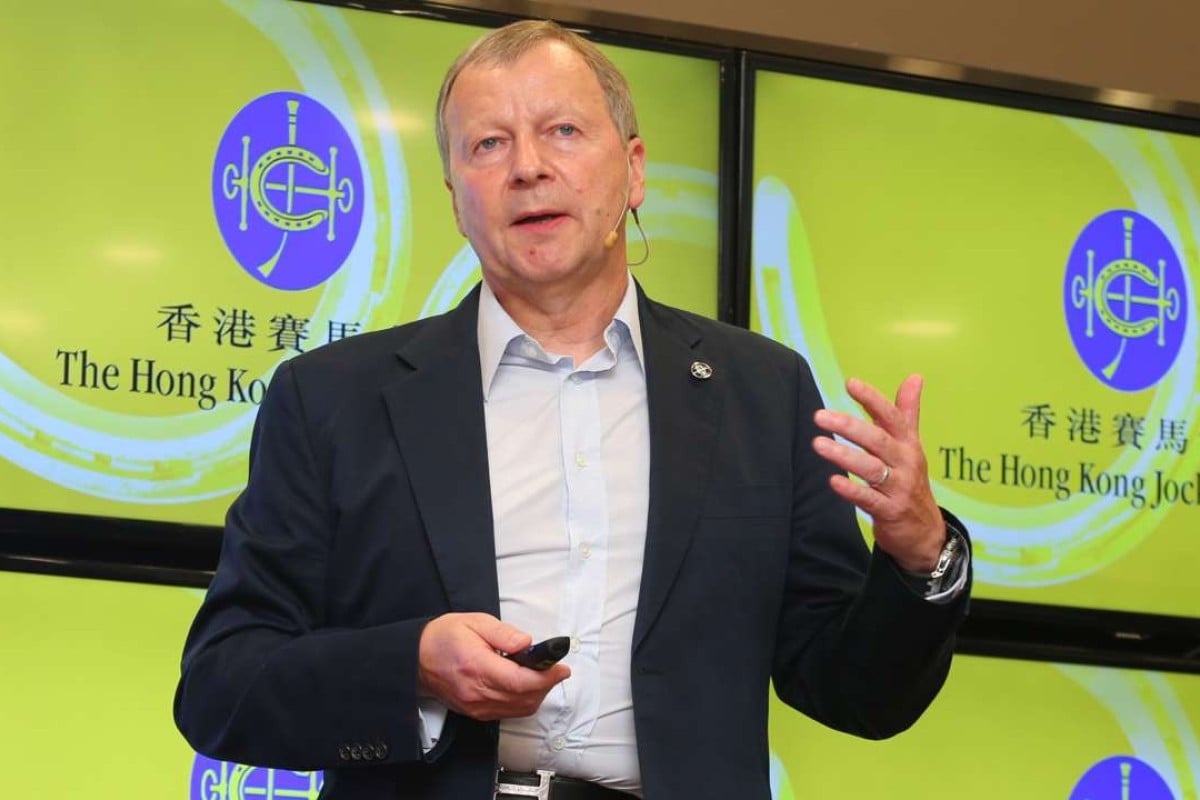 The 2016-17 Hong Kong racing season will not be so different from the recent past – an environment dominated by "C words" but the club's emphasis on customercentric will share the top billing this term with commingling and the Conghua training centre in China.
The latest season completed in July saw a 1.7 per cent turnover downturn, the first in seven years, but chief executive Winfried Engelbrecht-Bresges sees that reversing again to a positive business outcome for its first ever 88-meeting season, which begins on Saturday at Sha Tin.
"The trend in the final months last season was up again after some challenges earlier and I think we are looking at a projection of between HK$108 billion and HK$110 billion in turnover for 2016-17 – around a 2 to 3 per cent increase," he said at the club's pre-season members carnival on Saturday.
And commingling – bets placed on Hong Kong racing with operators overseas and then funnelled into our betting pools here – may still be a small part of the overall total but it is growing at an increasing rate and will be a significant part of the projected HK$2 billion to HK$4 billion of overall growth this season.
Last year, we had a 31.5 per cent commingling increase, up to around HK$3.5 billion, but we are targeting growth of 25 per cent again on that figure this time, to around HK$4.3 billion, and we see commingling as our key growth driver going forward," Engelbrecht-Bresges said.
"During the first half of this new season, we will add two additional, substantial partners, the UK and Canada, to the list of six jurisdictions already commingling with us.
"And we are in ongoing discussions for future partnerships with the Irish Tote in Ireland and with France's PMU, which also embraces wagering in 11 other European nations."
To assist its commingling growth, the club is also entering into publishing and telecasting arrangements which will enable its fields, information and telecasts to be distributed worldwide in different languages and varied racing cultures.
Engelbrecht-Bresges restated that the additional five race meetings this season will not make a major upward contribution to turnover as the club does not have the horse population to take full advantage of extra opportunities to race.
"We will need to manage our programming so that field sizes do not suffer with the extra meetings, as our current horse population cannot be increased, but that is where Conghua will come in during the third quarter of 2018," Engelbrecht-Bresges said.
"I cannot overstate the importance of the Conghua centre we are building in China – our future growth and development depends on it. Sha Tin is almost 40 years old. Its facilities have been at maximum capacity and we have tried unsuccessfully for 20 years to acquire more space in Hong Kong.
"Parts of Sha Tin need to be decommissioned in the near future, and there is serious refurbishment required for the rest of it which would cause major disruption if we have no alternative.
"When Conghua opens, we will be able to increase our horse population by up to 150 horses, sufficient to use our additional meetings properly, and we will cut down long current waiting times for ownership permits.
"In addition, Conghua will play an important part in the advancement of a racing future in China, in training participants for that future and it will position the club to take advantage of any policy changes in China regarding racing."
On the racing front at home, Engelbrecht-Bresges said his vacation in Europe during the break left him with another C – confidence that the Longines Hong Kong International Races meeting in December is right in the forefront of world thinking.
"I heard much buzz when visiting with trainers in Europe. There is plenty of interest, both from longtime visitors and some potential new ones," he said.
"Francois Rohaut, who trained Signs of Blessing to win the Prix Maurice de Gheest, showed interest in bringing him. Coolmore has expressed their willingness to travel Highland Reel again.
"I believe Andre Fabre spoke to our chairman at Deauville and said how much he enjoyed Hong Kong last December and that he is keen to return.
"And to have trainers of this kind of standing, not only willing to send their horses but excited to be here themselves, makes me think we really are now one of the world's flagship racing events.
"We expect our Chairman's Sprint Prize winner Chautauqua to return and, of course, I'm expecting a very strong participation from the Japanese horses too, hopefully led by A Shin Hikari and Maurice. And this will be the first year that their fans in Japan will be able to bet on HKIR under the new simulcasting policy there."