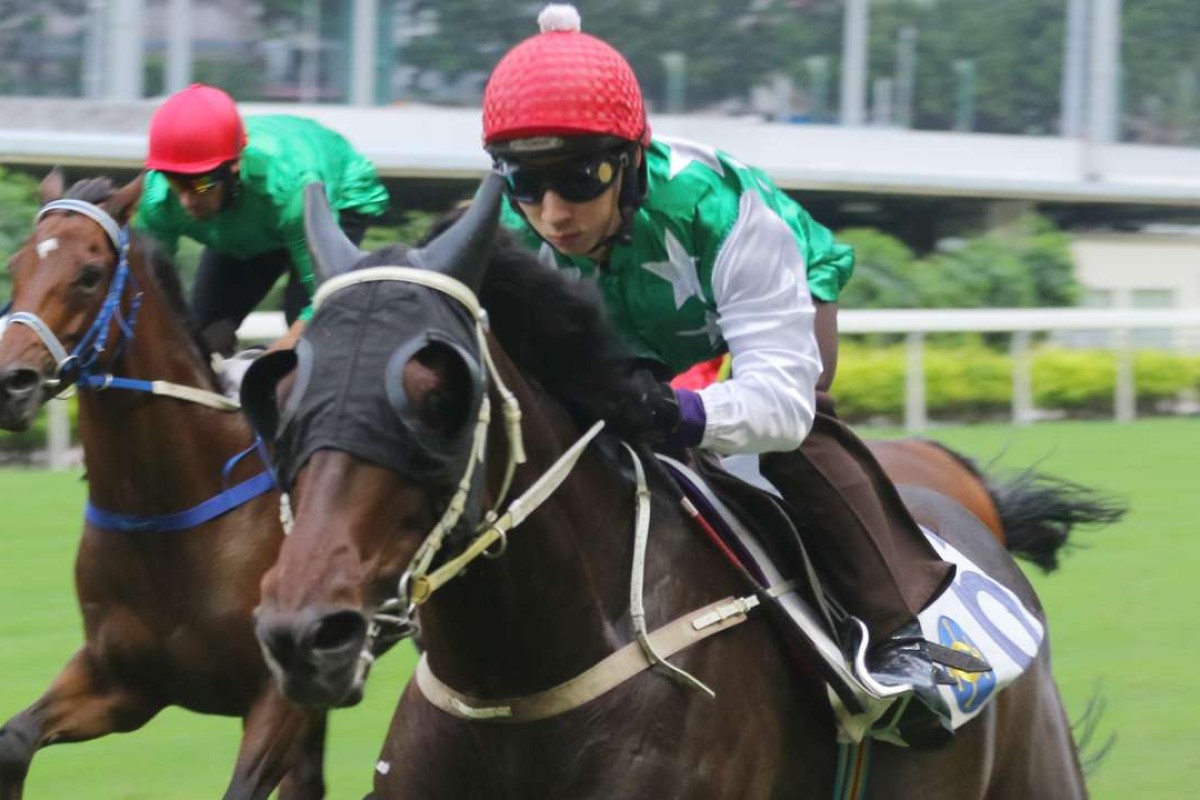 Matthew Chadwick, one-time wonder kid and record-breaking apprentice, knows all about expectations, so it may be fitting he is now the calm voice of reason managing them ahead of Pakistan Star's highly-anticipated return as he restates his own riding goals.
Pakistan Star's debut win in July, where the youngster trailed the field by a wide margin before producing a spectacular finishing burst to victory, was so visually arresting it not only captured the attention of hardcore race fans, but the non-racing public, as clips of the performance went viral.
Rarely does a three-year-old return for its second start with so much attention and Chadwick, who keeps the ride on Sunday at Sha Tin, warned the Class Three "won't be a pushover" for the Tony Cruz-trained hype horse.
"There is a lot of expectation, he is an up-and-coming horse, he has progressed in the off season and matured - it feels like he has filled out quite a bit. I'm looking forward to riding him and we are going in positive," Chadwick said, before warning, "but this first start won't be easy and there are a few factors against him."
Watch:Pakistan Star's highly impressive win
Pakistan Star isn't likely to be loafing along behind the field this time but will still be giving ground, and Chadwick's biggest fear is that run pattern will work against the big-striding son of Shamardal over 1400m - especially with the inside rail out in its widest configuration.
"He has the class to beat these, and he should, but he is a get back horse on the C+3 and it's not an easy race," said Chadwick.
"As far as Class Threes go it's very competitive. Last weekend it was hard to run leaders down, and that's what worries me with a horse that races like he does. 1400m doesn't feel like it will be his best distance either, he will be better over further, still, it's the best distance for him first-up.
"We will see better from him over further. Distance and his style are the biggest tests, but if he jumps on terms and stays in touch, hopefully his class can carry him through."
Watch: Pakistan Star's trial earlier this month
If Chadwick comes off sounding like a wily veteran maybe it's because, seemingly all of a sudden, he is.
At just 26, Cruz's protégé has soared great heights - from smashing through his claim to become the poster child for the club's apprentice programme, to Group One-winning senior rider and an almost guaranteed place in the top five of the jockeys' championship.
More recently though, reality has bitten back hard and Chadwick is trying to re-establish himself among the top echelon of riders after two injury-interrupted campaigns.
After a broken finger two seasons ago halted his momentum, Chadwick tore his knee apart in the starting gates at Sha Tin at the start of October last year, with the subsequent reconstructive surgery and rehabilitation sidelining him for more than four months.
Chadwick admits his mid-February return was rushed and he struggled to 12 wins for the term, taking him to 301 wins and what he feels is something of a career-crossroads this season.
"The injury was a big setback - it hit me hard mentally as well, but I had a lot of time to think about personal life and career," said Chadwick, who also credits wife Christine and the arrival of now two-year-old daughter Jessica with his new-found perspective.
"I am more grounded as a person and professionally I know where I want to go. To be honest, I needed to give myself a kick in the butt and find the right mentality - I think I was still riding in the wave of my apprenticeship.
"I've always felt I had the ability, but it was the mentality that I wanted to change - do I want to be content, and pick up rides? Or do I want to push and see how good I can be?"