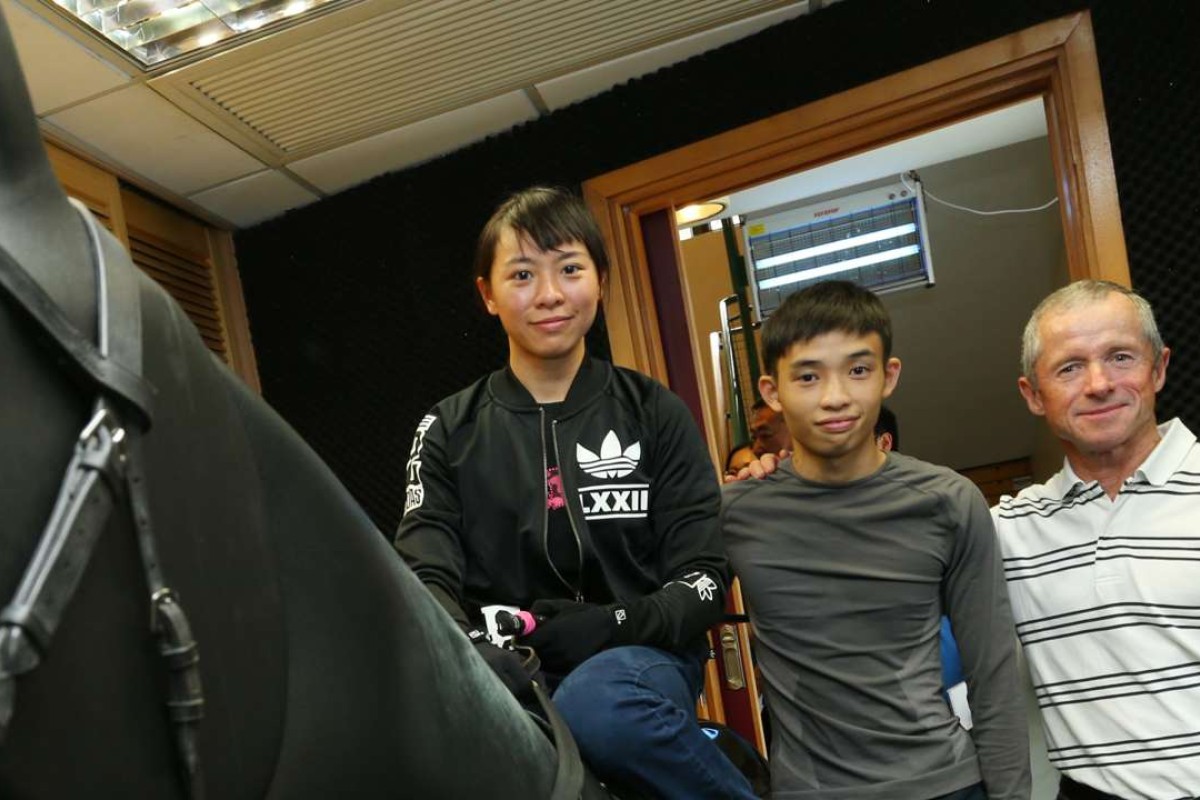 Felix Coetzee believes last season's breakout star Kei Chiong Ka-kei "has to expand her skills" if the star apprentice is to take her career to the next level, but the South African riding legend's full-time work mentoring young jockeys this season can be the catalyst for that development.
The details of Coetzee's deeper role with the Jockey Club's apprentice training scheme almost overshadowed the presentation to the media of new 10-pound claimer Dylan Mo Hin-tung and rising young Sydney jockey Sam Clipperton at Sha Tin on Monday, and he admitted that Chiong faces a fresh and much tougher test to reprise her debut season.
Coronation for Kei Chiong with most popular jockey and Tony Cruz Award wins, but Hong Kong legend issues challenge to young rider
It is a step up for Coetzee, who rode in Hong Kong for 16 seasons and is renowned for his partnership with the great Silent Witness. The retired rider acted as a consultant last season and mentored both Chiong and fellow seven-pound apprentice Jack Wong Ho-nam, but has returned to Hong Kong on a full-time basis and will work closely with the three apprentices, as well as a number of trainees and work riders.
The riding great was instrumental in Chiong's late-season success that saw her ride 37 winners and usurp Joao Moreira to be named most popular jockey, but he sees this term as being a much tougher task.
"There is enormous pressure on her to achieve, she's got to back up her last season and sustain it," he said. "One thing she needs to do is learn to win from off the speed, for example. She knows it, she told me that herself.
"I'm hoping that her time in Australia assisted in developing that talent but she's pretty focused on that this season.
"She's come back pretty fit but what I'm happy about is that the fire is still there to succeed, she's really focused and she knows that she has to achieve so she's going to be giving it everything."
Mo, who initially began his career at the South African Jockey Academy in Durban in mid-2013 before joining noted apprentice tutor Allan Sharrock in New Zealand in late 2014, comes to Hong Kong having ridden 42 winners from 526 rides – similar figures to Chiong and Wong.
While Coetzee acknowledges the success of those two riders, he was keen to temper expectations for Mo.
"After Kei's big season, people have probably raised their expectations for Dylan," he said. "He is still adapting, he is a work in progress, we're working very hard to prepare him for the first day but there is still quite a lot for him to learn.
"Hong Kong is very different to South Africa or New Zealand, which he realises, so I will be working hard with him from meeting to meeting to get him to a place where he is riding the best he can."
However, Coetzee also says that Mo is diligent and very determined, praise that was shared by Mo's new master, trainer Danny Shum Chap-shing.
"I have been applying for a number of years to get an apprentice, but I am very glad that Dylan is the one that has come to my stable," Shum said. "Dylan is a very hard-working young kid. He still has a lot of things that he can improve on but his attitude is very positive."
Dylan Mo set to join jockey ranks for next season
For his part, Mo also was keen to stress he wants to be his own rider and not just compared to the targets set by Chiong and Wong.
"I know that it will always be natural for people to compare me to Kei or Jack," the quietly spoken 22-year-old said through a Cantonese translator.
"But I am my own rider, I am going to focus on my own goal, which is to ride 20 winners and get my claim down to seven pounds."
"I am lucky to have a great team around me with Danny, Felix and Amy [Chan, Apprentice Jockeys' School headmistress], and hopefully they can help me achieve my best."
Sydney-based Clipperton arrives in Hong Kong off the back of his best season yet, which included two Group One wins on Peeping in the Coolmore Classic and English in the All-Aged Stakes, and he hopes to follow in a long line of young Australian jockeys to succeed in the racing mecca.
"Last season was a real breakthrough season for me, the Group One winners were a big thrill but I also rode a number of other feature winners, too," he said.
"A lot of people have asked me why I have made the move to Hong Kong when things were going well in Sydney, but it has always been a dream of mine to ride here.
"At the moment, my only goal is to try to ride enough winners to get a full-season contract. I've had some great support in the mornings, I've got a few rides this weekend and hopefully I can begin strongly."