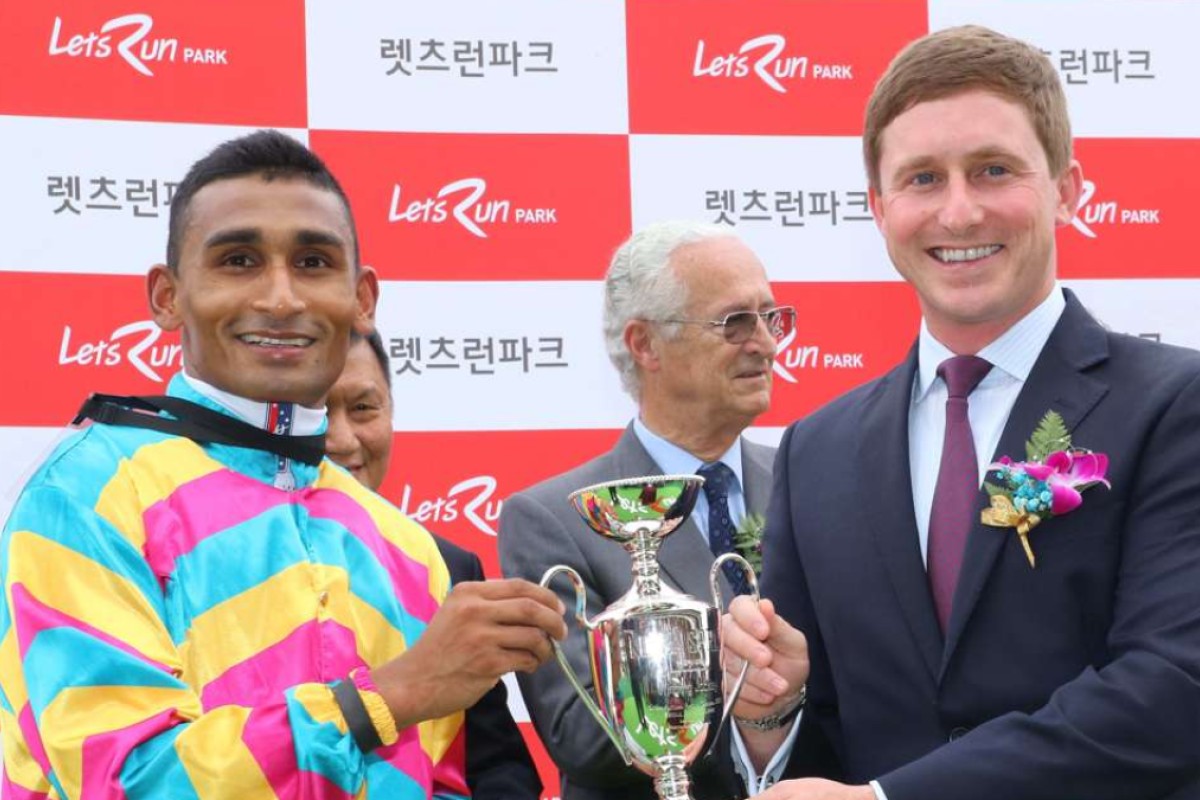 There was a touch of The A-Team to trainer Tony Millard's post-race reaction after Super Jockey reigned supreme in Seoul and turned the US$700,000 Korea Sprint into little more than an exhibition gallop in front of a massive crowd on Sunday.
"I love it when a plan comes together" was a catchphrase from the 1980s TV hit and the South African trainer had his own version of John "Hannibal" Smith's saying after what must rank as one of the easiest paydays ever – more than US$350,000 – for a Hong Kong-trained horse abroad.
Millard brought the eight-year-old dirt specialist to Korea first-up for more than four months and after a smooth preparation, race tactics as spelled out by Karis Teetan during the week were also executed to perfection.
"The race panned out exactly the way we planned, which doesn't often happen," Millard said.
"Going into this sprint a lot of things went right and we had a good feeling about it. The team worked really well because we had to prepare the horse in the off-season, which is not easy, especially as he's a horse that doesn't sweat – that's quite a big call in Hong Kong's humidity.
"He runs very well fresh, we know that and I was very happy with his prep coming into this. It was great, I didn't actually expect him to win that well but he's a high-class horse."
Even with 300 metres still to go Teetan had little more to do than check his ever-extending lead on the newly installed infield big screen, and by the time he had galloped past the 127 metre-long monitor, another cheeky look over his shoulder revealed a comfortable gap and an eventual four-length winning margin.
"Karis eased him down, which was lovely – we live to race another day. We'll go back to Hong Kong and decide there where we'll aim for next," Millard said, with the Dubai carnival a likely target for a horse that was an unlucky second in the Golden Shaheen at Meydan in 2015 and fifth in the same race earlier this year after suffering a hoof injury.
It was the first time a Hong Kong horse had competed in Korea and marked the first time Teetan had secured a win on a Hong Kong-trained horse abroad.
The Mauritian jockey was determined to stay out of the notorious kickback on the soft sand surface and from barrier two he managed to hold a spot one-off the fence, sitting outside Korean pacesetter Perdido Pomeroy.
"The horse came around me pretty quick and I didn't want to sit behind him, I wanted to get my horse out," Teetan said.
"Once I really got him out of the kickback and gave him a clear run, he really started pulling me through and I didn't want to pull him back to break his action.
"Like Mr Millard said, ride just like it's a trial because that's how he likes it. In all his trials back home he really trials well when you allow him to do what he wants."
The end result certainly looked like a trial as Super Jockey cruised to the line under a throttlehold, with runner-up Macheon Bolt landing a massive result for Korea and Busan-based Australian trainer Peter Wolsley.
Japan's Grape Brandy finished third but Korean horses filled places four through seven, as Irish-trained fancy Wild Dude failed to live up to his pre-race billing.
The Korea Racing Authority has gradually increased international involvement in its major events and even though foreign raiders dominated both the Korea Sprint and US$1 million Korea Cup by massive margins, the event will be considered a success by local officials.
Korea Cup favourite Chrysolite led home a one-two for Japan in the main event, beating Kurino Star O, but again Korea were able to fill a minor placing with Triple Nine third.
Super Jockey was heavily backed on the Jockey Club tote to start $2 favourite but supporters on course at Seoul cashed in as the gelding's odds fluctuated wildly and ended up a juicy $8.50.
Co-owner Tony Lau Yiu-tong planned to celebrate in Seoul on Sunday night with a big contingent of visiting fans and said he was leaving Super Jockey's future plans to Millard and his team.
"Tony and his wife Bev did a great job preparing the horse, and Karis rode exactly to instructions," he said.
"We will enjoy this win first before we decide what we do next."