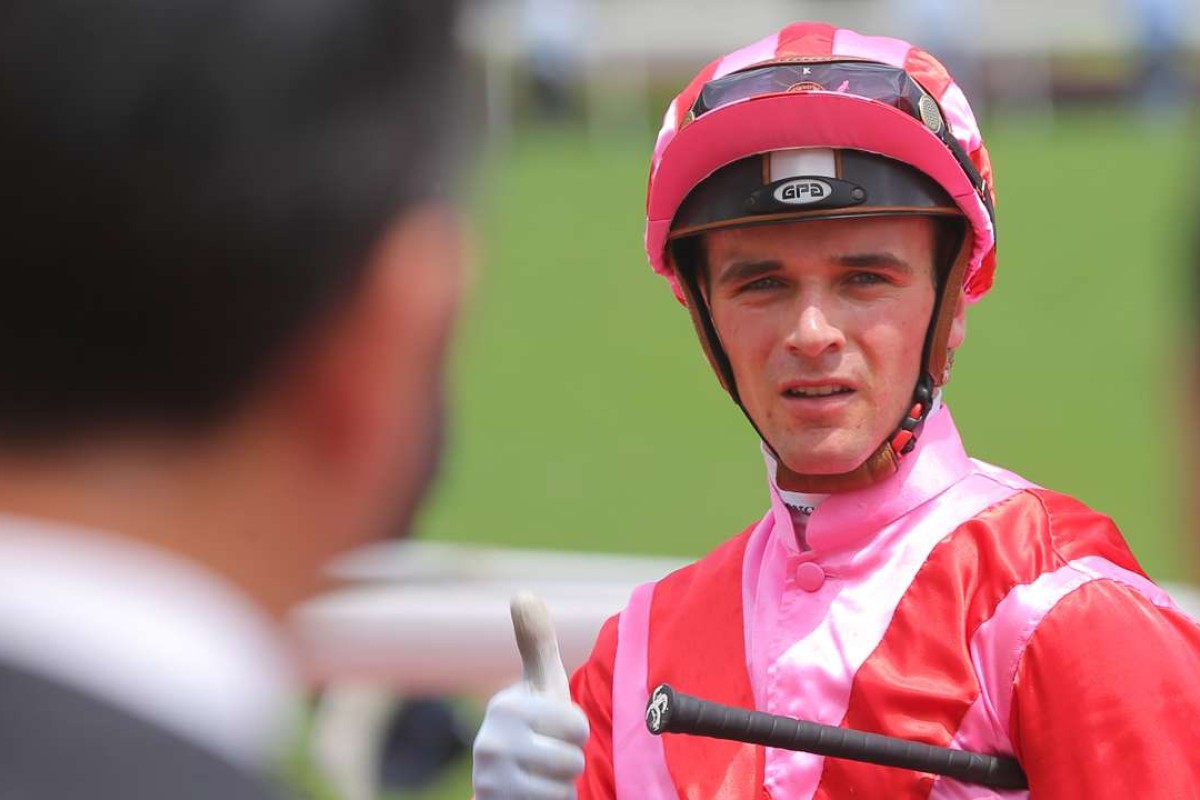 Jockeys respond to breakthrough wins in different ways and for Sam Clipperton's first success in Hong Kong there was no hooting and hollering, just time for a quiet reflective moment to himself.
Riding at just his third meeting, Clipperton had had few real chances to break the ice but Class Five sprinter Ace King for Peter Ho Leung looked one, and he took it – the first leg of a winning double, with John Moore providing Rewarding Flyer later.
"Peter asked me a couple of weeks ago to ride Ace King and he presented well, jumped brilliantly to find the outside fence and was really never going to be beaten," said Clipperton, who had plenty of time to savour the moment as he posted a wide winning margin on the four-year-old.
"It's a relief to get the first win out of the way. I just kind of sat back and enjoyed it a little bit. I didn't get too pumped, I just let it sink in. It's a great feeling."
At different times last season, Ace King looked like he would make his breakthrough in Class Four but yesterday was his third appearance in the cellar grade. Still Clipperton feels there is more to the international sale griffin.
"He looked like he's been mixing his form a bit before now but was just needing that bit of confidence. At times I saw he'd been slow away and raced greenly but that didn't happen today and he gave me a great feel," he said.
"When he changed leads at the 300m, he just extended away from them."
Clipperton was at least as excited about his second winner, linking up with Moore to land the trainer's first for the new season.
"John's been giving me plenty of trials and gallops and I've had a few race rides for him that didn't have a lot of expectation on them but it's great to win one for him," he said.
Moore said the young jockey came highly recommended by Tommy Berry, who has had so much success for the yard.
"Sam has ridden for us at times in Australia anyway but he's good friends with Tommy, who told me you wouldn't find a nicer person, with plenty of riding ability that is only going to get better riding here," Moore said.
"His work ethic, his feedback is all great and my stable is definitely going to support him."
Moore said that he and Clipperton had gone back to Rewarding Flyer's "old model" as far as tactics were concerned, and they sent him forward early despite the wide gate.
"That was how he won his maiden at Wyong in Australia to qualify for here so we decided to take the bull by the horns and put him on the speed and see if he could still get home," Moore said.
"Last season, as a three-year-old he didn't get home ridden like that so we started riding him further back. But he has strengthened up in the summer break and now we know he can get away with it and that gives us a pattern we can use in future."