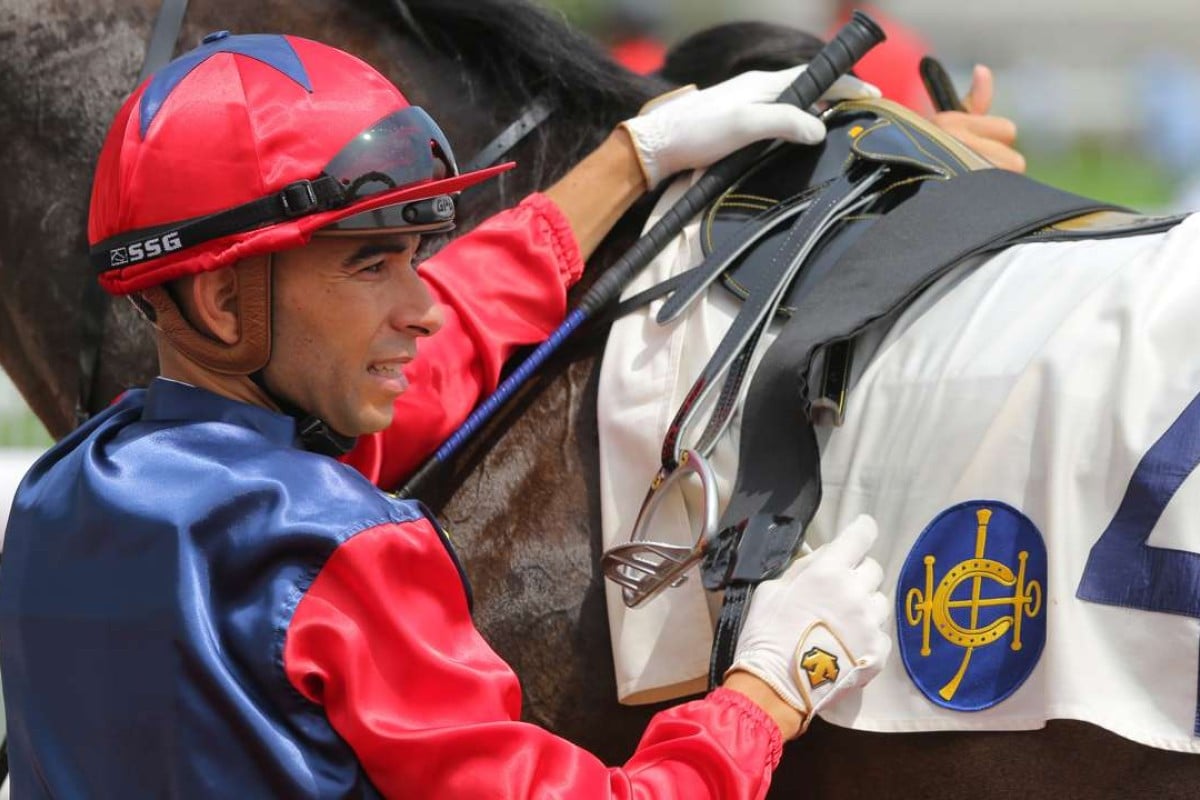 The Hong Kong Jockey Club has revoked a release for Joao Moreira and Sam Clipperton to ride in two of Australia's biggest races this weekend over fears the fallout from Typhoon Haima could prevent them from returning in time for the key Sha Tin fixture on Sunday.
Clipperton was to fly to Melbourne to ride English in the HK$5.9 million Manikato Stakes on Friday night, while Moreira had the seat on French-trained Vadamos, third favourite for the HK$17.8m W S Cox Plate there on Saturday, but a tweet from airline Cathay Pacific was enough to swing the argument against them going.
The worst of Typhoon Haima is expected to hit Hong Kong on Friday and at 11.20am on Thursday, the Cathay Pacific Twitter account announced that it was expecting delays and cancellations to affect its operations from Friday morning through to Saturday morning.
"There is clearly potential for serious delays and complications with a knock-on effect to flights into Hong Kong on Sunday morning and we simply can't take the risk that Moreira and Clipperton would not make it back in time for the Sha Tin meeting," said chief steward Kim Kelly.
"Where it is possible and won't have any negative impact on our racing, we think that our jockeys going overseas and performing in the biggest races reflects well on racing in Hong Kong, but, when all's said and done, our greatest obligation is to our own racing.
"We have 18 jockeys available for Sunday for fields of 14 runners, which is as tight as we ever want to be for numbers.
"To risk losing another two leading jockeys from the meeting, with the disruption to our owners, trainers and punters, is an unacceptable situation for the club."
Kelly said he had been in constant contact with Racing Victoria and chief steward Terry Bailey during the Jockey Club's consideration of the matter.
Typhoon Haima threatens to blow away Melbourne Spring Carnival hopes of top Hong Kong jockeys Joao Moreira and Sam Clipperton
"They have been very understanding of the position we are in and have been outstanding through the process," Kelly said.
"If the typhoon was expected to arrive Thursday night, with as much as a day and a half to allow the flight schedules to right themselves again, we might have taken the risk but that isn't the case.
"The Hong Kong Observatory is sticking to its view that the typhoon will be closest to Hong Kong on Friday."
The club certainly did not want a repeat of the chaos last year when Moreira and Zac Purton rode in Sydney on the Saturday but the approach of Typhoon Mujigae saw their flight back on Sunday morning forced to abort a landing and diverted to Taipei. The two top riders missed the Sha Tin race meeting altogether.