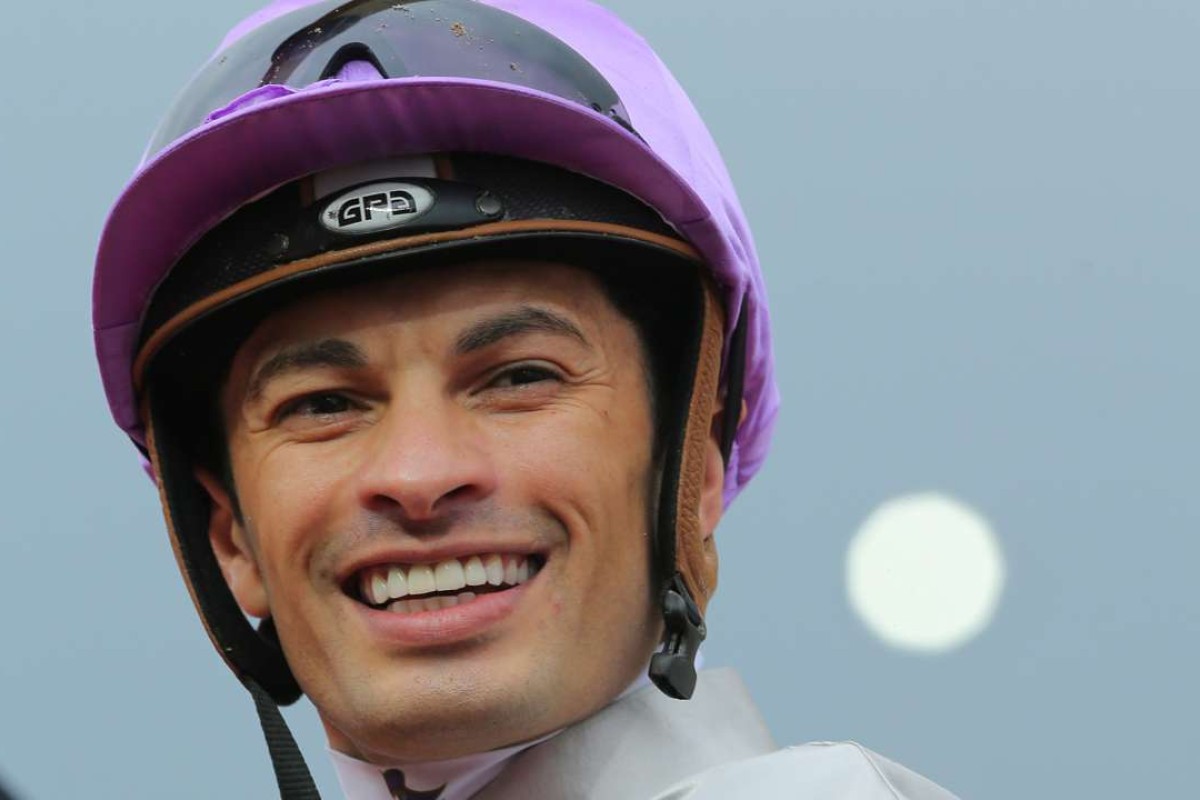 Fan favourite Silvestre de Sousa is back and this time the Brazilian dynamo wants the big race rides.
Not content with taking Hong Kong racing by storm in a successful six week cameo last season, de Sousa returns for a much longer stay that starts on Sunday with Group Two rides on potential stars Sun Jewellery and Amazing Kids.
"That's all that was missing last time, I want to be on the best horses this time around," de Sousa told the Post as he sought to shake off some jet lag following a long flight from England. "I want to be on the types of horses that will take me to the big races and the extra time will help me."
De Sousa won 15 races during his short sojourn last term, but his contract started in January and meant he missed international day and the opportunity to latch onto a genuine contender in the four-year-old series.
This time the 35-year-old is committed to stay for more than three months and he returns to Sha Tin on Sunday with rides that are exactly the type of Group One contenders he is after, both from the powerful stable of John Size.
After beating the Typhoon Haima flight delays and touching down at Hong Kong International Airport on Thursday, de Sousa channelled a sleepless night into watching race replays and likes what he sees from two five-year-olds who could still have their best performances ahead of them.
Sun Jewellery returns first-up in the Group Two Oriental Watch Sha Tin Trophy and Amazing Kids contests the Group Two Premier Bowl, with de Sousa hopeful of staying on both for the foreseeable future.
How Joao Moreira and Silvestre de Sousa went from scrapping as Sao Paulo apprentices to joining world's best jockeys
"I haven't spoken to Mr Size about riding the horses beyond this race, my commitment is just for Sunday so far but they both look the type of horses that could be competitive at open-age, Group One level," said de Sousa, who has rides in eight of the 10 races on Sunday. "I slept on the plane on the way over but I couldn't sleep last night so I watched lots of replays, not just my horses, there was a lot to catch up on. On Sunday I've not only got two very exciting horses to ride in the big races, but some others that could hit the frame as well."
After an against-the-odds effort to win the British Flat Jockeys Championship in 2015, de Sousa was second to Jim Crowley in the season that concluded last Saturday.
Having won over the local fans and connections alike with his uncompromising style last time around in Hong Kong, would de Sousa consider leaving his Newmarket base in favour of a full-time stint in the future?
"Let's see how I get on this time, and you never know. In the long term, why not?" he says, with the jockey planning to bring his wife Vicky and son Ryan to Sha Tin in December until his contract finishes in late January. "I like the racing, it is competitive and so far I have got great support."
Last season de Sousa had the assistance of a Jockey Club "agent" that helped him with form and negotiating rides, and although there was some assistance before his arrival, this time around the rider is on his own when it comes to chasing rides.
"That's no problem, I like to stay busy and working with trainers to chase the rides will keep me working hard," he said.