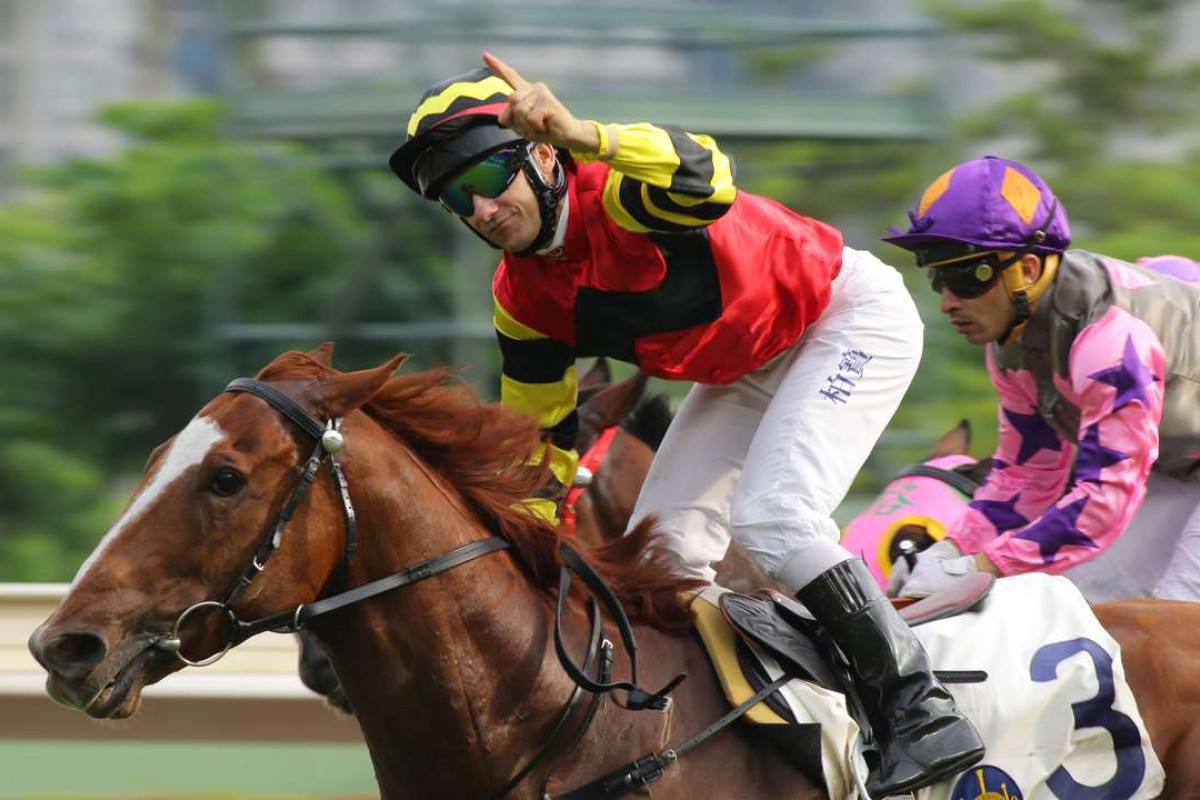 Trainer Francis Lui Kin-wai had long given up on Lucky Bubbles looking anything like a Group One sprinter but if Sunday's stirring Group Two Premier Bowl win is any indication the rising star will be one soon enough.
For the last two off-seasons trainer Lui and jockey Brett Prebble have hoped and prayed that Lucky Bubbles would grow, put on some muscle and, just as importantly, maintain it.
Their prayers haven't been answered and each time Lucky Bubbles lines up in a race he remains the scrawny outlier amongst a bunch of hulking masses, but clearly his relatively skinny frame isn't stopping the tenacious chestnut.
"No he isn't very big, but he has a fighting heart, and I believe in him," Lui said after a second Group Two title for the horse that followed on from a close second to champion Australian sprinter Chautauqua earlier this year. "Now we look to the big race, the Hong Kong Sprint, that is our main target."
Thoroughbred sprinters are like their human Olympic 100m counterparts, muscular machines built for explosive speed, and while Lucky Bubbles doesn't look the part, the engine inside is clearly well suited.
Lucky Bubbles lumped 131 pounds to win a high quality edition of the race, holding off Amazing Kids (Silvestre de Sousa), with Aerovelocity (Zac Purton) an encouraging third first-up.
Only champion miler Electronic Unicorn (2001) and Able Friend (2015) have carried more weight to win the Premier Bowl in the 17 editions since the event was switched to 1,200m.
Not only is Lucky Bubbles breaking the mould as a little horse that could, lining up as the only one of 12 horses that weighed less than 1,100 pounds, the five-year-old also bucked the recent trend of the race being a graveyard for favourites.
Brett Prebble gushes over new sprint partner Lucky Bubbles
Lucky Bubbles was sent out 2-1 top elect and now must be considered the top local hope heading to the Group One Hong Kong Sprint on December 11.
"I thought he put his hand up today and showed he is the one to beat in December," said Prebble, who has been aboard in each of the gelding's 12 race starts.
Of the big race contenders back in the field, Peniaphobia had excuses as he faded after being pressured up front, while Blizzard fought on bravely for fifth after again being stuck wide.
Joao Moreira, and punters, stuck solid with Thewizardofoz but the one-time boom horse was ineffective again and his immediate plans are unclear. At least this time there were some answers in the post-race vet report; lameness and a scope revealing substantial blood in his trachea.
Next Lucky Bubbles heads to the Group Two Jockey Club Sprint under more favourable conditions as a non-Group One winner, getting five pounds off Aerovelocity and Peniaphobia and at level weights with the rest of the field.
Perhaps what favours the horse most though, according to Prebble, is just how much improvement there is with a horse that may not look much bigger than last season, but "has grown up".
"He's got huge improvement, he had a little belly on him today and that's good because he's got condition on him," Prebble said. "The hard part is keeping the weight on him though. He's never going to be a big horse but he is losing that feminine aspect. The interesting thing will be seeing in three days time how he copes with the race."