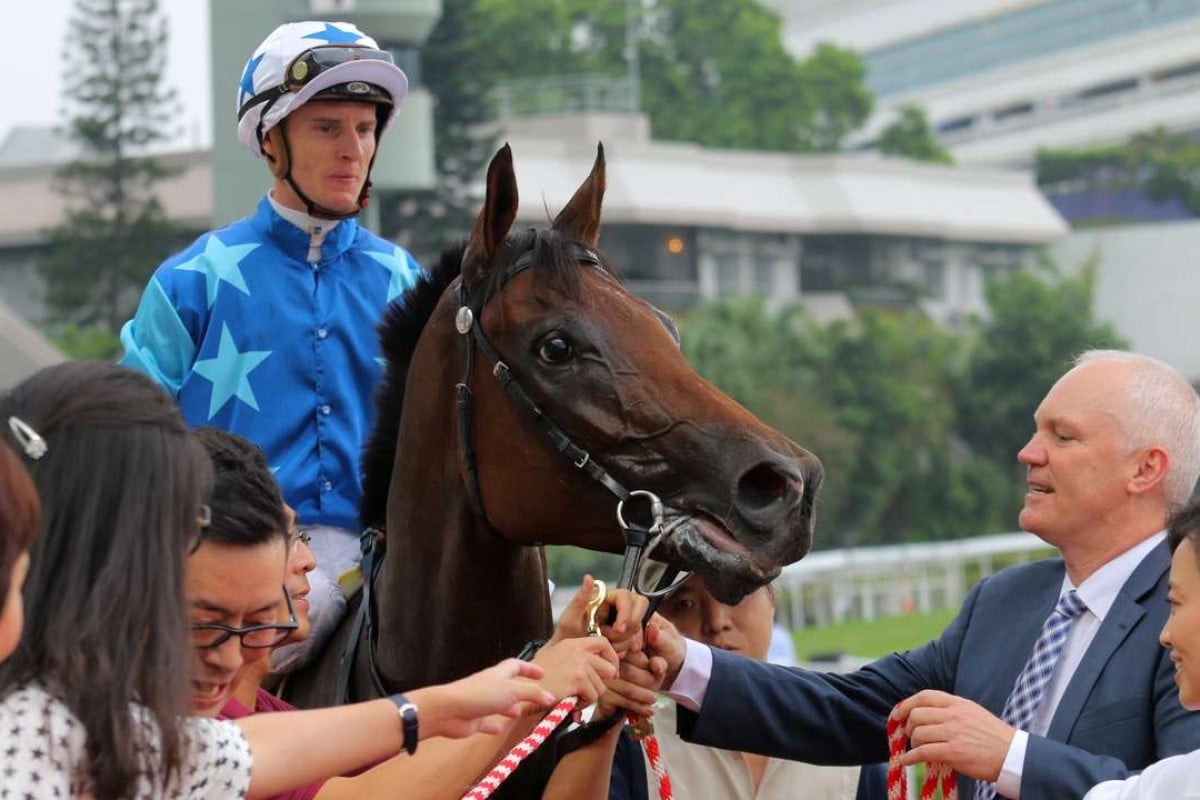 If David Hall was trying to keep a lid on the hype around exciting prospect Jing Jing Win then his horse didn't do anything to help him with an imperious performance as short-priced favourite at his second start.
After a sensational debut last month, the high-priced Hong Kong International Sale purchase took a 12-point ratings rise in his graceful stride, clocking a brilliant time and clearing out by a near-three-length margin that will again have the horse in handicapper Nigel Gray's sights.
"I'm a horse trainer not a handicapper," Hall said after the Class Three win, before making what almost seemed a plea for clemency when it comes to the Jockey Club's ratings reassessments this morning.
"Who knows what the handicapper is going to give him, we saw what happened to Pakistan Star," Hall said, referring to Tony Cruz's recently defeated rising star that jumped to a mark of 87 after just two starts.
"It's not something we want to see, these young horses being penalised too quickly. They've got to race against the more seasoned horses before they are really ready for it. It's a bit of a test."
The other question that will hover around Jing Jing Win while he keeps winning is whether Hall will attempt to stretch the son of Starcraft to a mile for the first race of the 2017 four-year-old series, January's Hong Kong Classic Mile, and even on to the 2,000m of the Hong Kong Derby next March.
In any other part of the world it might seem absurd that it even be tried with a horse brilliant enough to run 1:08.82 for 1,200m, but that's the lure of the race every owner wants to win.
HK$8.5 million horse Jing Jing Win on a potential Hong Kong Derby trail after winning debut
It's an intriguing dilemma for a "horse first" handler like Hall, who has been in Hong Kong long enough to know what Derby fever can do to seemingly rational minds.
"Of course you can never run away from that word (Derby) in this town," Hall said. "But for me, it's not a word that even comes into play with this type of horse. He doesn't give me any inclination that he is a Derby style of horse.
"He has an enormous amount of talent and he does things very easily, whatever he does – but whether you can stretch him to 2,000m, well, it's a long way away. You might think you can do it in his four-year-old year because the others aren't as good at that time, but then again, with a horse like Pakistan Star, and others to come, it might be an incredible race. We've got a lot to learn about the horse as well."
Zac Purton claimed two pounds over on Jing Jing Win, essentially making it a 14-point jump in the ratings, and the Australian jockey said the prospect showed important improvement right from the beginning.
"He jumped better today and got in the right rhythm from the start," said Purton, who later teamed up with Hall on Simply Invincible to make it a double. "I had a better tempo to follow and helped get into a lovely rhythm. I followed Love Shock into the race and I expected him to give me more of a fight so I stayed within range of him but my bloke got to him very quickly and had the race parcelled up a long way out."