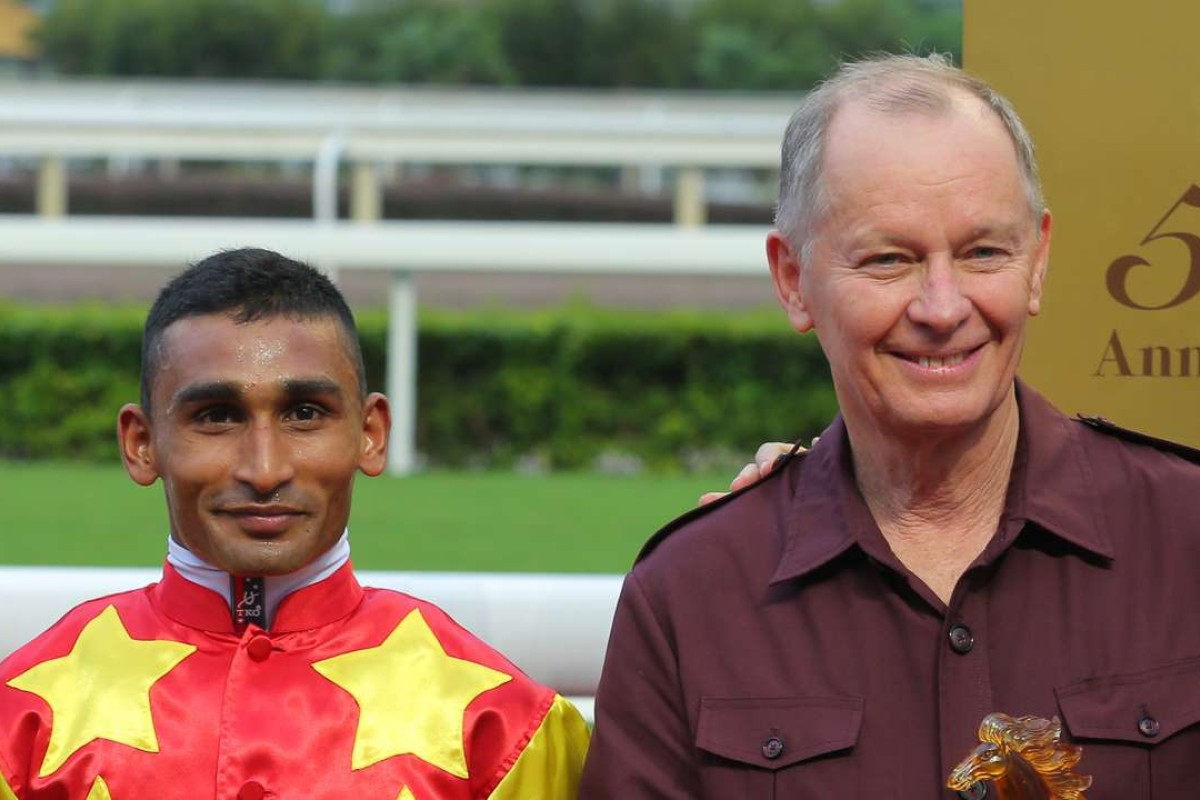 John Moore's "look what's happened now" kind of day took it's sweet time about swinging around but ended up more of a "look who's back" kind of day at Sha Tin.
For the past twelve months, most conversations with Moore about multiple Group One winner and former horse of the year Designs On Rome have included mild grimaces and a matter-of-fact concession that he isn't getting any younger.
But when injuries large and small to last season's Derby winner, Werther, in September, and Derby runner-up, Victory Magic, last week, were joined by Rapper Dragon's scratching on Sunday morning after a stable accident, his international team for December was looking rather depleted – until the old war horse kicked in under an inspired Karis Teetan ride.
"He's back," grinned Moore following the Sha Tin Trophy win that throws Designs On Rome right back into any Hong Kong Cup discussions, and he might have been talking about his own international aspirations as much as the six-year-old.
"It's a surprise but a relief too. Designs On Rome looks like he's holding the flag at this point in time for what I originally thought was going to be a very big international meeting for the Moore stable.
"Werther is all right and back already but losing him from internationals was a blow and Victory Magic, well, his injury was really serious. Then this morning, I was quite nearby when it happened but I'm still not sure what went on with Rapper Dragon – I think he flipped over in the box and he was lame behind, maybe a ligament, high up, but we'll go over him tomorrow and try to isolate the problem. I can't be certain where he's at until then but let's just say the jury is out on his next run and the internationals? It makes it hard.
"And Able Friend? Well he's working and not perfect at this stage but, like any athlete, we've got to work through and build him up and we'll see how he's going in three weeks when he runs in the sprint."
Moore said Tommy Berry has already been booked to ride Designs On Rome from here on and, mid-interview, he had to answer a call from the Australian jockey reconfirming himself for the Jockey Club Cup.
But Teetan had another idea after winning with a perfect imitation of a Berry ride on the gelding.
"Look, the owner should just keep me on – now that I know how to ride him exactly like Tommy does, he can save money on the airfares," said Teetan, sounding like the kid who knows but still refuses to acknowledge there is no Santa Claus.
Bold ride from Karis Teetan delivers Designs On Rome the Sha Tin Trophy
With Lucky Bubbles probably making himself the nominal Hong Kong Sprint favourite in the Premier Bowl while some other not-so-lucky bubbles burst, the day was full of meaning for the international meeting just six weeks hence, and the card seemed to borrow from internationals past as well.
Moore's first Hong Kong international winner was a horse called Motivation in the early 1990s and he won a Hong Kong Sprint with Inspiration more recently for the same man, Hui Sai-fun, Hong Kong's most successful owner.
A Hong Kong Derby winner as far back as 1959, Mr Hui had his 95th and 96th successes with Volitation and Anticipation on Sunday, the latter breaking his long-term Hong Kong maiden status by almost three lengths.
Last season, Anticipation had taken to trying to savage Victory Magic in races – and only Victory Magic not once, but twice - and his continued participation in racing was at one point a topic of consideration for the stewards.
But the Group One star's break down and retirement at least pleased somebody – it seems now Anticipation has his focus back for racing.