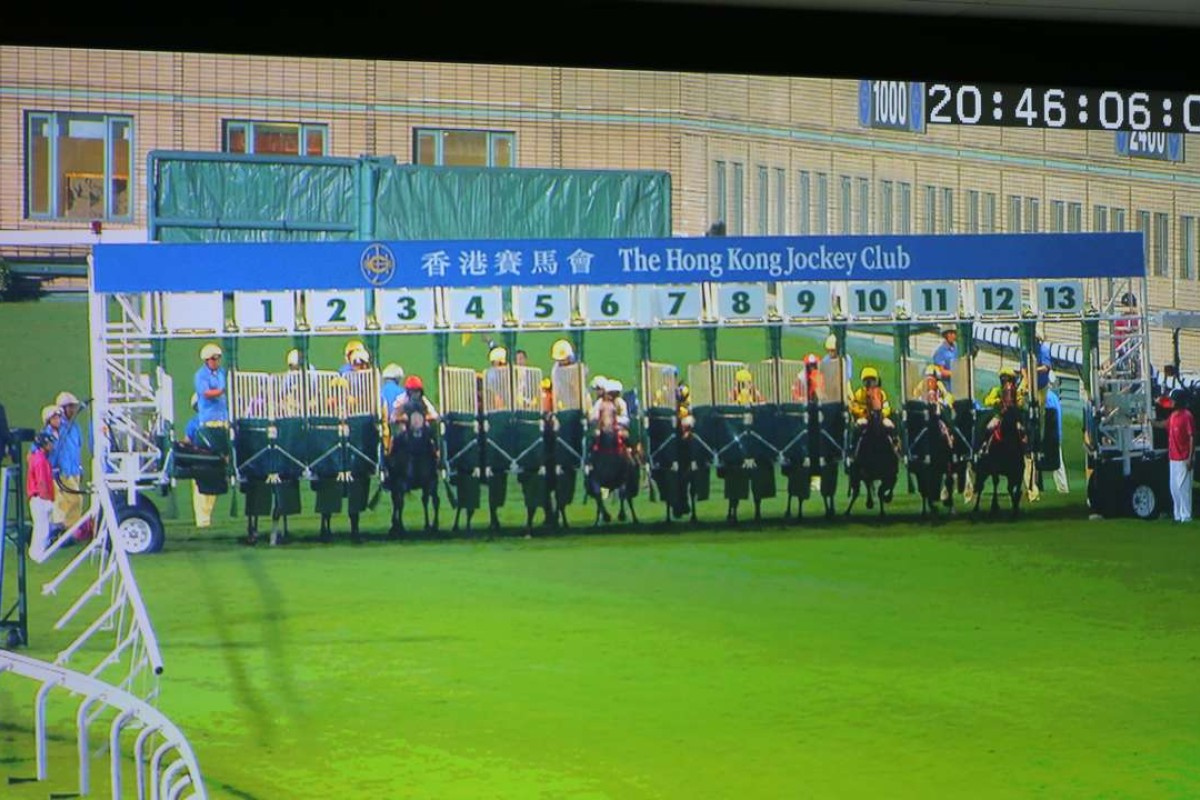 Just a week on from a Jockey Club triumph when everything that should have gone wrong did not, Happy Valley witnessed some bizarre events on what should have been a straightforward night, culminating in the first void race in Hong Kong racing history – and a rake was to blame.
The Jockey Club handed back HK$126 million in pari-mutuel bets on Wednesday night's fourth race, plus all Jockey Challenge bets on the meeting, when the starting gates opened unevenly across the field for the Class Four sprint.
The race film clearly showed that stalls three, six, 10 and 12 opened as they should but the remaining gates opened in two more stages, with barriers one and nine the last to release.
Such a messy start quickly alerted stewards that something wasn't right and the inquiry sign was up even before the easy winner, D B Pin, had been pulled up to a trot by Zac Purton.
Stewards then deliberated for 10 minutes over the evidence in front of them before finding they had no choice but to call it a no race and return the money wagered.
"Given the number of horses which had their chances prejudiced, we felt it was appropriate to declare the race void," said chief steward Kim Kelly as another first played out – the first time all the media had been called into the stewards' room during a race meeting to view the footage of a remarkable accident.
Initial conclusions were that there was not anything actually amiss with the bank of starting gates although that bank of stalls was "stood down" for the rest of the night – but that a rake, leaning against the side of the stalls and normally used at the starting point on the track after a race, had become caught up in the starting mechanism.
As the start was effected, the rake jammed the moving parts of the gates and threw out its operation so that different barriers opened at different times.
All single pool bets were returned, all multi-pool bets paid on consolation rules and the Jockey Challenge was abandoned.
Torrential rain can't stop Happy Valley, or Douglas Whyte
Seven days earlier, racing had proceeded without a hitch after more than 300mm of rain had fallen on Happy Valley in half a day and a black storm appeared just two hours before racing – now that was a night where there should have been problems.
But on Wednesday night, with clear skies and no problems leading into the meeting, weird things began to happen at the start of races – one wag suggested it was something about Halloween.
Neil Callan's mount in race one, Chans Delight, jumped straight to the lead after 100m then started to buck and Callan did a good job to stay on and complete the race. In the second, Perfect Timing locked his jaw as he came out of the gates and disrupted other horses before consenting to race.
Elsewhere, club customers using the mobile app to place bets were running into troubles too. By race four, we were ready for anything – except perhaps what happened.
"I've been here as long as most, over 40 years, and I've never seen a no race in Hong Kong," said trainer John Moore, but he at least had reason to smile after landing the Class One feature with Harbour Master, part of a treble for Joao Moreira.
"It isn't my style to back a horse up three days after he ran, but this was the only eligible race for Harbour Master at Happy Valley for all of October," Moore said. "It didn't hurt him going around on Sunday and I think Kei Chiong [Ka-kei] might have helped him because she woke him up by bouncing him out in front.
"He was sharper tonight than usual and Joao was able to sit him in midfield at what is a distance normally a bit sharp for him."