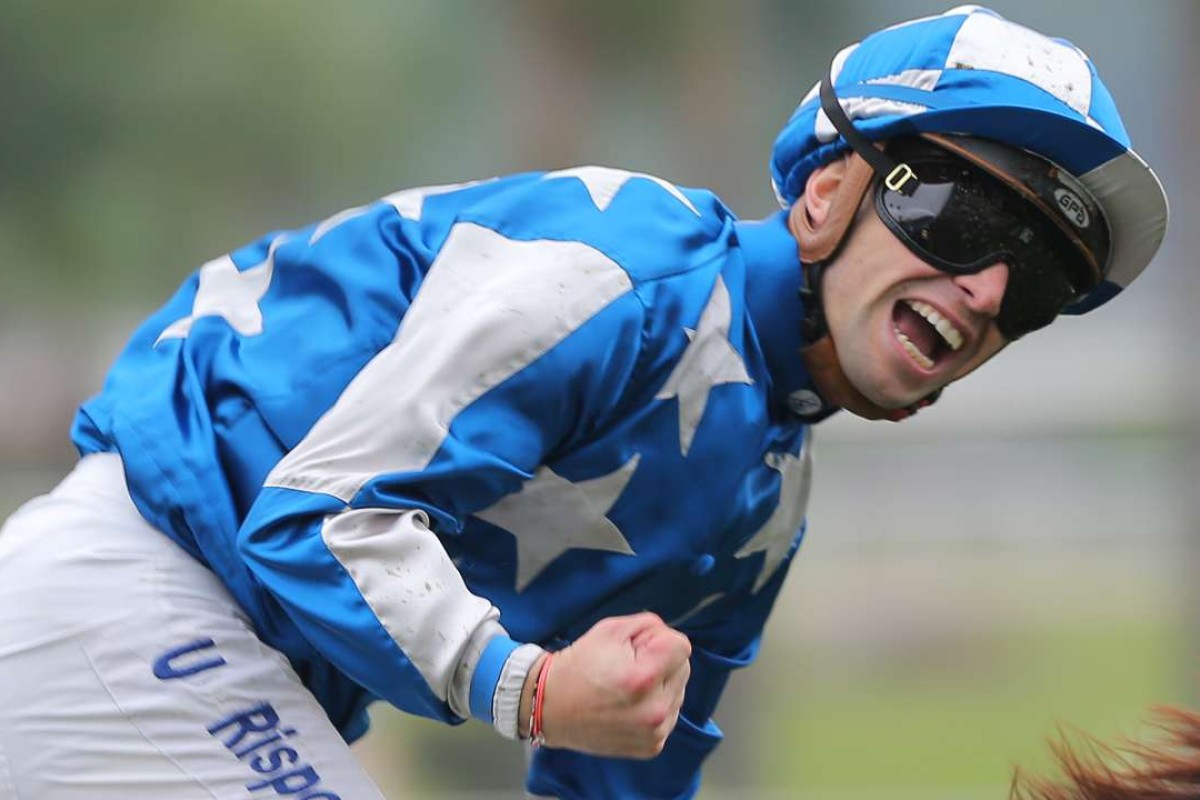 Jockey Umberto Rispoli will undergo knee surgery and could miss up to eight weeks but the plucky Italian is already planning to beat his surgeon's recovery timeline with an intense rehabilitation regime.
Although initially cleared of serious injuries after being tossed to the ground and bouncing spectacularly from the turf in a terrible fall at Happy Valley on Wednesday, scans revealed Rispoli had damaged both his left knee and ankle more seriously than first thought.
Rispoli told the Post he has torn part of his left lateral meniscus, which had also produced a small bone chip, and sustained a microfracture in his left ankle, with the 28-year-old planning to have surgery on Saturday morning in St. Teresa's Hospital.
"The doctors here are saying six to eight weeks recovery, but I think I can do sooner, I think three weeks or a month, and I'll be more hungry when I come back," Rispoli said, with his winter stint, which only began last week, set to run through until Hong Kong Derby day in March.
"Let's see how I feel after the surgery, it is a simple knee surgery and I am somebody that can recover quickly, I was back riding horses after 17 days after broke my scapula here in 2012. I was 24 then but at 28 I can still recover fast. You just have to make therapy every day and you can do it."
Only Rispoli's knee requires surgery, to remove damaged cartilage and the bone chip, while the damaged talus bone in his ankle will be left to heal naturally.
Apprentice jockey Jack Wong breaks ankle in dramatic fall at Happy Valley
Meanwhile, Ben So Tik-hung appears on track to make a much-needed return to the riding ranks on November 20 after he completed his first day of trackwork since a fall on October 8.
So suffered a concussion after falling from Silverfield and struggled with severe headaches and dizziness in the following weeks.
"It felt good to be back this morning," So said at Sha Tin on Friday. "It was a bad fall I had, and I can't remember any of what happened that day, or in the hospital the next day either – that's a horrible feeling and I don't want to go through that again."
There will be just 17 jockeys available for the meetings on both Saturday and Wednesday and So will resume just ahead of the expected returns of fellow local riders Alvin Ng Ka-chun and Derek Leung Ka-chun.