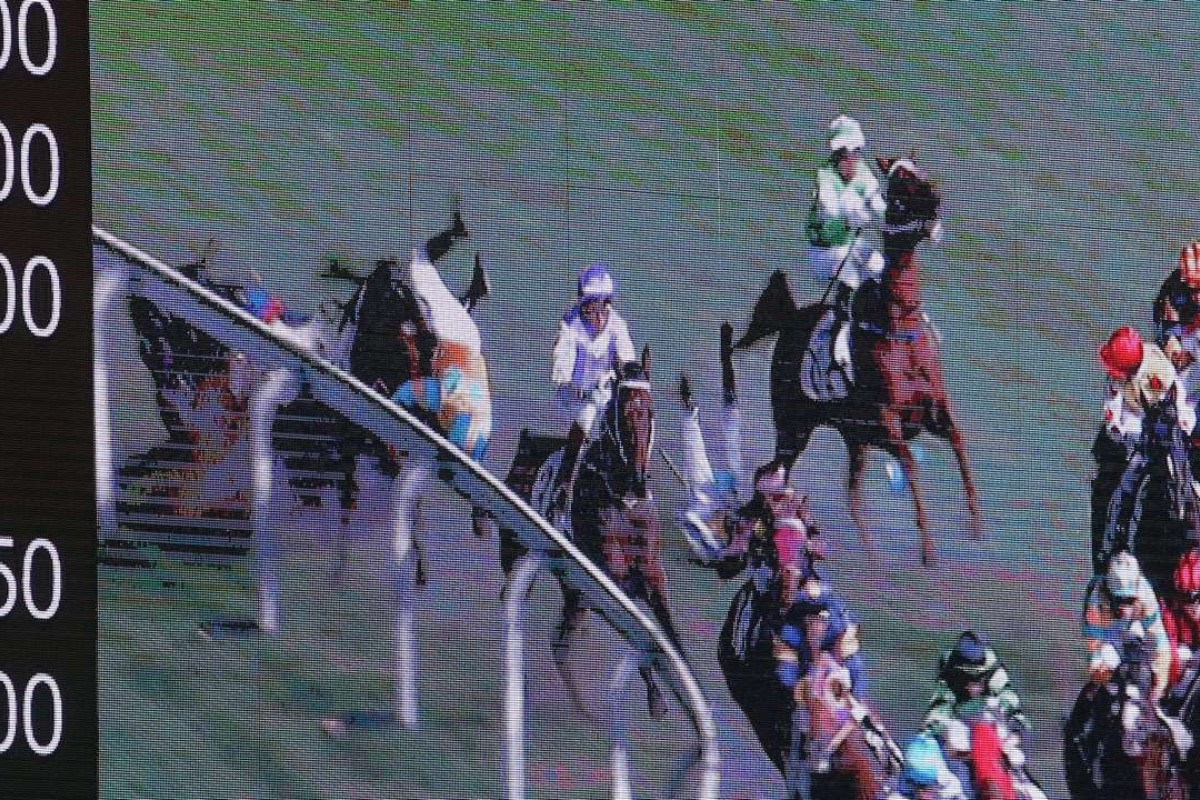 A nasty fall rounding the home turn at Happy Valley on Wednesday night left top apprentice Jack Wong Ho-nam with a suspected fractured left ankle but Umberto Rispoli suffered no obvious injury despite a spectacular airborne somersault into the track.
Wong's mount Dashing King, who perished as a result of the fall, clipped heels as the pace quickened approaching the home straight and went down, and Rispoli's ride, Mr Pele, fell over the top of the fallen horse, hurling Rispoli into the air.
Both riders were conscious when transported back to the jockeys' room but Wong was taken immediately to hospital where the fracture was revealed, while Rispoli was initially treated in the Happy Valley first aid area and reportedly clear of serious injury before he also headed to hospital for tests.
An inquiry into the fall will be held when all jockeys are available to give evidence.
The crash took all attention from the winner of the race, Packing Dragon, who backed up from his win 10 days earlier and became significant as the 45th winner for apprentice Kei Chiong Ka-kei, reducing her allowance now to only five pounds.
"She rode him just right," said trainer Ricky Yiu Poon-fai. "I told her just let him do his thing early, don't use him too much and she was able to get the lead easily tonight from the good draw. And she got moving early too, which is the way to ride a stayer."
But Douglas Whyte took Jockey Challenge honours on a countback over Joao Moreira and offered up the ride of the night to score on Sharp Hunter for the in-form David Ferraris in fourth race.
"You can ride them like that when you have a bit of confidence in the trainer and he has the confidence in you," Whyte said. "David told me to ride the horse how I liked, I told him exactly what I was going to do – take Sharp Hunter back at the start, find the rail and ride him for luck. It worked out perfectly and then there was a gap outside the leader in the last 200m that was getting a little bit tight by the time I got there, but I had the confidence the horse would go through it and he did. And that's what happens when a trainer has his horses going as well as David's team is at the moment."
Ferraris' recent seasons since the move to the Olympic stables peaked at 21 wins for a full term but last night's double took him to nine for the current term after just 19 meetings and he said the addition of an equine pool for the Olympic stables had "made a world of difference".
"What we had to go through before to get horses to and from the pool at the other end of Sha Tin was terrible – now the pool is 30 yards away," he said. "And I also have horses that have dropped to a good handicap rating after an unsuccessful season like last year. For a horse like Sharp Hunter, it was just a case of getting some confidence from his last win after he hadn't won for a long time and he was able to hold that form."
Ferraris said the case was different for Breeders' Star (Moreira), who led home a quirky quinella in the following race when the two runners from the void race two weeks ago – Breeders' Star and Buddy Bundy – filled the first two placings.
"Breeders' Star gets a bit hot and excited and I'm sure he can compete in Class Three if he can calm down," he said. "He was better tonight but still not perfect yet."
Whyte later added Verbinsky for Tony Cruz in the final race to score a pair on the night, while trainer Danny Shum Chap-shing also took home a double. Sam Clipperton was 'Johnny on the spot' to pick up Wong's ride in the race after the fall, replacing the apprentice on Extremely Fun to win for trainer Peter Ho Leung.
Meanwhile, Matthew Chadwick copped a two-meeting suspension for his ride on Charity Joy in the last race. He'll be out of action on November 30 and December 4.