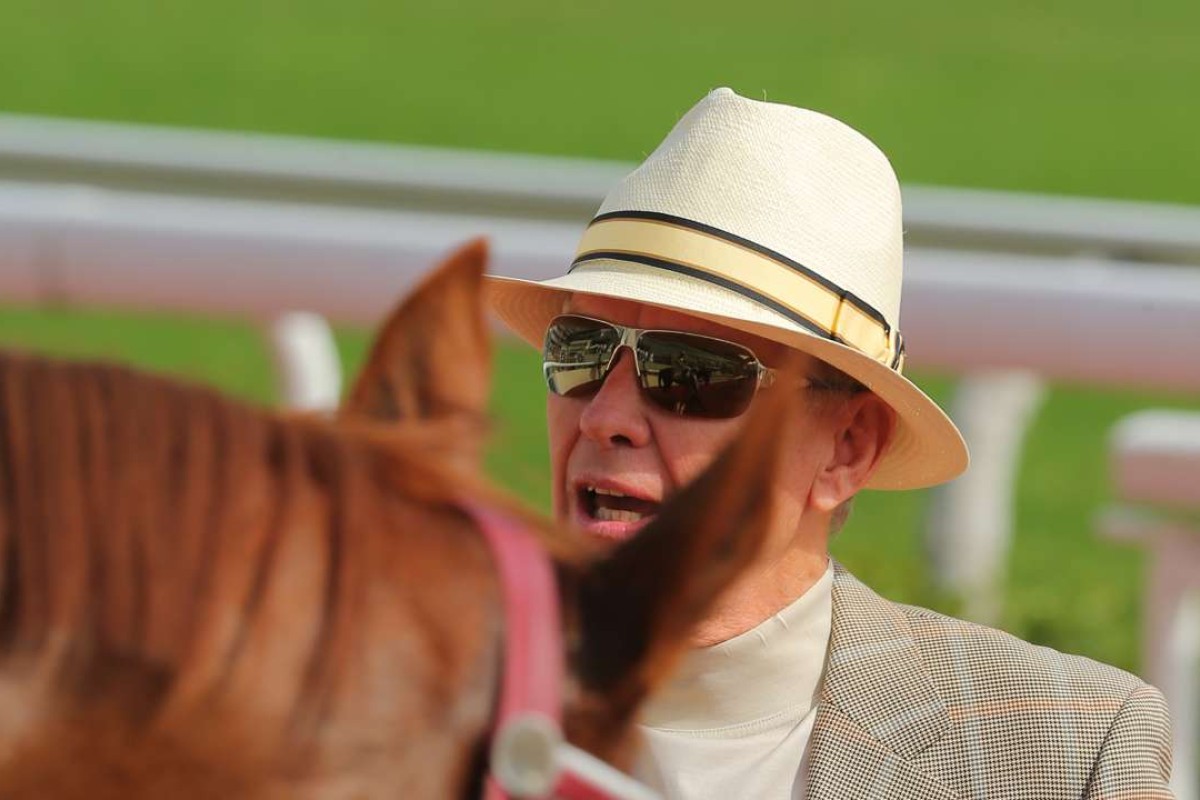 With the big-money races rolling around, John Moore says his Group One guns are ready to fire and added that rising star Rapper Dragon will also take his place on the international day undercard after an unconvincing trial last Friday.
Moore usually has a spring in his step at this time of year and a double on Sunday at Sha Tin with Dragon Harmony and People's Knight had him in a particularly buoyant mood.
"The team is looking good, all is well, they'll all have their final gallops on Thursday," Moore said of his six horses entered across the four rich features at next Sunday's Longines Hong Kong International Races.
That number might have been seven had Rapper Dragon, the early 2017 Hong Kong Derby favourite, not suffered a number of setbacks.
The 114-rated four-year-old is now set to run in what is always a highly competitive 1,400m Class One instead, but will have to gallop to the satisfaction of stewards on Monday morning after a puzzling dirt trial on Friday.
Moore took the blame for Derek Leung Ka-chun cautiously easing Rapper Dragon down to a canter, saying a lack of communication meant the jockey didn't know what to expect on a horse who "hates the dirt".
"There's absolutely nothing wrong with the horse, he just doesn't trial very well on the surface," Moore said. "When Derek came off the turn the horse didn't respond very well, he wasn't putting in, so Derek thought there was something wrong with him. It was my fault for putting on a jockey that didn't have experience with the horse and not giving him more detailed instructions. There's no problems though, the horse is well and will just work home in 26 seconds up the straight and he will take his place on Sunday."
Rapper Dragon is already guaranteed a place in the Group One Hong Kong Classic Mile courtesy of his lofty rating but People's Knight is edging towards joining him there after winning for the second time in eight days.
Moore wasn't getting ahead of himself with a horse whose career has already taken some twists and turns, from an A$1 million yearling, to boom griffin and eventually being castrated after losing his way late in his three-year-old season.
"I am not so sure about a Classic Mile for him just yet," Moore said after jockey Sam Clipperton extracted a 1,650m win from the gelding. "Let's send him around again in a Class Two, 1,400m, and we will see if he has any progression in him and is up to running in a race like that."
Moore was at least "happy to have a racehorse still" after thinking the gelding operation had taken away the well-bred galloper's will to win.
"My dad George Moore always used to say that if you geld a horse too late in life it can take away their spirit, and it certainly seemed that way with this horse for a while," Moore said. "But he seems to have come to terms with it now, being two stone lighter, as they say, and winning back-to-back like he has is certainly a good sign."
Not surprisingly, Moore wasn't getting carried away with Dragon Harmony either, although the Class Five winner did get a tick of approval, of sorts, from star jockey Joao Moreira.
"Joao has already requested the ride when the horse steps up into Class Four with the light weight," Moore said. "He will only ever win on the dirt, but he should be able to win at least once more. Today with the blinkers back on, and getting his own way out in front, he was able to win."