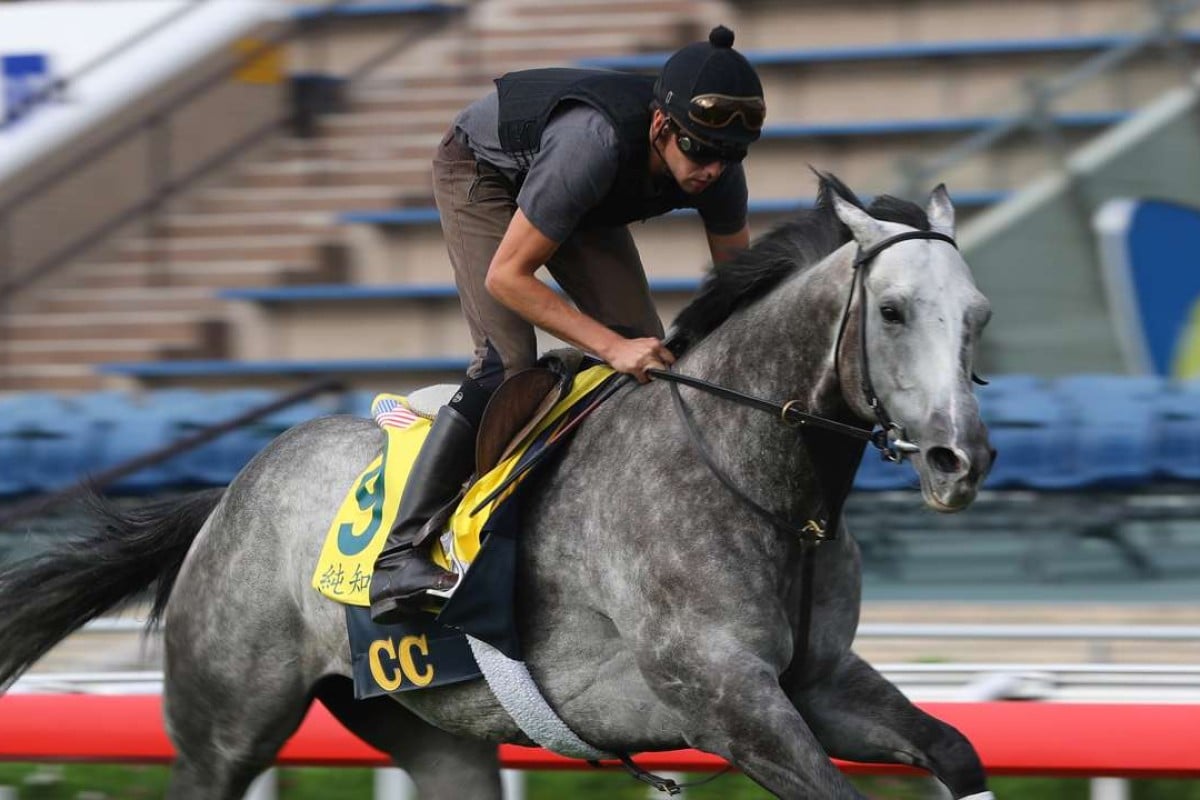 Grey sprinter Pure Sensation ambled toward the turn out of the back straight at Sha Tin on Tuesday morning and confirmed his nationality as in a matter of strides.
It was like he raised a poster-sized passport, accompanied by a 25-piece brass band and a rousing chorus of the Star-Spangled Banner.
Pure Sensation, winner of seven of his 19 starts in the United States, hit the turn approaching the 800m on the turf track and wanted to keep going straight. At least his body wanted to keep going straight, even though his brain was attempting to respond to his rider's go-right instructions.
With as much certainty as finding the Statue of Liberty in New York Harbour, the American sprinter took to Sha Tin's turns like a child with two left feet. Once he straightened for home, the five-year-old brushed up the stretch in 23.87 seconds for his last 400m, the final 200m in 11.96. But he never looked comfortable.
The third place finisher in the Breeders' Cup Turf Sprint added his name to an honour roll that includes 2007 Breeders Cup Mile hero and Eclipse award finalist Kip Deville – a list of topline US horses that simply don't handle right-handed tracks.
Why is it so, as television science teacher Julius Sumner Miller was fond of asking. The reason is that American racehorses are educated from their yearling days to track left handed, exclusively. There are no right-handed courses stateside – none.
So when, some three or four years later, someone asks them to handle a right-handed racecourse for the first time, they have neither the experience nor the muscles appropriate for the task.
In human terms, it would be like educating a child to kick a football exclusively with the right foot from his earliest years, then trying to make him kick left-footed as a 25-year-old at championship level with just a few days' preparation. It just doesn't work.
Watch: 2016 Breeders' Cup Turf Sprint
Robert Cutler, the travelling foreman for trainer Christophe Clement, spoke proudly of the stable's grey charger after the gallop and said the gelding would benefit from some more right-handed practice during the week, adding that they had given Pure Sensation some practice going this way in gallops before they came away and thought he handled it okay.
Sorry, Robert, that's what they all say. For example, Kip Deville came to Hong Kong in 2008 off a second to the champion Goldikova as he attempted to defend his Breeders' Cup Mile crown. But he was positively hopeless on the Sha Tin turns. Deja vu.
In one eminently forgettable gallop on the course proper, he seemed to cross his front legs like a pair of knitting needles and almost brought himself down. While Kip Deville improved slightly in training the subsequent week, under race pressure his new learning went out the window and he was gone 800m from home.
Twelve months ago, Mongolian Saturday also from the US, looked a similarly forlorn hope of taking the Sha Tin turns but got his act together sufficiently on race day to finish a scrambling fifth to Peniaphobia in the Hong Kong Sprint – a game effort but he was never the winner.
Pure Sensation was the only visitor asked to stretch out on Tuesday, but the week is still young. There was much to be learned, however, from watching some of the world's best horses in their slower paces.
Defending Vase champion Highland Reel looked deceptively fresh as he attempts to complete one of the toughest seasons any thoroughbred has been asked to undertake.
He raced in Hong Kong last December, began the new year in Dubai in March, collected the King George at Ascot in July, defeated all but Found in the Arc de Triomphe at Chantilly in early October and then smashed his rivals with some relentless front-running in the Breeders' Cup Turf at Santa Anita on November 6.
Sunday will be his ninth run for the year, taking in six countries, yet the Galileo colt looked impossibly bright while doing some even-time work on the all-weather track.
The Japanese task force was all present and looked in grand order. If there was a fault to be found, perhaps champion Maurice looked unusually round, but he undoubtedly has a major gallop or two to come later in the week.
His support team, particularly A Shin Hikari, Staphanos, Nuovo Record, Queens Ring, Big Arthur and Satono Aladdin, looked in mint condition.
The two Australian sprint representatives, Rebel Dane and Takedown, were given gentle workouts on the all-weather track.
Of the pair, Rebel Dane was more uptight and on the bounce, but the giant Takedown behaved like Sha Tin had always been his home.