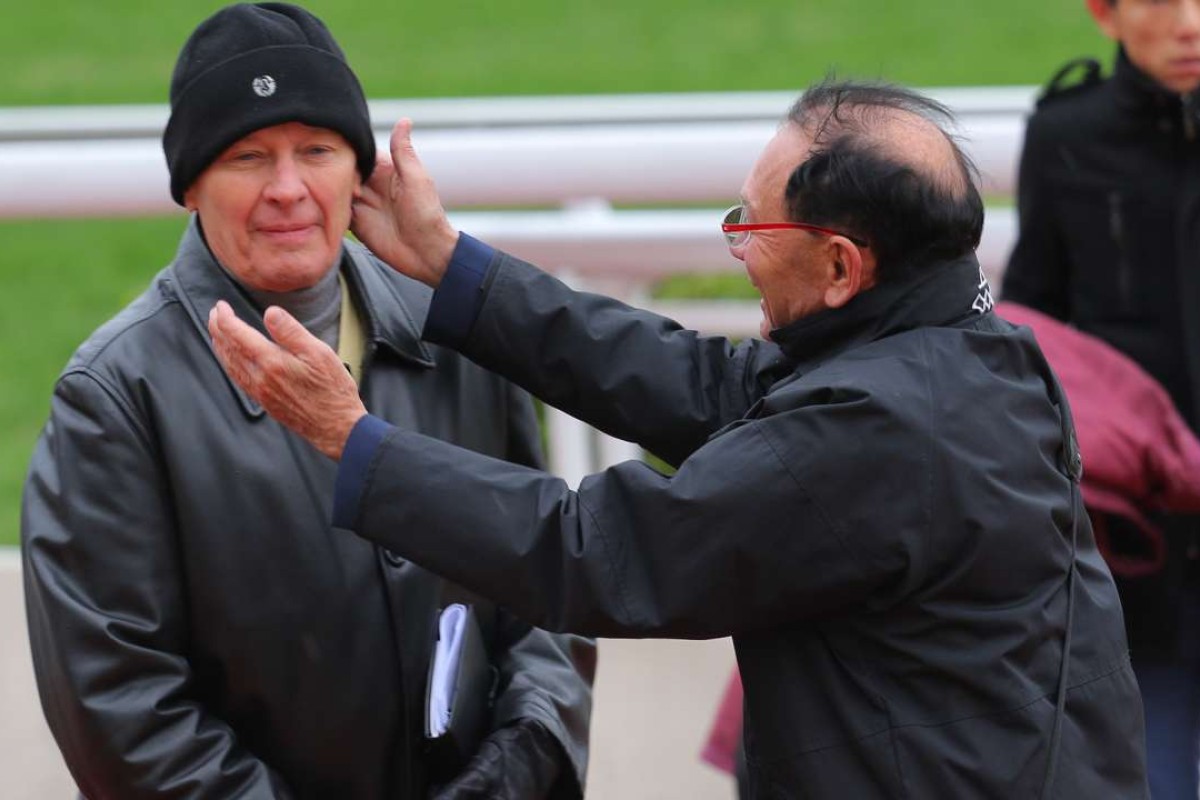 The Moores are the Kennedys of Hong Kong racing, without the gun shyness, and Takedown's trainer Gary Moore admits that at least part of him will compete for the home side on Sunday in the Longines Hong Kong Sprint.
"Well, I'm carrying the Aussie flag but my heart is still with Hong Kong – between riding here so many years and then training in Macau, so much of my professional life has been here," Moore said after watching Takedown trundle around the all-weather training track.
George Moore was arguably the greatest jockey Australia ever produced and he surprised many when he retired from the saddle in the early 1970s and headed to Hong Kong to train in what was a racing backwater, but the move has left a huge mark on racing here over 40 years.
George won 11 of 12 trainers' championships from 1974 to 1985, forming a powerful partnership with his jockey son, Gary, then handed the string to his other son, John, who won the first of his seven trainers' titles in his debut season and has dominated major races here for the past decade.
For a long time before, and even after, he ran into trouble at the time of the Shanghai Syndicate race-fixing scandal of the 1980s (just to give the Moore dynasty that necessary spice for the Kennedy comparison), Gary was the more highly-decorated son of George, with seven Hong Kong titles and a brilliant European riding career that included classics in France and Britain and a 1981 Prix de l'Arc de Triomphe on Gold River.
Australia's Takedown confirms spot in Hong Kong Sprint and trainer Gary Moore says he can win
"As a jockey, I won the biggest race in the world but I got as big a thrill out of Takedown winning the Group One in Perth. If he won here, that would be the pinnacle of my career," Moore said. "That's not to say my career is anywhere near the finish but I think Dad would be so proud John and I are head to head in one of the great sprint races on the planet. Wouldn't it be tremendous if we could quinella it?"
And with a big, powerful sprinter who might very easily have taken a number of turns in life that would have kept him and his trainer separated.
"He was bred by Antony Thompson from Widden Stud and Ron Anderson and they had him in the Easter yearling sale in Sydney but he was a big, out of proportion baby who wasn't going to make the money he deserved so they decided to race him," Moore explained.
"I'd just moved back to Sydney and pestered Antony to give me a horse so eventually he gave me Takedown. After a while, I rang him and said 'this is pretty good' then took him to the trials and he ran second last. They thought I was a terrible judge but when he trialled the second time, with blinkers, he was terrific."
British speedster Profitable out of Hong Kong Sprint, Gary Moore's Takedown a chance to get his spot
When Takedown won a Group race as a juvenile, the Black Opal Stakes, the offers started to come from Hong Kong.
"He had a soft palate and failed the scope for the first offer, so he was still available and John said 'let me send my vet to look at him'. He failed again. So I'm very lucky to still have him at all," Moore said. "It didn't bother him early but when he did start to make some noise in his breathing, we decided on surgery. Dr Jonathon Lumsden, who did a similar operation so successfully on So You Think, did Takedown too and he hasn't made a sound since."
The most intriguing characters attending this week's Hong Kong International Races
There are plenty hoping Takedown wins just to see the eccentric celebrations for which Moore is renowned and the trainer thinks at least the first part of that proposition is a genuine chance - Takedown is good enough: "He's been from Sydney to Melbourne to Perth and now here so he's done plenty of travelling but he looks great and his blood is perfect. He'll gallop on Wednesday just to put him exactly where we want him."